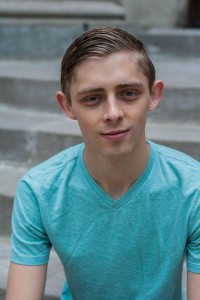 Brandan Robertson is a progressive evangelical writer, activist, speaker, and spiritual entrepreneur who is committed to getting Jesus second hearing among the cynical, skeptical, burned, and non-believing people. He desires to build-bridges across cultural, theological, and political divides and to help others rethink, reform, and renew what it looks like to be a follower of Jesus in our post-modern, post-Christian world.
Brandan has a B.A. in Pastoral Studies and Bible from Moody Bible Institute in Chicago.  He writes for Revangelical, Red Letter Christians, Sojourners, and IMPACT Magazine and has been a featured contributor to a number of well-read blogs and online mediums. His first book Nomad, will be published by Destiny Image Publishers in early 2015. Brandan is a frequent guest on numerous nationally syndicated radio programs and television shows The Drew Marshall Show, The Takeaway on NPR, Stand Up! With Pete Dominick and Afternoons with Dr. David Anderson. Brandan has also been profiled in a number of prominent newspapers and magazines including TIME and The Oregonian. 
Brandan is the host of the Project:Awaken Podcast and the director of an action-oriented social justice initiative called Revangelicals for a Better Tomorrow. He is also a sought after consultant to churches, denominations, and faith-based organizations on issues of the faith of the millennial generation and issues surrounding building bridges across religious, cultural, and political divides. He also serves as the spokesperson for Evangelicals For Marriage Equality and as an initiator for The Convergence Initiative. Brandan currently resides in Chicago, IL.
Endorsements
Phyllis Tickle, Author & Leading Church Historian
In these times of reconfigurations and re-alignments within global, and most certainly within North American, Christianity, Brandan Robertson stands out as a thinker and as one of the young leaders whom we would be wise to watch and to listen to. His vocation and dedication are ever-present in what he writes and says and creates. May God grant both him and us many, many years of such informed and informing leadership.
Jonathan Merritt, Author & Religion News Service Columnist
A great thinker is someone who can be critical and hopeful in one breath. This is something Brandan Robertson  does often and well. His explorations of the various textures of evangelicalism are fascinating and important.
Brian D. McLaren, Author & Theologian, A New Kind of Christianity  
Brandan Robertson is one of the brightest and most hope-inspiring young Christian leaders you'll meet… I was so impressed with his ardent spirit – a great example of 1 Timothy 4: 12.
Tom Krattenmaker, Author & USA Today Contributing Columnist
Exhibiting clarity, wisdom, and insight that belie his youth, Brandan Robertson has emerged as an exciting voice and leader for the new evangelicalism. For evangelicals (and others) interested in a positive public application of the Christian faith that transcends culture wars and political divisions, Robertson's Revangelical project is highly instructive–and a true inspiration.
Benjamin L. Corey, Author & Blogger at "Formerly Fundy"
In an age where so many younger Evangelicals are throwing up their hands and walking away, some are solidly planting their feet and waging an "evangelical reformation" that is destined to leave a better Evangelicalism for our children and grandchildren. Brandan is one of these "evangelical reformers" you should listen to— I do.
Michael Kimpan, Author & Associate Director of The Marin Foundation
Brandan Robertson represents a new, fresh perspective shared by many millennials –  young men and women interested in purposefully living out their faith through activism over pietism, choosing engagement over apathy. I have no doubt that as the years progress Brandan Robertson will continue to be a leader others looks to in the reshaping and reforming of evangelicalism.
Rev. Dr. David Anderson, Pastor & Author, Bridgeway Community Church
Brandan is a fine bridge builder.  I am pleased with [his] desire to be understood and understanding,
Dr. James Croft, Research Fellow of The Humanist Community at Harvard University 
As an atheist and a Humanist…you can find inspiration in strange places. Although I wholly reject Brandan's beliefs about God… I find something compelling and stirring in his description of the purpose of the Church… [His vision of the church is one that is]  consistently a voice for the oppressed and marginalized, a subversive grass-roots force working to uplift those on the edges of society, a check on the powerful and a warning to the mighty – that is a church I might want to be a part of.
Rev. Michael Camp, Minister & Author, Confessions of a Bible Thumper
I commend Brandan…his heart struck me… If liberals, progressives, moderates, and conservatives can learn to agree to disagree, agreeably, and in respect and love, and not demonize the other, we just might get a slice of what Brandan Robertson desires: the Reign of God come and God's will be done on earth as it is in heaven
Rev. John Armstrong, Founder, ACT 3 Ministries
Brandan is asking the right questions and leaning in to a future filled with hope.
Bishop N.T. Wright, New Testament Scholar
A joy to be with…I support the mission and vision of this movement!
Fr. Richard Rohr, Founder of Center for Action and Contemplation
Brandan is bold and courageous! Keep up the good work.
Rob Bell, Author, Love Wins
I believe in dudes like you who are hungry to be part of the new thing Jesus is up to in the world. You inspire me.
Rev. David Michener, Executive Pastor, Bridgeway Community Church  
Brandan is committed to searching the scriptures…and is very passionate about his faith, his convictions direct his life, even when it's unpopular…his life is a proven track record.
Rev. Eric Elnes, Minister & Host, Darkwood Brew
I found that what inspired me most about the (Re)vangelicals, was the fact that these 20-somethings are a fair shake more conservative than the guests they feature, but feel strongly that difference is something to invite, not shun.