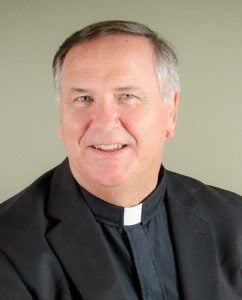 The Diocese of San Diego announced today that Rev. John Dolan, friend of the marginalized and suffering, has been appointed as its next Auxiliary Bishop.
The faithful of Southern California learned on Wednesday that Pope Francis has appointed the Rev. John P. Dolan Auxiliary Bishop-Elect for the Roman Catholic Diocese of San Diego. Dolan, a veteran pastor and San Diego native, has a developed a reputation for being a friend to all of God's people and promoter of humankind's duty to respect all of God's creation.
Dolan turns 55 this year and was ordained a priest at the age of 27 in 1989.
Make eye contact with the rich and the poor. EYE – Engage Your Equal

— Father John P Dolan (@JPMDolan) September 3, 2015
A statement released by the Diocese of San Diego highlights his extensive pastoral experience and reads:
The joy of the Easter season is amplified for the diocese of San Diego today in Pope Francis' appointment of Father John Dolan as our new auxiliary bishop. Father Dolan was raised in Saint Mary Magdalene Parish and ordained for the diocese of San Diego in 1989 after studying theology at Saint Patrick Seminary in Menlo Park, California. The whole of his priestly ministry has been focused upon the life of the parish, and he has been pastor at Saint Mary Star of the Sea in Oceanside, Saint Michael Parish in San Diego, Saint Rose of Lima in Chula Vista, Saint Michael in Poway and Saint John and Saint Vincent Parishes in San Diego. He presently serves as the vicar for Clergy in the Diocese.

Bishop Robert McElroy noted two central characteristics of Father Dolan's priesthood: the great love which he has for the priests and the people of God, and the intensely joyful spirit that permeates his life and mission. "Our local church" Bishop McElroy said, "will be deeply blessed by these gifts in Bishop-elect Dolan's new episcopal role of leadership, sacrifice and prayerful service."

When told of his appointment, Bishop-elect Dolan said "I am profoundly grateful to his Holiness Pope Francis for this honor, and I look forward to accompanying Bishop McElroy in his ministry to this beautiful diocese in which I have witnessed the presence of God's love continually for the whole of my life."

The episcopal ordination of Bishop-elect Dolan will take place on Thursday, June 8, at 2:00 p.m. at Saint Therese of Carmel Church in Del Mar.
Mary can keep her eyes fixed on her son and, at the same time, look at those who see her in apparitions. She is looking at the same Christ!

— Father John P Dolan (@JPMDolan) February 11, 2015
While at Saint Michael's in San Diego, Dolan encouraged localizing, community, and fellowship when he "launched the 'Christ in My Neighborhood' project, the purpose of which was to break open the Scripture in the designated twelve regions of St. Michael's boundaries."
At Saint Michael's in Poway, Dolan celebrated the installation of a new solar power system for the parish as well as the community's growing awareness of their responsibility towards the whole of creation. CNS reported last year,
What's better, Father Dolan told Catholic News Service, is that parishioners know that their church is part of a planet-wide movement in response to Pope Francis' year-old encyclical, "Laudato Si', on Care for Our Common Home," that calls upon everyone to better care for God's creation and one another.

"People are buying into this," Father Dolan said, explaining how topics on the environment and sustainability come up in parish conversations, even during coffee-and-doughnut gatherings after Sunday Mass. "We have to think on a global level. This is no longer just a regional thing. We have to reach into this call to stewardship. We have dominion over the world and not domination."
On April 1 of 2016, Bishop Robert McElroy appointed Dolan Vicar of Clergy and eventually left Saint Michael's in Poway to pastor two parishes in San Diego – Saint John the Evangelist and St. Vincent.
During the San Diego Diocesan Synod on the Family, Dolan showed great and precise pastoral concern for members of the LGBT community.
NCR reported at the time,
Dolan, whose two parishes overlap the Hillcrest area — understood to be the lesbian, gay, transgender and bisexual center of the city of San Diego — added that the lack of attention to that population at the current synod was "the elephant in the room."

"Young adults have an acceptance of the LGBT experience. It is simply a part of their world, and they look at us, and say, 'What is the problem?' " Dolan said.
Dolan's approach makes sense – recognizing the Other and accompanying them on their journey is the way of the Lord. Thus, one should not be surprised that one of Dolan's parishes advertizes itself as a place of welcome and established a prayer group for LGBT accompaniment, securing a place in the church for one of Catholicism's most marginalized populations.
Concerning the troubles faced by families across the Church, he's opted for an approach of encounter, dialogue, and invitation, similar to the approach of his Bishop and the Bishop of Rome, saying "even if we hold up this dogmatic truth, which we still do, it's how you present that…. We say: OK, here's an icon, but we're not going to toss it down your throat."
Don't let me forget: he's a Spanish speaker and defender of refugees.
See you at his episcopal ordination!
Prayers for the Bishop-Elect and the Diocese of San Diego!