In friendship with the LGBT community, Bishop Patrick J. McGrath of San Jose told diocesan leadership: "We will not refuse sacraments or Christian Burial to anyone who requests them in good faith."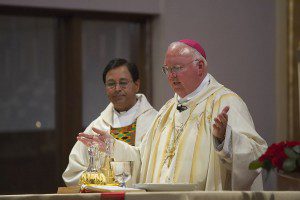 Bishop Patrick Joseph McGrath of San Jose emphasized compassionate, pastoral care to members of the LGBT community in a directive addressed to diocesan leadership dated June 29, 2017.
Bishop McGrath wrote,
Recent news reports of policies and practices related to members of the LGBT community in other dioceses can be confusing.

I take this opportunity to assure you that the pastoral response in the Diocese of San Jose remains just that: compassionate and pastoral. We will not refuse sacraments or Christian Burial to anyone who requests them in good faith.

Finally, let us remember and be guided by the words of Pope Francis: "The Eucharist is not a prize for the perfect, but a powerful medicine and nourishment for the weak."
The directive was posted on a San Jose diocesan parish ministry's Instagram account on June 30.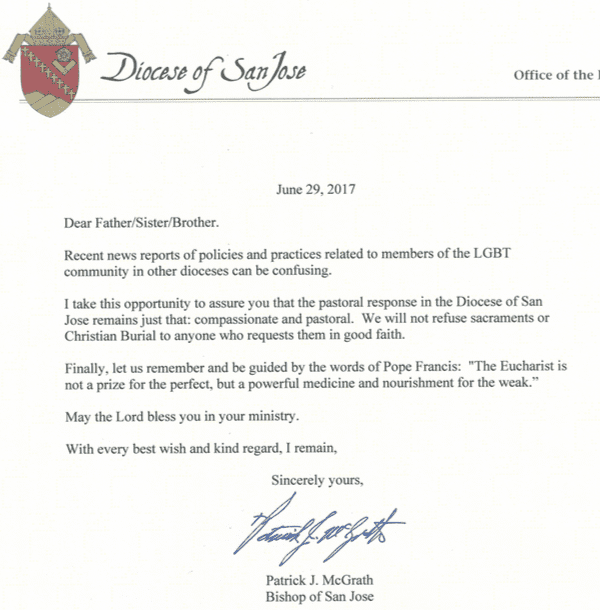 One Church, very different tones.
Bishop McGrath's directive comes just weeks after Bishop Thomas Paprocki of Springfield, Illinois, issued a decree "Regarding Same-Sex 'Marriage' and Related Pastoral Issues".
In a section on Holy Communion, Bishop Paprocki wrote, "persons in [same-sex marriages] should not present themselves for Holy Communion, nor should they be admitted to Holy Communion". Futher, pastors in the Diocese of Springfield "should address these concerns privately with the persons in such circumstances, calling them to conversion and advising them not to present themselves for Holy Communion until they have been restored to communion with the Church through the Sacrament of Reconciliation."
While Bishop Paprocki addressed additional areas of pastoral care in his decree, the instruction concerning funeral rites states:
Unless they have given some signs of repentance before their death, deceased person who had lived openly in a same-sex marriage giving public scandal to the faithful are to be deprived of ecclesiastical funeral rites. In the case of doubt, the proper pastor or parochial administrator I to consult the local ordinary, whose judgment is to be followed.
Both Bishop McGrath and Bishop Paprocki hold doctorates in canon law from pontifical universities in Rome.
Bishop McGrath was one of the few U.S. bishops to publicly express sympathy, concern, and prayers for the LGBT community in response to last year's mass shooting at Pulse Nightclub in Orlando, stating, "the targeting of members of the LGBT community is a wound on our society."
All Are Welcome.
The Diocese of San Jose's LGBT ministry has the following video posted on its webpage, highlighting its "All Are Welcome" Masses: