This summer, I attended the Social Action Summer Institute (SASI) at the University of Portland. The presentations and many of our discussions touched on the theme, care for God's creation, and Francis's encyclical Laudato si', released only some weeks prior to our gathering.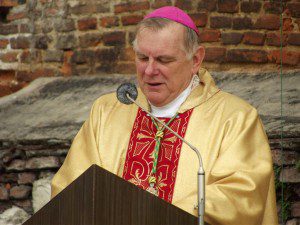 The opening presentation was offered by Archbishop Thomas Wenski from Miami.
Wenski gave the conference participants a solid overview of Laudato si'. What I found to be particularly interesting was Wenski's focus on needing to rebuild our relationships, damaged – at times destroyed – by sin.
Repairing our relationship with God, with one another, and with the rest of creation is a huge theme in Laudato si', and the Archbishop was spot on in pointing this out. Indeed, Francis did a lot in Laudato si' to show how our relationships were being damaged.
Relativism, the technocratic paradigm, greed, a loss of reverence for life, the commodification of all of creation, forgetting the Divine: all of these are connected, all of these destroy our relationships.
When the Archbishop kindly opened up for questions, I asked if we were missing, or were reluctant to point out, a common denominator. It seem(ed/s) to me that, at least in our society, "Western" society, the manifestation of these things are crystalized in a particular system – though not exclusively.
What structure of sin, what system could we possibly be referring to?
Capitalism.
Archbishop Wenski kindly considered my question and – keeping in mind that a focus of his presentation was on the destruction of relationships (with God, each other, and the rest of creation) by sin – agreed. He summarized his thorough, precise, response with: "Yes, Capitalism destroys relationships."