Graphic video shows San Diego Police K9 holding on to prone man's arm for over thirty seconds while in handcuffs..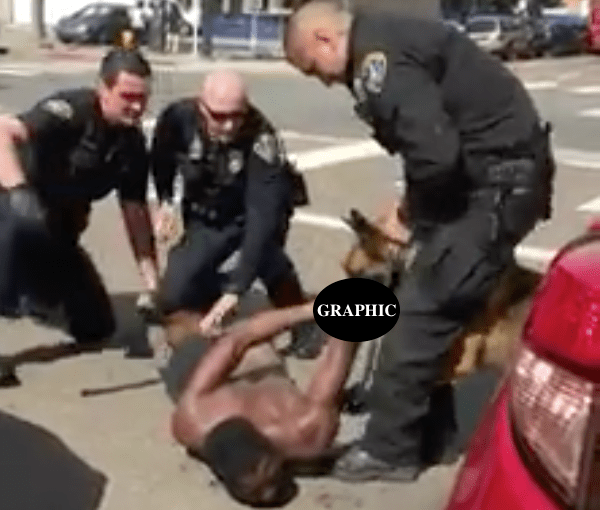 A video posted on Facebook by Angel Nuñez shows a San Diego Police K9 maintaining its bite of an individual accused of behaving erratically, punching a cab driver, and attempting to steal a motorcycle on Sunday, July 9.
The individual, indentified by news reports and court records as Karond P. Cheatum, was eventually arrested on suspicion of robbery, battery and being under the influence of drugs. While many viewers have complained about the duration of the bite and perceived failure to release, as well as the Cheatum's seemingly non-threatening positioning in the video, SDPD says both the K9 and officer did as they were trained to do.
The San Diego Union Tribune reports
When the officer first approached, the man started moving toward him and threatening to fight. The officer repeatedly told the man to stop or the dog would be released. […]

A number of commenters questioned whether the canine and its handler had adhered to department police [sic]. The lieutenant said they both did what they were trained to do, and the video clearly shows that.

Police dogs are taught to bite and hold. This is meant to ensure that the canine does not repeatedly bite a person, which could cause further damage, Wahl said.

The dogs also aren't trained to release on a verbal command. Instead, officers are taught to apply pressure to release the canine's jaw. That technique can take time.

And it's not done until the suspect is in handcuffs.
A video by Nuñez captured moments earlier shows the initial bite taking place, though it is unclear what leads to it.
Futher, while SDPD says the K9's bite is not to be released until a suspect is in handcuffs, the video shows the handler unable to execute the release for over thirty seconds as Cheatum shouts, "I'm comfortable!" repeatedly.
Proper Nomenclature reached out to SDPD for additional information and will update this story when we learn more.