Rep. Ted Lieu had Border Patrol officials watch powerful footage of what the separations policy is doing to families
The American Psychological Association calls family separations "harmful" towards "the mental and physical health of both the children and their caregivers."
The American Academy of Pediatrics calls for an "end" to the "cruel" practice of family separations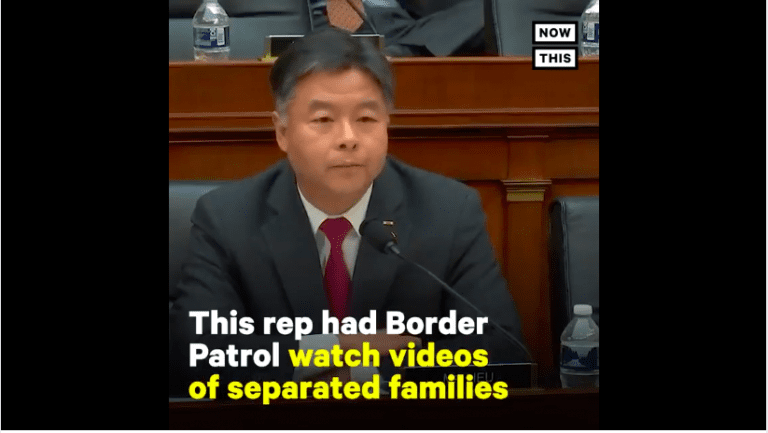 This House Judiciary Committee hearing took place on Thursday, July 25, 2019.  Rep. Ted Lieu [D-CA 33] showed Chief of Law Enforcement Operations for Customs and Border Protection Brian S. Hastings a couple of videos of families reuniting with separated children.
In May of 2018, the President of the American Psychological Association has stated that these family separations—which, in addition to being diabolical, violate international law—are "harmful" towards "the mental and physical health of both the children and their caregivers."
In June of 2018 the American Academy of Pediatrics called the practice "cruel" and added
Studies of detained immigrants have shown that children and parents may suffer negative physical and emotional symptoms from detention, including anxiety, depression and posttraumatic stress disorder. Conditions in U.S. detention facilities, which include forcing children to sleep on cement floors, open toilets, constant light exposure, insufficient food and water, no bathing facilities, and extremely cold temperatures, are traumatizing for children. No child should ever have to endure these conditions.

Family detention is not the solution to address the forced separation of children and parents at the U.S. southern border. We urge our government to stop exposing children to conditions or settings that may retraumatize them, such as those that exist in immigration detention. Alternatives to detention exist. Children and families should have access to legal counsel throughout the immigration pathway and community-based case management can increase the likelihood of compliance with government requirements. As pediatricians, we know children fare best in community settings, under the direct care of parents who love them.

We must remember that children do not immigrate, they flee. Parents will continue to flee violence to protect their children and themselves and seek safe haven in our country. The Academy's mission is to protect the health and well-being of all children – no matter where they or their parents were born – and we hold our federal leaders to that same standard. These vulnerable families deserve our compassion and assistance.
With that, I present Rep. Lieu.
Imagine that.  Having your flesh and blood stripped away from you only to have them fear and resist you if you ever find yourself reunited.
Welcome to the United Snakes
Land of the thief, home of the slave
Grand imperial guard where the dollar is sacred and power is God
Our Lady of Guadalupe,
the Subversive Queen
, Pray for us!