Update – November 9, 2016 at 12:00 pacific time: Fr. Frank Pavone: Thank me, for "today is a great day for America and the Church"; Rebukes Bishop. (Statement by Priests for Life) Click here for more.
Update – 12 November, 2016 at 21:50 pacific time: Victory or deceit: Father Frank Pavone Removes 1 of 2 Videos of Dead Baby on Altar for Trump! He also removed his 'apology' video. (Also, Priests for Life of Canada Rebuked Pavone!) Click here for more.
Note – see our recent coverage on this matter starting with the most recent post:
– Father Pavone's action was so ridiculous, Snopes.com was asked to verify it. Have they stored Baby Choice for years? We believe so.
– In qualified apology, Father Pavone asks us to reach out – we did and didn't hear back… – Oh, and the videos are still up. Update: the first video and apology have been removed! (Click here for more.)
– Breaking: Fr. Frank Pavone defends sacrilege: "The issue is not how I'm treating a baby."
– Adoring Trump: Fr. Frank Pavone uploads second video with body used as prop
– Did Father Frank use a dead body or a crafty image of one? Priests for Life responds.
– "Father Frank, Live!" on Facebook: Using the Dead to Elect Trump? Going too far? (Disturbing images; Update on body, Priests for Life.)
@frfrankpavone : Desecrated the altar -Offended the dignity of this person -Did not act as Catholic https://t.co/5tN2TKNwN4 / @keithmestrada pic.twitter.com/06Oy3YvVwu

— Mr. Keith M Estrada (@keithmestrada) November 9, 2016
Bishop Patrick J. Zurek of Amarillo: Frank Pavone has desecrated the altar. Frank Pavone has offended the dignity of this person. Father Pavone has exploited this child's body. Father Pavone's actions are not Catholic.
The statement from His Excellency, Patrick J. Zurek, Bishop of Amarillo follows: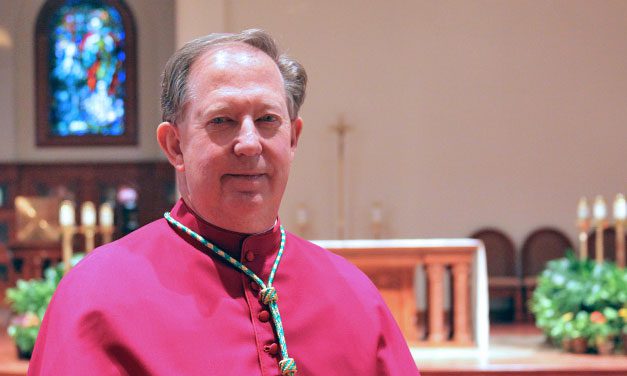 Statement from Bishop Patrick J. Zurek

November 8, 2016

• Priests for Life, Inc., is not a Catholic institution, but a civil organization, and it is not under the control or supervision of the Diocese of Amarillo.

• Father Frank Pavone has posted a video on his Facebook page of the body of an aborted fetus, which is against the dignity of human life and is a desecration of the altar. We believe that no one who is pro-life can exploit a human body for any reason, especially the body of a fetus.

• The Diocese of Amarillo deeply regrets the offense and outrage caused by the video for the faithful and the community at large. The action and presentation of Father Pavone in this video is not consistent with the beliefs of the Catholic Church.

• The Diocese of Amarillo is opening an investigation about all these matters.
(Click here to see the statement on the Diocese of Amarillo's website.)
We have reached out to Priests for Life for comment in response to Bishop Zurek's statement and will include it if we receive one.
Students for Life of America told us by e-mail on the night of 8 November that "We are refraining from comment at this time."
We'll continue to update readers as we learn more.
Keith Micahel Estrada