Update – 12 November, 2016 at 21:50 pacific time: Victory or deceit: Father Frank Pavone Removes 1 of 2 Videos of Dead Baby on Altar for Trump! He also removed his 'apology' video. (Also, Priests for Life of Canada Rebuked Pavone!) Click here for more.
Father Frank Pavone of Priests for Life celebrated Trump's victory today, gave himself a pat on the back, reduced 'pro-life' to supporting anti-legal-abortion (in some cases) politicians – a reduction inconsistent with papal encyclicals and the teachings of the U.S. Catholic Bishops – , and rebuked those who have been critical of his actions – including his Bishop – after offending human dignity in exploiting the bodily remains of a child on an altar in an attempt to push voters towards embracing Trump for yesterday's presidential election. Additionally, Father Pavone told CNS that he isn't concerned about the repercussions coming out of the Diocese of Amarillo and that the bishops have never supported his work.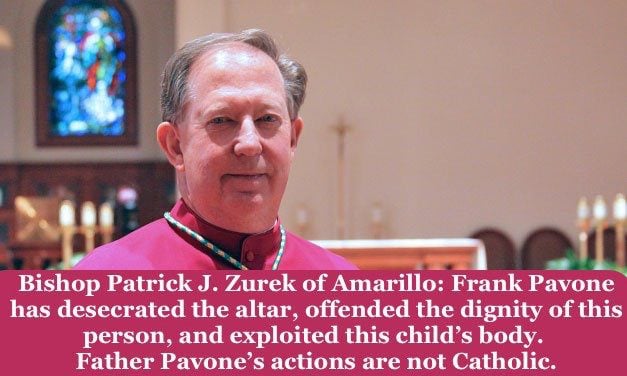 Note – see our recent coverage on this matter starting with the most recent post:
– Diocese of Amarillo Slams Father Frank Pavone and Priests for Life, Opens Investigation (Statement)
– Father Pavone's action was so ridiculous, Snopes.com was asked to verify it. Have they stored Baby Choice for years? We believe so.
– In qualified apology, Father Pavone asks us to reach out – we did and didn't hear back… – Oh, and the videos are still up. Update: the first video and apology have been removed! (Click here for more.)
– Breaking: Fr. Frank Pavone defends sacrilege: "The issue is not how I'm treating a baby."
– Adoring Trump: Fr. Frank Pavone uploads second video with body used as prop
– Did Father Frank use a dead body or a crafty image of one? Priests for Life responds.
– "Father Frank, Live!" on Facebook: Using the Dead to Elect Trump? Going too far? (Disturbing images; Update on body, Priests for Life.)
* * *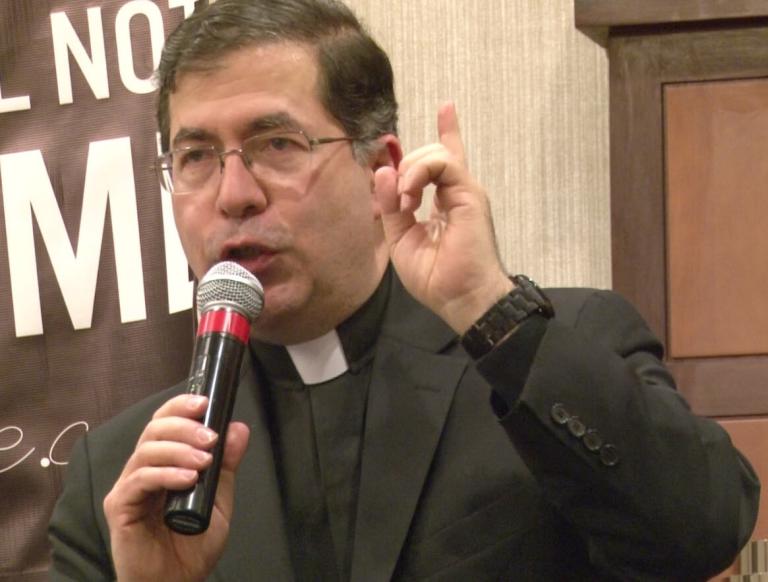 Father Frank Pavone, national director of Priests for Life, released a statement Wednesday morning celebrating Donald J. Trump's victory.
The full statement follows:
Today is a great day for America and the Church, and a debt of gratitude is owed to all who boldly spoke up, worked, and voted for pro-life candidates, starting with our new President-elect. I am grateful to all of you and our whole team for all the work of this long, contentious election cycle.

Our nation will now embark on a path to eliminate abortion and to foster the freedom of the Church. We will be able to advance such an agenda because of the pro-life majorities that now exist both in the House of Representatives and in the Senate.

In particular, this election victory means the end of the HHS mandate, against which Priests for Life was one of the first groups to launch a challenge in federal court. That challenge, joined by various dioceses and other groups, has gone all the way to the Supreme Court, and is still unresolved. Now, however, we see a bright light at the end of the tunnel.

Priests for Life will continue to be at the forefront of the pro-life efforts both within and beyond the Church – and by "pro-life" we mean specifically working to end abortion and restore protection to children in the womb.

We at Priests for Life – and I personally – welcome all who want join us. We are an open book, and we renew the invitation which we have extended multiple times in the past to all clergy and laity, to come and visit us and learn more about what we do and how we do it.

For what we do, we face much opposition and even hostility. We are not concerned about any of the criticism that has been launched against us, whether from within or outside the Church. Such opposition is a way of life for those who actively work to end abortion. Opposition and criticism do not burden me or my team at all, because there is a far greater burden every single day our minds and hearts: the continued slaughter of thousands of children every day by abortion.

Added to that burden is the silence of so many laity and clergy, and countless faithful have had enough of that.

We have no dispute with anyone who wants to end abortion, but only with those – such as the majority of Democratic politicians – who want to hide it and allow it to continue. For many years, and right up to this Election Day, many of the attacks launched against me and my organization have been motivated by partisan politics, and in particular by Democratic supporters who know the damage our work does to their abortion agenda. We are proud to endure those attacks and, as has happened in this election, we will continue to be victorious.
Pavone said: "We are not concerned about any of the criticism that has been launched against us, whether from within or outside the Church."
This, just days after pretending to be open to people's concerns and less than 24 hours after the Bishop of Amarillo slammed Fr. Pavone's recent actions, demonstrates the diabolical nature of the ideology at the center of this movement.
What were those actions? Those actions were sacrilege, the exploitation of a child's body, offending human dignity, and acting in a manner inconsistent with the demands of the Catholic faith – and basic human decency. All of this was done when Father Pavone placed the bodily remains of a child on an altar in order to compel voters to opt for Trump on election day (2016).
As we said in a previous post concerning the storing of children's bodies:
Father Frank Pavone, this is amazing: do we have a sort of trafficking of human remains, exploiting a child's body and denying burial for political purposes while desecrating an altar? Whether or not there are several babies named "Baby Choice", Snopes and the Catholic Herald both note that Priests for Life stores (either denying burial or having disinterred) children's bodies in formaldehyde for decades at a time. That's a harsh bill of (not-)goods.
Father Pavone told CNS on Tuesday that
 the bishops have never supported his work, and he was not concerned about repercussions out of Amarillo.

"I don't belong in Amarillo, to tell you the truth," he said. "The bishop (Yanta) invited me. I have no reason to be there."
Further, Father Pavone minimized what it means to be "Pro-Life" by restricting his understanding of the term to "working to end abortion and restore protection to children in the womb", however inaccurate that may be. Not only are Father Pavone's political preferences obstacles to ending abortion and protecting children in the womb, defining "Pro-Life" as he does is inconsistent with the basic definitions of "Pro" and "Life" in addition to the understanding of "Pro-Life" by the U.S. Catholic Bishops and what it means to be for live in papal encyclicals.
Until next time,
KME