Update – November 8, 2016 at 15:23 pacific time: Father Pavone's action was so ridiculous, Snopes.com was asked to verify it. Have they stored Baby Choice for years? We believe so. Click here for more.
Update – November 8, 2016 at 15:30 pacific time: Diocese of Amarillo Slams Father Frank Pavone and Priests for Life, Opens Investigation (Statement) (See more here.)
Update – November 9, 2016 at 12:00 pacific time: Fr. Frank Pavone: Thank me, for "today is a great day for America and the Church"; Rebukes Bishop. (Statement by Priests for Life) Click here for more.
Update – 12 November, 2016 at 21:50 pacific time: Victory or deceit: Father Frank Pavone Removes 1 of 2 Videos of Dead Baby on Altar for Trump! He also removed his 'apology' video. (Also, Priests for Life of Canada Rebuked Pavone!) Click here for more.
Note – see our previous posts on this matter starting with the most recent:
– Breaking: Fr. Frank Pavone defends sacrilege: "The issue is not how I'm treating a baby."
– Adoring Trump: Fr. Frank Pavone uploads second video with body used as prop
– Did Father Frank use a dead body or a crafty image of one? Priests for Life responds.
– "Father Frank, Live!" on Facebook: Using the Dead to Elect Trump? Going too far? (Disturbing images; Update on body, Priests for Life.)
*We are still waiting to hear what decision, if any, will be made by whoever the competent authority is concerning Father Pavone's videos and comments. We have reached out to the Diocese of Amarillo, the USCCB's Secretariat for Pro-Life Activities, The Pontifical Academy for Life, and the Congregation for the Doctrine of the Faith. Has His Eminence, Cardinal Dolan, any say, seeing as Father Pavone appears to at least reside within the Archdiocese of New York?*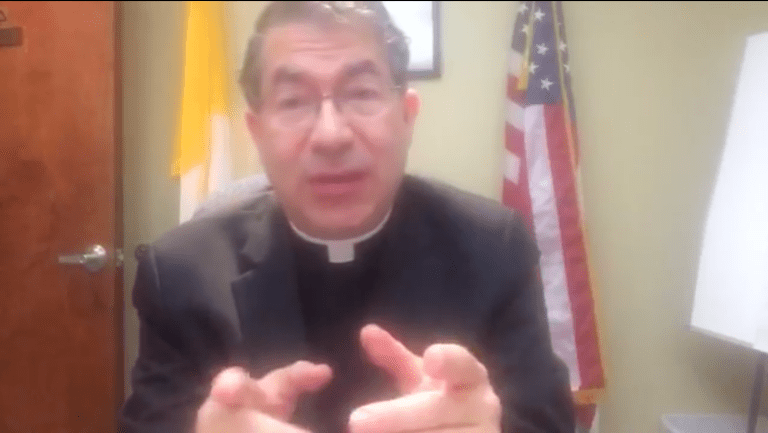 In a qualified apology video Tuesday morning on "Father Frank, Live!", Father Pavone asked people with questions to reach out to him.
This is what Father Pavone said (rough transcript):
So far I have gotten two emails  reporters from reporters asking me about what I did on Sunday and why I did it. And I answered all their questions, and I'll be ready to answer all their follow-up questions…It is amazing how many people will talk about what I did and will talk about me, instead of talking to me. And I want to call on you to stop that and talk to me if you have questions about what I do. Talk to my team at Priests for Life if you have questions about what I do. Again: guidance, correction, I have from day one always been open to receive it.

Update: This apology video, along with Father Frank's first outrageous video, is no longer available. Click here for more.

Dear Father Pavone,
I have reached out to your staff at Priests for Life in four separate e-mails. My first two e-mails received short replies and are noted here. There are substantial questions that were left unanswered, and I was left unable to make a claim on whether public concerns are merited or not.
The following, two e-mails each received a reply:
Good afternoon,

Could you clarify as to whether Father Frank had the actual remains of a child on the altar in yesterday's video or if it was an image/picture? Also, I don't recall Father Frank mentioning Priests for Life in the Live video, so I wonder if Priests for Life sees the 'homily' as associated with the organization or not.
The reply I received was this:
You can watch the video on Facebook
My second email:
Hi,

Do you know if the video contains actual human remains or an image of human remains? Even in HD it was difficult to be sure simply by watching the video.
The second reply I received was this:
Listen to it.
I then sent a third e-mail, and then a fourth. Neither reply, if sent back to me, made it to my inbox.
Third e-mail:
Hi,

A few more questions.

A) has the child had been buried and then disinterred?
B) who gave him permission to do this?
C) how is this in line with the theology of burial as an act of mercy and a sign of respect (cf. CIC 1176.2, CCC 2300)?
Thanks, again, for your time.
Fourth e-mail:
Would you happen to know about when the child in Father's video lost his life through the termination of pregnancy? How long has the child been in the PFL memorial chapel? When will the child be buried? Once buried, are children received by PFL ever disinterred?

Thanks, again – I appreciate your replies in advance.
Some of the things you've said in you apologia speak to the content of the questions asked, why wouldn't I receive an e-mail reply to clarify things?
Things remain unclear.
Please, Father Pavone, could you share with us the answers to the above. Additionally, what prompted you to produce an apology video? Why is the video you are apologizing for still on Facebook? Did I miss your mention of a second video on Youtube, or did you fail to mention it? Will you remove either or both videos?
What have you been instructed to do by your superior(s)? Who do you answer to? If not Amarillo, not New York, then who? The USCCB? Rome? Who in Rome? The Pontifical Academy for Life or the CDF? His Holiness?
Here is some more from Father Pavone's apologia (rough transcript):
People even say this is a baby, this is a real human being – this is sacrilege what Father Frank did. I refuse to be lectured by anybody in the Church or outside the Church about how to respect the unborn child. I have dedicated my life and ministry, and will continue to dedicate every ounce of time and every resource I have to defending, advocating for, and protecting and respecting these children. That's why we're taking care of them rather than letting them be thrown in the garbage. So I accept no lectures from anybody about how to respect innocent human life in the womb. But that's not what this is about. The sacrilege is the abortionists killing these babies. The democrats, starting with Hilary Clinton….

For those of you who are against me and those of you who are my enemies, I warn you this will not rest until what you're doing is exposed and stopped. So for those of you are my enemies you have a lot to worry about.
Father, are you suggesting that what you did is not sacrilege?
It is wonderful to hear you're open to hearing from people, receiving guidance, and correction. That's great. That's not what I've seen happen. Whatever challenges you've had with the Diocese of Amarillo and the Archdiocese of New York are their own examples, but I'm more interested in you saying – after claiming to be open to receiving people's concerns, guidance, and correction – that you're unwilling to be lectured by anybody in our outside of the Church on how you treat babies and their bodies, in fact, you said it's not about how you treat babies… That doesn't sound very open to me.
We look forward to hearing from you. If you would like to send me an e-mail, please ask your director of communications for my e-mail address, or use the contact form found above.
Sincerely yours,
Keith Michael Estrada