NOTE: This is our third post on Father Frank Pavone's use of a child's body in a public video, supporting Donald Trump, opposing Hillary Clinton. The first post is here. The second is here.
Update – 7 November, 2016 at 21:10 pacific time: Fr. Frank Pavone defends sacrilege: "The issue is not how I'm treating a baby." Click here for more.
Update – 8 November , 2016 at 08:45 pacific time: In qualified apology, Father Pavone asks us to reach out – we did and didn't hear back… – Oh, and the videos are still up. Update: the first video and apology have been removed! (Click here for more.)
Update – November 8, 2016 at 15:23 pacific time: Father Pavone's action was so ridiculous, Snopes.com was asked to verify it. Have they stored Baby Choice for years? We believe so.
Update – November 8, 2016 at 15:30 pacific time: Diocese of Amarillo Slams Father Frank Pavone and Priests for Life, Opens Investigation (Statement) (See more here.)
Update – November 9, 2016 at 12:00 pacific time: Fr. Frank Pavone: Thank me, for "today is a great day for America and the Church"; Rebukes Bishop. (Statement by Priests for Life) Click here for more.
Update – 12 November, 2016 at 21:50 pacific time: Victory or deceit: Father Frank Pavone Removes 1 of 2 Videos of Dead Baby on Altar for Trump! He also removed his 'apology' video. (Also, Priests for Life of Canada Rebuked Pavone!) Click here for more.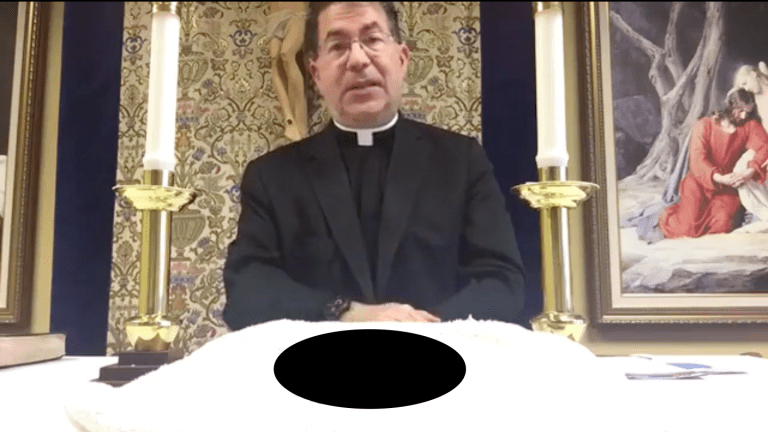 Unable to find satisfaction in using Facebook Live on Sunday to commodify the body of a child in promoting the cause of Donald Trump, Father Frank Pavone uploaded a second video, much shorter than the first, to the internet.
Found on his Youtube channel, Father Pavone's video "Facebook Live – Fr. Frank Pavone praying over aborted baby. – Election Prayer" seems to have been recorded on Sunday, 6 November, but was clearly published today, 7 November, even after we've seen a remarkable amount of backlash across the internet.
The video was uploaded about 7 hours ago, around 9 AM pacific time.
The video is disturbing.
The body of the child is in a different position than in Father Frank's Facebook Live video. Perhaps it is better to say the body used as a prop is in a different location on the stage of "Father Frank, Live!" We were originally unsure as to whether Father Frank used the body of a child in his propaganda video or a creatively placed image of one. Priests for Life did little to help us believe Father Frank wouldn't do such a horrible thing. This second video makes it more difficult to avoid the regrettable conclusion that Father Frank commodified the body of a child. This is an act of sacrilege, profanity, and desecration.
Is it really a second, distinct video? Is it a second take for "Father Frank, Live!"? The following in the second video differs from the first and contribute to why we think it is actually a second, distinct video: camera angle, duration, script, date uploaded, and the positioning of the child's body are all different.
At the time of publishing this post, the Youtube video has had 148 views.
You can go to the video and give it a "thumbs down" and report it to Youtube if you don't think it should be on there.
Father Frank's Facebook Live post is yet to be commented on by the Diocese of Amarillo, the USCCB, or the Pontifical Academy for Life.
In a second e-mail, we asked Priests for Life:
A) has the child had been buried and then disinterred?
B) who gave him permission to do this?
C) how is this in line with the theology of burial as an act of mercy and a sign of respect (cf. CIC 1176.2, CCC 2300)?
We have received no response to these questions.
You can see our original post on the video here.
Until next time,
Keith Michael Estrada