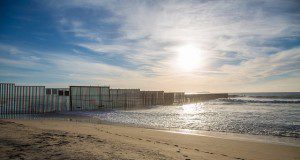 As CNS reports:
An editorial in a publication of the Archdiocese of Mexico City condemned Mexican companies wishing to work on the proposed wall being built on the U.S.-Mexico border as "traitors."

"What's regrettable is that on this side of the border, there are Mexicans ready to collaborate with a fanatical project that annihilates the good relationship between two nations that share a common border," said the March 26 editorial in the archdiocesan publication Desde la Fe.

"Any company that plans to invest in the fanatic Trump's wall would be immoral, but above all, their shareholders and owner will be considered traitors to the homeland," the editorial continued. "Joining a project that is a grave affront to dignity is like shooting yourself in the foot."
Then again, can you really expect capitalists to have any loyalty to their fellow man while the God of Money calls out to them? Jesus made it clear, "No one can serve two masters; for either he will hate the one and love the other, or he will be devoted to the one and despise the other. You cannot serve God and mammon…" (MT 6:24 RSVCE).
The Editorial is titled "Treason against the Homeland" and can be found here.