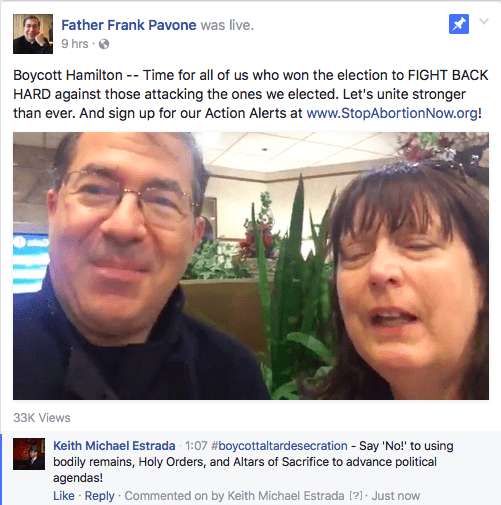 Battle of the bourgeoisie
Today on "Father Frank, Live!" our host Father Frank Pavone, national director of Priests for Life, was joined by Janet Morana, executive direct of Priests for Life, as they put out a call to action to all anti-legal-but-not-necessarily-in-favor-of-life-abortionists to boycott the hit, bourgeois, Broadway show "Hamilton: An American Musical".
This is all taking place after conservatives decided to call the herds to boycott the show as media outlets reported on the cast seizing the opportunity to address Vice-president-elect Mike Pence during the curtain call.
Fortune reports that on Friday evening,
Aaron Burr actor Brandon Victor Dixon read a statement to Pence during the curtain call. "We have a message for you, sir. We hope that you will hear us out," he said. "Vice President-elect Pence, we welcome you, and we truly thank you for joining us here at Hamilton: An American Musical. We really do. We, sir, we are the diverse America who are alarmed and anxious that your new administration will not protect us, our planet, our children, our parents, or defend us and uphold our inalienable rights, sir. But we truly hope this show has inspired you to uphold our American values and to work on behalf of all of us, all of us. … We truly thank you for sharing this show — this wonderful American story told by a diverse group of men, women, of different colors, creeds, and orientations."
The actor asked the audience not to 'boo' Mr. Pence.
The "Proponent of a Tyrant State," – to borrow from the words of Father Frank Pavone in his description of former-Secretary of State, Hillary Clinton, but wonderfully applicable to our current President-elect – Donald Trump, immediately took to Twitter to tweet his dissatisfaction of free speech and insisted that the stage should be a safe-space: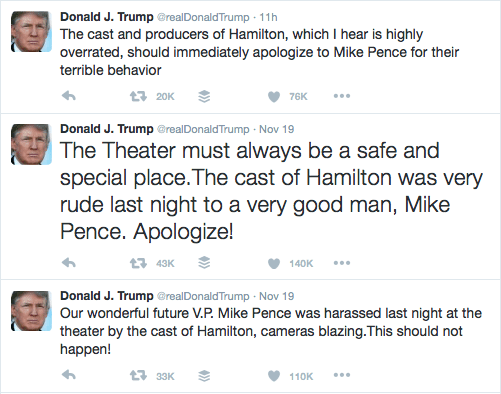 Meanwhile, of course, the faithful of the Church of Trump have been calling on the public to support a boycott of the show.
Among the elites in the Church of Trump you have Priests for Life's Father Frank Pavone and Ms. Janet Morana.
The duo came out in support of a boycott as a result of using a curtain call to be "political" – what does that even mean? – with Morana calling it a "disgrace" and Pavone opting for a forfeiting of free speech that criticizes elected officials.
Here's their action item:
Hilariously pathetic, no?
Meanwhile, as if opposing justifiable criticism and backing a politician with unjustifiable criticisms were not enough, Father Pavone and Ms. Morana forgot to take the opportunity to repent over Father's desecration of the altar, exploitation of life, and offense against human dignity to advance a political agenda in a video appeal for Trump's cause a fortnight ago.
You can see our entire coverage on the Father Frank Pavone Chronicles here.
Priests for Life: Broadway stage defiled, but we didn't desecrate the altar. #boycottaltardesecration https://t.co/yf1q94FmLt @keithmestrada pic.twitter.com/UgN0Ywqm8s

— Mr. Keith M Estrada (@keithmestrada) November 20, 2016

Instead, as we've shared on Father Pavone's video, '#boycottaltardesecration – Say 'No!' to using bodily remains, Holy Orders, and Altars of Sacrifice' to advance political agendas!'
What is the message we might learn from this 'action item'? Actors cannot use a stage to respectfully address an elected official in their midst, while the desecration of the altar, an exploitation of life, and an offense against human dignity to advance a political agenda is tolerable if not admirable.
In other news, Vice-president-elect Mike Pence isn't as war-hungry and repressive as Trump and his faithful followers, as CNN reports him stating in relation to the Hamilton political expression monster, "I did hear what was said from the stage. I can tell you I wasn't offended by what was said." He also told the anchor, "If you haven't seen it, yet, it's a great show… My hats off to the cast and to the extraordinary team that brought Hamilton to the public. We really enjoyed being there." He added that he nudged his kids and said, "That's what freedom looks like."
Father Pavone is currently under investigation by the Bishop of Amarillo, his home diocese.
We'll keep you up to date as we learn more about Priests for Life, the desecration of altars, and the suppression of political speech that is critical of the powerful.
#boycottaltardesecration
Do something useful to help protect and promote the life of an 'other'.
Until next time,
Keith Michael Estrada