Rotton and idolotrous, capitalism creates products out of migrants seeking to better the lives of their families via a for-profit immigrant detention system. Forced to face additional pain, and possibly death, by hunger striking, these human beings are attempting to make their inhumane conditions known to the world in order to bring about positive change for themselves, their families, and future migrants. Stand in solidarity with migrants.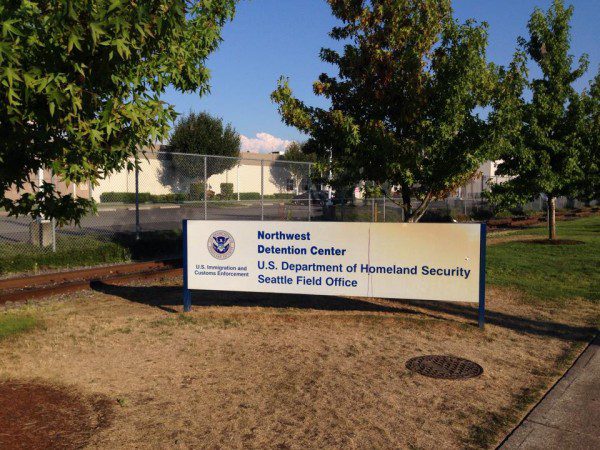 Over 750 detained persons are entering the fourth day of a hunger strike against conditions at a privately-run, for-profit U.S. DHS Immigration and Customs Enforcement facility located in Tacoma, Washington, according to a statement released today by the Northwest Detention Center (NWDC) Resistance.
The statement reads, in part:
Today at noon will mark 72 hours since immigrants incarcerated at the Northwest Detention Center (NWDC) began refusing meals, launching a hunger strike to protest their treatment inside the immigration prison. Supporters received news on Wednesday morning that over 750 people were refusing meals. Today at noon defenders of human rights are expected to communicate with their supporters in the outside whether they will continue their hunger strike or not.
Currently, over 750 detainees are on strike in the facility that has a capacity of 1,575 persons.
A letter from April 12, 2017, signed by some of the strikers translated and posted by the NWDC Resistance Facebook page reads:
To the public society: the public opinion

We want to let you know we are people imprisoned in the detention center in Tacoma, WA by immigration agents. We are around 1400 people, and many of use have families who depend on our income, and as you can imagine we cannot make money inside. So we ask the community that is outside to help however they can, help accelerate our immigration process to either deport us or release us on bond. This [prolonged detention] is harming us physically, mentally, morally, and emotionally to people detained and to our families with the simple act of keeping us detained for too long. All cases at a minimum are taking at least month and a half to two months just to see a judge who will only read the charges against you, and then you wait for another month to give you a court date, and then decide whether they will deport you or you will get a bond.

The truth is that under this conditions amongst the desperation, impotency, anguish, etc, of not being able to do anything from the inside we ask you respectfully to deliver this letter to the appropriate institution: Human Rights. Or the public opinion as soon as possible to see if there is anything that can be done for us. We believe that having encaged in this place is a business. We know the food that is given to us is not good and they sell us the famous commissary, so as long as you have someone that send you a few dollars you can buy and if you don't you have to make due with what they give you; and not even talk on the telephone [because you have to pay for that, too], as long as you are encaged you have to communicate with you relatives either here or in your country of origin.

Well, to the point: the only thing we want is not to be detained for so long, if we are to be deported so be it and to be given a chance to stay and pay bond, or any other way possible to remain. We don't want to be encaged for so long, we believe this is unjust.

Sincerely,
Everyone detained especially those in pod A1C
ICE spokesperson Rose Richeson gave the following statement to local media concerning the hunger strike:
U.S. Immigration and Customs Enforcement (ICE) takes very seriously the health, safety and welfare of those in our care. Individuals at all ICE facilities have access to meals served three times daily at the cafeteria, and the Northwest Detention Facility also provides snacks and/or food available for purchase from a commissary. If individuals are found to go without eating for 72 hours, they will become subject to the agency's protocols for handling hunger strikes – see link. Individuals on a hunger strike will continue to be offered three meals daily and provided an adequate supply of drinking water or other beverages. They will also be counseled about the related medical risks.

ICE fully respects the rights of all people to voice their opinion without interference and does not retaliate in any way against hunger strikers.
Additionally, local media reported:
[The hunger strikers] are calling for expedited hearings with an immigration judge, better medical care access, improved food quality, lower commissary prices, and an increase in the $1-a-day pay for "running all of the prison's basic services."
The statement appears to be a standard one for ICE, as the same communication was given in response to a national hunger strike in 2015 that included detainees at a facility in San Diego.
After 72 hours, ICE recognizes the hunger strike and subjects strikers to hunger strike protocols, which include isolating a detainee "in a single-occupancy observation room, denying contact with other detainees, when medically advisable," and permits the clinical director to order unspecified "involuntary treatment" of the detainee.
While the detained persons of the Northwest Detetion Center are on a hunger strike to protest their conditions, access to basic human goods, and what many see as a lack of speedy trials, they are also subject to living in a for-profit facility that "sits on an area called the Tacoma Tideflats, just below downtown, and alongside the Port of Tacoma. It's adjacent to an EPA Superfund clean up site referred to as the 'Tar Pits,' near where the Puyallup River Delta meets the Thea Foss waterway."
As the Seattle Globalist reported in 2015,
The area is prone to a smorgasbord of disasters, both natural and manmade: Giant underground tanks hold chemicals like benzene and chlorine, toxic byproducts from the site's days as a gas refinery. Train cars filled with oil rumble by. The ground on which the facility sits is made of fill material likely to liquefy in an earthquake. Evidence shows that volcanic lahars have flowed through here in past eruptions of Mount Rainier.

And then there's the tsunami danger.
According to the EPA, the site is still not under control as far as containment, use, and human exposure status are concerned. As far as tsunamis, the plan for evacuation of the 1,575 person capacity facility is not public, but would allow for as little as eight minutes to prevent all detainees from finding themselves under two meters (over six feet) of water.
For live updates on the strike and to learn more about the strikers and the conditions they face from their own words visit NWDC's Facebook page.
May solidarity prevail.
¡Adelante!