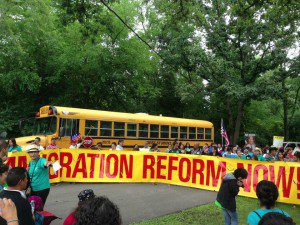 The U.S. has new plans for an increase of raids to deport families who surged across the border recently, as reported by the Washington Post.
The article reports that the U.S. Department of Homeland Security (DHS) has been "preparing for a series of raids that would target for deportation hundreds of families who have flocked to the United States since the start of last year…"
U.S. Immigration and Customs Enforcement (ICE) would carry out the "effort to deport families who have fled violence in Central America", and is prompted by a recent increase in arrivals caused by a spike in violence and a severe drought impacting the region.
The Post reports, "Experts say that the violence that was a key factor in driving people to flee Central America last year has surged again, with the homicide rate in El Salvador reaching its highest level in a generation. A drought in the region has also prompted departures."
The plan seems to include, however, only those who have been ordered removed from the United States by a immigration judge. "The adults and children would be detained wherever they can be found and immediately deported. The number targeted is expected to be in the hundreds and possibly greater."
We should consider this line: "Experts say that the violence that was a key factor in driving people to flee Central America last year has surged again, with the homicide rate in El Salvador reaching its highest level in a generation. A drought in the region has also prompted departures."
The region in general, and El Salvador in particular, has been unstable for decades.
First, let's note that, at least according to what is reported, violence in the form of homicide is at "its highest level in a generation" while others are fleeing because of a drought.
Violence and difficult climate conditions are causing people to flee.
Now, in response to the violence and climate challenges, we're deporting men, women, and children to this same region.
Second, ought we not consider our role in keeping the fire of violence and repression alive in the region?
The U.S. Bishops, at least, have often denounced the U.S. government's role in the deterioration of "the social, political and economic life of the region."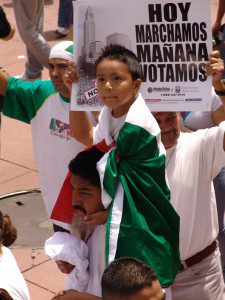 Where the U.S. Bishops, supporting the Bishops of Central America, for years insisted the U.S. government reduce, limit, and condition aid to the region, in 1984 Bishop Malone noted that the administration of President Ronald Reagan sought to increase military aid five times over.
We have been aware for decades of our government's unjust interference in the region, and the demand for aid in the form of economic assistance and development – not 'aid' in the form of weapons of death – has been consistent.
Knowing so many continued to flee to the United States, and the difficult conditions they would faced here, The Central American Bishops asked President Bush for the following:
That you maintain a posture of greater solidarity with the Central American immigrants and offer them a preferential treatment.

That you offer more facilities to the illegal immigrants so that they might regularize their situation.
No where there do we find "Deport to areas of violence and poverty, caused in no small part by your foreign and economic policy."
After decades of oppressing the people of central and south America, destroying homes and habitats, feeding a bloody violence, and economically exploiting generations, the U.S. decided, even after the travesty of NAFTA (North American Free Trade Agreement), to push forward CAFTA (Central American Free Trade Agreement).
While so many were already fleeing to the US for numerous reasons, certainly, one would think if we wanted to address immigration, we would consider the causes of people leaving their homes, no? Human life is expendable. That's how capitalism works. The powerful nation picks the victims.
The Bishops of the United States and of Central America warned us about CAFTA – especially after NAFTA's destruction of the common good. They warned us of violence, poverty, the difficulties of migration, the lack of protections for the environment and small farmers, and so much more – saying violence could escalate!
Now, with violence escalating, and the environment demolished in many places, people continue to flee to the land where they have the most likely chance of finding enough work to keep their families alive, a land where they can take a little rest from hiding in fear from the violence and repression – so many are here in the United States, the land whose government basically brought them here.
And the prescription is deportation.
Our policies do not support human life, they are not pro-family, and insofar as we're compelled to acknowledge our dignity and right to life, our policies reject religious freedom.
We exploit and suffocate the people of Central and South America, and the Caribbean. We then exploit them here and dispose of them when finished.
We must change our policies. Promote an equitable distribution of land and resources. We must put person before capital. We must feed, clothe, protect, shelter – Liberate ! – Latin America; in many ways we must liberate Latin America from the United States.
Peace is necessary and the wrath of capitalism has only devastated the process.
Many are here, because of violence, poverty, and a lack of opportunity. Some are here with families, and others are here alone – sent to have a fighting chance or maneuvering through society to work long enough to have the amount of funds necessary to support a family back home.
We should welcome the stranger and promote the common good in their home lands – so that there should be no necessity to flee!
We need to reject the deportation process of men, women, and children who are here because their homes are in no condition to sustain life. Of those currently targeted for deportation, the reasons could be one of many – but mercy still needs to have the final say. The U.S. during Obama's Presidency has turned away and deported many needy people, tearing families apart and condemning our neighbors to poverty and violence; with his excessive and unjust numbers, some of begun calling him "Deporter in Chief".
Tell our government to choose justice for immigrants, to embrace the poor, to protect families and children, and to help clean up the mess they played a major role in making south of the Mexico-U.S. Border and beyond.
For those of us who have insisted that the United States welcome refugees – even those who out of fear limited their embrace to Christian refugees – coming from the area referred to as "the Middle East", this call to welcome and protect our Central American brothers and sisters should be considered consistent with our values, particularly as Catholics, especially as it entirely contradicts nationalism, racism, and capitalism.
Until next time,
If you have found the content on Keith Michael Estrada's "Proper Nomenclature" to be useful, kindly consider supporting the cause with a donation.
Use the button below to donate through PayPal:

Thank you!