O love of Jesus, that triumphs over Him in all His mysteries, but particularly in His sublime Childhood and the consummation of His Cross, O love that in these two mysteries, transforms His omnipotence into helplessness, His plenitude into poverty, His sovereignty into dependence, His eternal wisdom into infancy, His joy and bliss into sufferings, and His life into death, conquer my selflove, my own will and my passions, and put me in a state of powerlessness, indigence, dependence, holy and divine childhood, and death to the world and to myself, which state may adore and glorify the powerlessness, the dependence, Childhood and death to which You reduced my Jesus in the mysteries of His Nativity and of His Cross.
– Saint John Eudes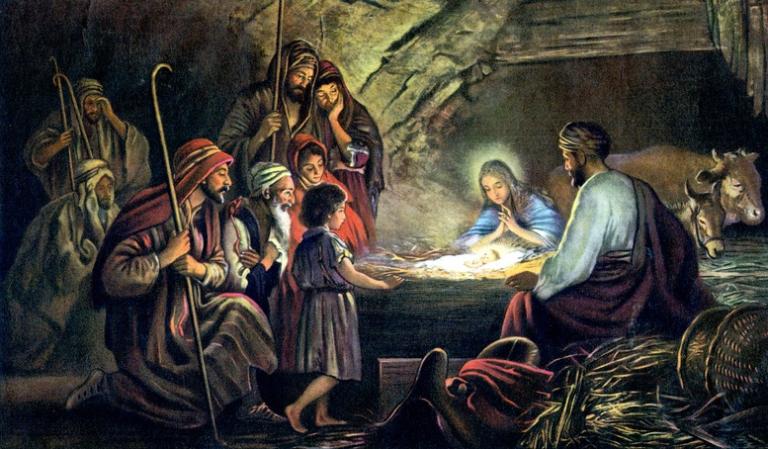 On this day we celebrate the birth of Jesus and all that this entails. This child was born poor, without a roof over his head. His family would be forced to flee to a foreign land to escape death. Nevertheless, the child who was born was to be executed some decades later.
The identity of Jesus is known in various degrees by many. Jesus is unique. For Christians, he is the God-Man, the Word Made Flesh.
In the beginning was the Word, and the Word was with God, and the Word was God. He was in the beginning with God. All things came to be through him, and without him nothing came to be. What came to be through him was life, and this life was the light of the human race; the light shines in the darkness, and the darkness has not overcome it… The true light, which enlightens everyone, was coming into the world. He was in the world, and the world came to be through him, but the world did not know him. He came to what was his own, but his own people did not accept him… And the Word became flesh and made his dwelling among us, and we saw his glory, the glory as of the Father's only Son, full of grace and truth. (John 1: 1-5, 9-11, 14.)
Yet, this Word Made Flesh was born in a manger, poor – but we know who he is and call him Lord:
While they were there, the time came for her to have her child, and she gave birth to her firstborn son. She wrapped him in swaddling clothes and laid him in a manger, because there was no room for them in the inn. (Luke 2:7-8)
God was born poor. "The true light, which enlightens everyone" embraced poverty and would embrace the poor.
Indeed, he would come to bring Good News to the Poor and liberate the oppressed:
He unrolled the scroll and found the passage where it was written: "The Spirit of the Lord is upon me, because he has anointed me to bring Good News to the poor. He has sent me to proclaim liberty to captives… to let the oppressed go free…" (Luke 4:17-18.)
Today we celebrate the birth of man Christians identify as the one Incarnation of God. You'd think, especially on this day, we would re-commit our lives to serving the Divine Stranger, especially in those Jesus identified with the most.
"Then [the Son of Man] will say to those on his left, 'Depart from me, you accursed, into the eternal fire prepared for the devil and his angels. For I was hungry and you gave me no food, I was thirsty and you gave me no drink, a stranger and you gave me no welcome, naked and you gave me no clothing, ill and in prison, and you did not care for me.'

Then they will answer and say, 'Lord, when did we see you hungry or thirsty or a stranger or naked or ill or in prison, and not minister to your needs?'

He will answer them, 'Amen, I say to you, what you did not do for one of these least ones, you did not do for me.'

And these will go off to eternal punishment, but the righteous to eternal life." (Matthew 25:41-46.)
Jesus identifies himself with the poor; and it is the poor we so often leave to die.
We know the parable of Lazarus and the rich man (see Luke 16:19-31).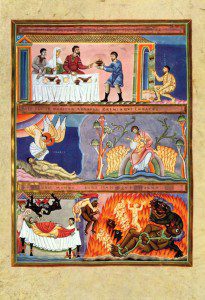 The rich man is left nameless. Lazarus has a name. The rich man, who had his fill, who left a poor man to die, is not identified – he has no name, no history, no doesn't live with dignity. The poor man, who suffered, who only desired the crumbs that fell from the rich man's table, has a name and, when he died, was carried by angels to Abraham's side.
Truly, Jesus brought Good News to the poor – the rich, not so good news.
Uniqueness and dignity are often esteemed in the popular, the rich, and the powerful. How many celebrities can we name? What talents do they have? What is going on in their lives?
Uniqueness and dignity are often forgotten when it comes to the poor and powerless, the sick and unwanted.
This Christmas, we should remember how many times Jesus will die from poverty, while a decent portion of us stay warm, are overfed, and enjoy friendship. "What you did not do for one of these least ones, you did not do for me."
If Jesus, in the poor, was born today, he would have a 1 in 6 chance of having a low birth weight.
Born today, Jesus may be one of the 8,500 children who die each day as a result of poor nutrition before the age of 5 – that's 3.1 million children each year.
In total, 22,000 children die each day due to conditions of poverty.
As a nation, we are five percent of the world's population and use up to twenty percent of the world's energy. We're denying life to this planet and those on it.
The amount of resources we spend on war is atrocious – damning, really.
Spending $4.4 trillion for war crimes and other human rights violations in Iraq, Pakistan, and Afghanistan, and up-to $7 trillion on interest alone if we don't pay it back soon enough, is unjustifiable.
Meanwhile, 22,000 children die each day due to conditions of poverty. Will we approach or ignore Jesus in the poor who die each day? Will we bring to them the goods that are rightfully theirs so that they may have life to the fullest? Or will we wait around to hear "What you did not do for one of these least ones, you did not do for me"?
22,000 children. Let's imagine the face of the infant Prince of Peace – whose peace we spit upon as we lust for war, we'll add – and put that face on a child born this day. Then, let's put the face of the infant Prince of Peace on 22,000 children who may die today. What we're not doing to help any one of these least ones, we're not doing for the Son of Man.
It's hard to identify with the poor, but that's where we'll find Our Lord. We may approach Him in the Eucharist this Christmas, but we may also let Him starve to death, or die from some other poverty-related cause – as a child! – 22,000 times this Christmas day alone. (Let us add those who are on death row, who will die from exposure to the elements, who will endure another mass shooting, who will be killed by armed drones, who have no work and are rejected by our country, and who will despair in having no place to go because the climate will not let them stay home, and so many more of these least ones.)
At times even the Church indulges in fancy furnishings, while others cannot meet basic needs.
Live according to the demands of your vocation and dignity – indeed, live the resurrection! But where there is excess, and waste – and truly, there is excess and waste – let us act without delay to deliver what belongs by right to those who need it.
I wish you a peaceful Christmas. I hope you and I will make the necessary adjustments to give more to those who are even poorer than us – both by direct aid and through our political action.
We cannot deny the poor. When Jesus was born so many years ago, he was born and delivered to death so that we may have life. It's shameful that He wasn't the last child born to certain death. Instead, even to this day, we will celebrate the birth of a child, and stand to watch Him die 22,000 times on this same solemnity. Today's deceased are not anonymous or nameless like the rich man – those we let die, at the very least, have the face of Christ.
Let's close with a portion of St. John Chrysostom's homily on Matthew:
That table at that time was not of silver nor that cup of gold, out of which Christ gave His disciples His own blood; but precious was everything there, and awful, for that they were full of the Spirit.

Would you do honor to Christ's body? Neglect Him not when naked; do not while here you honor Him with silken garments, neglect Him perishing without of cold and nakedness. For He that said, 'This is my body', and by His word confirmed the fact, This same said, 'You saw me an hungered, and fed me not'; and, 'Inasmuch as you did it not to one of the least of these, you did it not to me.' For This indeed needs not coverings, but a pure soul; but that requires much attention.

Let us learn therefore to be strict in life, and to honor Christ as He Himself desires. For to Him who is honored that honor is most pleasing, which it is His own will to have, not that which we account best. Since Peter too thought to honor Him by forbidding Him to wash his feet, but his doing so was not an honor, but the contrary.

Even so do thou honor Him with this honor, which He ordained, spending your wealth on poor people. Since God has no need at all of golden vessels, but of golden souls.

And these things I say, not forbidding such offerings to be provided; but requiring you, together with them, and before them, to give alms. For He accepts indeed the former, but much more the latter. For in the one the offerer alone is profited, but in the other the receiver also. Here the act seems to be a ground even of ostentation; but there all is mercifulness, and love to man.

For what is the profit, when His table indeed is full of golden cups, but He perishes with hunger? First fill Him, being an hungered, and then abundantly deck out His table also. Do you make Him a cup of gold, while you give Him not a cup of cold water? And what is the profit? Do you furnish His table with cloths bespangled with gold, while to Himself you afford not even the necessary covering? And what good comes of it? For tell me, should you see one at a loss for necessary food, and omit appeasing his hunger, while you first overlaid his table with silver; would he indeed thank you, and not rather be indignant? What, again, if seeing one wrapped in rags, and stiff with cold, you should neglect giving him a garment, and build golden columns, saying, thou were doing it to his honor, would he not say that thou were mocking, and account it an insult, and that the most extreme?

Let this then be your thought with regard to Christ also, when He is going about a wanderer, and a stranger, needing a roof to cover Him; and thou, neglecting to receive Him, deckest out a pavement, and walls, and capitals of columns, and hangest up silver chains by means of lamps, but Himself bound in prison you will not even look upon.
Merry Christmas,
If you have found the content on Keith Michael Estrada's "Proper Nomenclature" to be useful, kindly consider supporting the cause with a donation.
Use the button below to donate through PayPal:

Thank you!
Pray to Our Lord, especially, to implant in your heart charity and warm affection for the poor, strangers, widows and orphans. Consider such as these to be persons recommended to you by your greatest friend, Jesus Christ, who in Holy Scripture very Often and very emphatically recommends them to you as deserving all the attention you would give to Him in person. With this in mind, then, be kind in speaking to them, treat them charitably and give them all the help you can.


– Saint John Eudes
Meditate on the birth of Jesus with Saint John Eudes in yesterday's post.