USC President Nikias is on his way out, Board of Trustees announce [Full statement below]
Board: "Actions will be swift and thorough," change is needed, patience is requested
Three days prior, Board placed "full confidence in President Nikias' leadership, ethics, and values"
Students and faculty have called for Nikias' resignation over the last week in response to what was described as the outbound President's lack of action to protect students, loss of "moral authority" in dealing with student health center gynecologist
Gynecologist, hired in 1989, took and collected photographs of student genitals, accused of sexual assaulting students over the last three decades
Gynecologist was quietly fired in 2017, USC failed to file a complaint to the California Medical Board until March of 2018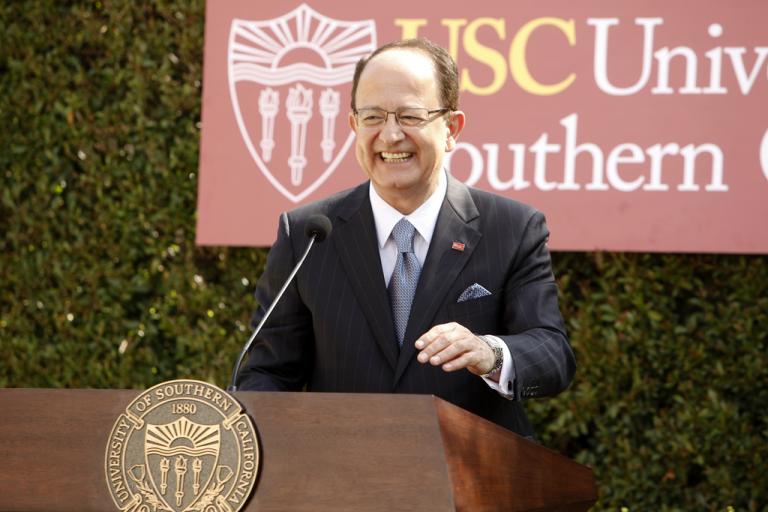 In a statement released to the University of Southern California community Friday afternoon, Mr. Caruso announced that President C. L. Max Nikias "and the Executive Committee of the Board of Trustees have agreed to begin an orderly transition and commence the process of selecting a new president." Speaking on behalf of the Executive Committee, Caruso admits that  "the need for change" exists and that the Committee's "actions will be swift and thorough." They are "committed to a stable transition," he adds, and will "work with faculty, staff, student leadership, and alumni" throughout the process. Caruso then asks for the community's "patience" as Nikias' removal and replacement is dealt with.
This news comes less than 10 days after the USC community learned, through a letter released by President Nikias, that Mr. George Tyndall, a gynecologist at the University's health center, "performed physical exams [that] did not meet current practice standards and that he made inappropriate remarks to patients, in some cases during the examination process. Some of these comments were racially discriminatory and sexually inappropriate in nature." Nikias' May 15 letter was released ahead of the publication of a damning article by Harriet Ryan, Matt Hamilton, and Paul Pringle in the Los Angeles Times the following morning.
Per the Times article, Tyndall was hired by the University in 1989 and complaints of inappropriate behavior started coming in during the 1990s. Two investigations by the University were underway in 2016: in addition to investigating student and staff complaints against Tyndall, a collection of photographs of students' genitals in Tyndall's office discovered that year was the subject of the second. The photographs dated back to 1990 and 1991, and "some are labeled with identifying patient information," according to the Times article.
In addition to seeing the University as failing to act in order to protect the health and safety of students for almost three decades, several in the USC community expressed outrage at the fact that Tyndall's actions were seemingly dealt with quietly when, finally, "his employment ended in June 2017," according to Nikias' May 15 letter. Moreover, the university community is in disbelief upon learning that USC failed to file an official complaint against Tyndall to the California Medical Board until March of 2018. "In hindsight," Nikias writes, "we should have made this report eight months earlier when he separated from the university."
In response to these revelations, USC students swiftly started an online petition calling for "USC President Nikias's resignation." Since opening one week ago, the petition has garnered 4,156 signatures. Some days later, on May 22, 200 of USC's tenured faculty followed suit in writing to the Board of Trustees "to express our outrage and disappointment over the mounting evidence of President Nikias' failure to protect our students, our staff, and our colleagues from repeated and pervasive sexual harassment and misconduct." The faculty letter rebuked any narrative seeking to defend Nikias from inaction and protecting his position of power, stating the the President "lost the moral authority to lead the University, and in addition, to lead the investigation of institutional failures that allowed this misconduct to persist over several decades." The diverse group of faculty members made their demand clear: "President Nikias must step aside to allow new leaders to take the necessary steps to repair the damage."
In contrast to today, Mr. John Mork, Chairman of the USC Board of Trustee, sang a different tune in a letter released to the USC community after the faculty's letter was published and the student petition created. Mork's May 22 letter insists that the "executive committee of the board has full confidence in President Nikias' leadership, ethics, and values and is certain that he will successfully guide our community forward." Mork closed by adding that the Board "strongly support[s]" what was then the plan to be implemented by President Nikias to target "these issues" and permit USC to "move forward."
Consistent in our opposition to Mork's May 22nd stance, we agree with Caruso that change is needed and look forward to Nikias' departure. Further, while working to support those suffering from the damage done by USC's 1989 hire over almost three decades of abuse and assault,  we will make sure that the Executive Committee's "actions will be swift and thorough."  I, for one, will not tolerate the moral evil that has taken place nor offer some bourgeois gesture of patience while the countless victims suffer another night without the justice they are owed.
Keith Michael Estrada
*     *     *     *     *     *     *     *
Text of Chairman Caruso's May 25, 2018 letter:
May 25, 2018

Dear USC faculty, staff, students, and alumni,

We appreciate the voices of the many members of the university community who have expressedindignation from the harm inflicted on our students by Dr. Tyndall. As a father of USC students,an alumnus, and a member of the USC community, I share your outrage and understand thefrustration and anger regarding the situation with the former physician.

The University of Southern California is governed by a Board of Trustees, with both a fiduciary and legal responsibility to that community. We have heard the message that something is broken and that urgent and profound actions are needed.

Today, President Nikias and the Executive Committee of the Board of Trustees have agreed to begin an orderly transition and commence the process of selecting a new president. We recognize the need for change and are committed to a stable transition. Please know that our actions will be swift and thorough, but we ask for your patience as we manage a complex process with due diligence. We will work with faculty, staff, student leadership, and alumni,and our focus remains on offering support and counseling to those impacted, investigating whathappened, and listening to and healing our community. Our thoughts are with the families thathave been affected by this situation, and our pledge to this community is that we will rebuild ourculture to reflect an environment in which safety and transparency are of paramount importance, and to institute systemic change that will prevent this from occurring in the future.

There is nothing more sacred to this board than the wellbeing of our students. We will be guided solely by what is in the best interest of this great university.

Best,

Rick J. Caruso
Chairman
Subcommittee of the Executive Committee USC Board of Trustees
PDF of Chairman Caruso's May 25, 2018 letter.
PDF of Chairman Mork's May 22, 2018 letter.
PDF of Faculty's May 22, 2018 letter.
Link to USC student online petition.
Link to Los Angeles Times' May 16, 2018 article.
PDF of President Nikias' May 15, 2018 letter.