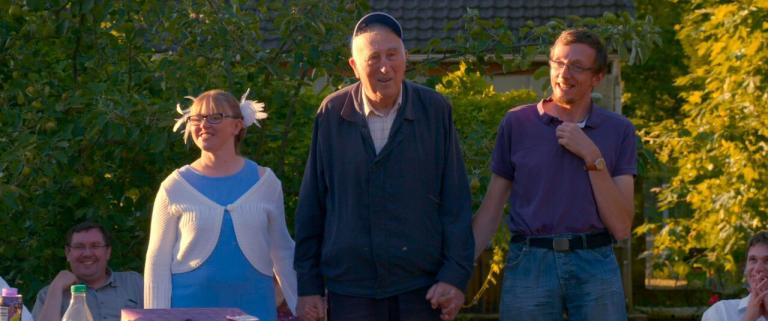 Summer in the Forest demands a revolution of society's heart. In routine buying, consuming, taking, eating, selling, and discarding, people are reduced to mere things—objects of pleasure, objects of productive value. It is against this casual, habitual commodification that Jean Vanier and L'Arche remind us of the dignity of human life.
Indeed, it is the rejection of dignity that precedes our society's mass exclusion and discarding of men and women with disabilities, our own children and the elderly. Our moral compasses can hardly navigate a social stratum where the dignity of human life has not been reduced and exchanged for, first, the ideal of a certain "quality of life," and finally a utilitarian "quantity of life." We need a revolution of heart to be able to see the humanity we share with our brothers and sisters—a humanity that demands love in every encounter.
Having read some of Vanier's work and seen L'Arche communities in action, I was already familiar with this particular and beautiful cause for hope. Unsure of what to expect from Summer in the Forest, I sat down with pencil and paper in hand, ready to note various elements of interest. While I did end up recording some thoughts and writing down various quotes, I regret doing so. Summer in the Forest is gift—it is an exploration, a discovery, a meditation, a journey to the Divine, and a reminder of our sharing in that Divinity. It is to be viewed with an open heart—open to the real love and joy manifest in L'Arche communities.
Summer in the Forest invites us to experience the daily lives of several L'Arche community members. Throughout the film, Vanier's authenticity and love serve as a gentle guide in what may be the most beautiful time anyone could spend in front of a screen. 
I am grateful for having had the opportunity to see what being human entails when confronted with what is different—with what contradicts the values of our system of ceaseless consumption.
That is to say, what I experienced viewing Summer in the Forest was a direct, but gentle, presentation of what should be a very simple choice: Shall we continue to fear, mistreat, reject and discard people we see as undesirable, unproductive, fragile, or with special needs for the sake of false-comfort, deadly-luxury, and the maintenance of the prevailing socio-economic system? Or, might we, instead, choose to encounter one another, embrace and serve each other in our common humanity, while living simply and joyfully without concern for the idols of efficiency and material gain? Summer in the Forest invites us to consider the latter and points to Vanier and L'Arche as the model for living a life of happiness, a life of fulfillment, a life of service, and, quite importantly, a life that cannot be purchased, but only shared in love.