On the North Shore of Boston, visitors and residents have trouble not coming into contact with Salem and also with the city's tourist industry that feeds off the Witch Trials from 1692. You walk through downtown Salem and you can't avoid seeing a shop, museum, or food vendor that ties in to the theme of witches and the trial. Even the local newspaper, The Salem News, has a logo that features a witch riding a broom.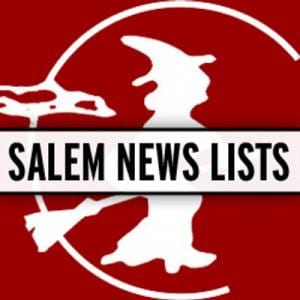 Good clean fun, I suppose.
That is surely the the impression you receive from mothers who offer recommendations on kids' sightseeing in Salem. Here are five of MommyPoppins' list of twenty-five things to do:
3. The old-school presentation at the Salem Witch Museum will give you and your kids an overview of the 1692 Salem Witch Trials and serves as a great jumping off point for other witchy stops along your Salem tour.

4. Who says you can only dress up on Halloween? Pop into Witch Pix where your kiddos can have a spooky photo shoot using fun backgrounds, props and costumes.

5. Take a Salem Kids Walking Tour, geared toward younger children to learn about the history of the town, from famous Witchcraft Trials to a missing ship to a moving graveyard.

6. One of the best ways to see the city without getting burned out is climbing aboard the Salem Trolley. Get on and off at any of its 13 stops while learning about the city during the guided tour along the way.

7. Salem's House of the Seven Gables is said to have inspired Nathaniel Hawthorne's book of the same name. Take a tour of this historic landmark while you're in town.
Witches, spookiness, graves. It's all part of killing a day.
To her credit, Working Mother, adds a note of caution:
Relive History at the Salem Witch Museum
Regardless of when you visit Salem, the Salem Witch Museum (19½ N. Washington Sq., Salem, MA), is an obligatory stop. The museum's primary attraction is a narrated presentation that recounts the events of 1692. Note that you might want to skip the presentation if you're visiting with young children easily spooked by low lights and sound effects. A second, less intense, exhibit places the Salem Witch trials in a broader context about witchcraft and witch hunting around the world. Before you leave, pick up a memento, such as a Halloween decor item, at the museum's shop. Admission is $12 for adults and $9 for children between the ages of 6 and 14.
Low lights, as opposed to death and the thought of the execution of real-life human beings, are what mothers need to keep in mind with young children.
Philip Jenkins would probably disapprove. In one of his several posts, he reminds readers of what the fear of witches could produce (from 1787):
It would have been treated as a very ridiculous supposition, a year ago, that the charge of witchcraft would cost a person her life in the city of Philadelphia; yet the fate of the unhappy old woman called Corbmaker, who was beaten—repeatedly wounded with knives—mangled and at last killed in our streets, in obedience to the commandment which requires "that we shall not suffer a witch to live," without a possibility of punishing or even of detecting the authors of this inhuman folly, should be an example to warn us how little we ought to trust to the unrestrained discretion of human nature.
I can see how that way of remembering witches and their persecutors might cut down on tourism in cities like Salem. But if Americans are really supposed to be sobered by the past, from the suffering inflicted by explorers like Christopher Columbus to the stain that slavery left upon the nation, is having fun with witches a very good way to remember the deaths of (mainly) women? It doesn't mean that you cannot turn a depressing story into a visitors' attraction. Americans travel to cities to observe all sorts of depressing parts of history.
So why don't the fourteen women and five men executed for practicing witchcraft deserve better?