FiveThirtyEight carries a story on disease among African-Americans and includes a map of the states and counties that had the highest concentrations of slavery. Here is the map: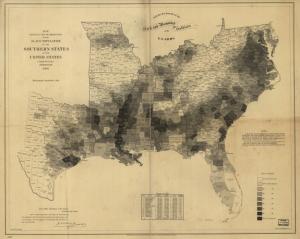 Here's a description of this region from the story:
On major health metrics in the U.S., the shaded counties on the antebellum map still stand out today. Maps of the modern plagues of health disparities — rural hospital closings, medical provider shortages, poor education outcomes, poverty and mortality — all glow along this Southern corridor. (There are other hot spots, as well, most notably several Native American reservations.2) The region, known as the Black Belt, also features clearly on a new interactive created by FiveThirtyEight using mortality projections from researchers at the Institute for Health Metrics and Evaluation at the University of Washington. The projections show that, while mortality is declining nationally, including among those who live in the Black Belt, large disparities in outcomes still exist….

Experts say a long history of racism and poverty has left the region short on resources and high on risk factors. Smoking and poor diets, for example, likely contribute to many causes of mortality. But, many experts argue that these so-called lifestyle factors shouldn't simply be viewed as choices people make that keep them unhealthy and that they're only a small part of the bigger picture.
What may be surprising is that these maps also correlate with others that show where African-American Protestants are the largest segment of the population (as well as counties where Baptists are most numerous). Consider these that show a similar density for African American Protestants and Baptist congregations: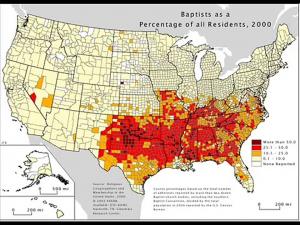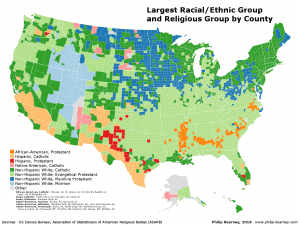 The overlap of these sections of the United States is more than coincidental since the National Baptist Convention (five million) and the National Baptist Convention of America (three-and-one-half million) are two of the top ten largest denominations in the country. They are also predominantly African American.
What is also likely the case is that in this same area where slavery was so pronounced and where illness has been rife, the beliefs of African Americans are more Christian than in any other part of the country. The Pew Research Center's study of religion and race and ethnicity a few years ago showed that African-Americans are much more devout than other ethnic groups.
Importance of religion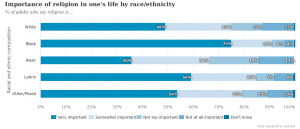 Attendance at services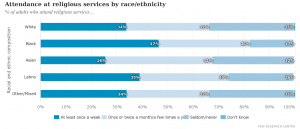 Frequency of prayer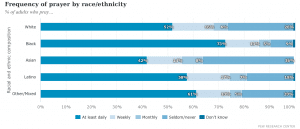 Bible Reading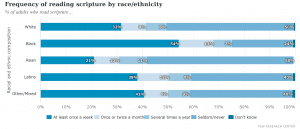 Belief in Hell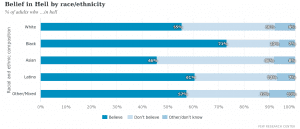 Part of what makes this remarkable is that most of the Africans who came to America as slaves had no background in Christianity. When they converted they did so through the efforts largely of Baptist and Methodist evangelists, which means those converts did not necessarily associate Christianity with a white man's religion.
That many of those converted slaves' descendants have held on to Christianity is a testament to the resilience of the black church. It may even be a source of comfort to those hit so hard by COVID-19.