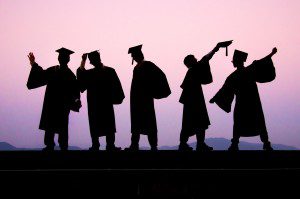 I spent some time recently reading a commencement address by David Brooks to the Dartmouth Class of 2015 entitled "The Ultimate Spoiler Alert."
In it, Brooks sought to provide a picture of what the decades of life beyond college will look like for these graduates and presented an argument that their "primary mission in life is to be really good at making commitments."
The Importance of Commitments
On this point, Brooks notes:
"Making commitments sounds intimidating, but it's not.
Making a commitment simply means falling in love with something,
and then building a structure of behavior around it
that will carry you through when your love falters."
What a powerful observation about the nature of commitments.
Brooks goes on to argue that these students will end up needing to make four major commitments in their life. A commitment to:
Their spouse and family,
A career and a vocation,
Their faith or philosophy, and
A community and a village.
Though it would be great to engage any of these commitments, I'd like to focus on Brooks' observations around the commitment to a career and a vocation.
Vocation is Something that Summons You
Brooks' provides a thoughtful comment regarding the difference between a vocation and a career. He notes: "A vocation is not a career. A career is something you choose. A vocation is something that summons you."
That's not always the way people think of vocational discernment; personal choice is often the point emphasized.
But Brooks sees vocation as more of something that calls from outside of us rather than arises from within by simple personal choice. Explaining further, Brooks continues:
"People with vocations don't ask: What do I want from life? They ask: What is life demanding me to do? What gap is there in my specific circumstances around me that demands my skill set?
It's not found by looking inside you for your passion. People have studied this. Eighty percent of you don't have a passion. It's found by looking outward, by being sensitive to a void and need, and then answering the chance to be of use."
Looking Outside to Find an Opportunity to Provide Value
If Brooks' observations are accurate and vocation is found by looking outside, this calls for answering a few key questions:
Are you paying attention to your surroundings?
Are you being sensitive to the voids and needs around you?
Are you responding to the opportunities to be of use?
In business, people understand the priority of providing value. Rather than asking "what do I want to do in life?" the more fulfilling line of inquiry is "what is the vocational path on which I may contribute the most or best value to those around me?"
In other words, vocational fulfillment is not just an individual pursuit. Vocational fulfillment is found within the context of community. At each stage of life ask: "Am I looking outward to see how I may be used to provide meaning and value to those around me through my vocation and service?"
God's wisdom to each of you as you engage such significant questions and pursue the vocational path that lies before you at each life stage.