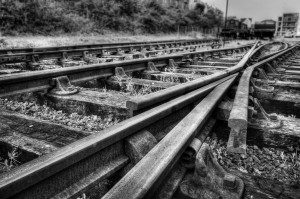 Have you ever had the feeling of being "stuck" or "trapped" in a career or job? Most people have at one time or another.
The question of what to do with this "stuck" feeling is vital for anyone facing a challenging season, and is at the heart of what I'd like to engage in this brief reflection.
Changing Your Work Context
Sometimes this experience or feeling leads toward a shift away from one's current role, whether this shift is dramatic or more subtle.
One expression of this might be the bold step of quitting a job even though a next step is not in place. Another expression of this might be putting your résumé out and getting a feel for other options. Still another expression of this might be going back to school in order to eventual make the jump out of a current role.
Changing Your Perspective on Your Work Context
Other times, the answer is not a shift away from a role or organization, but rather a shift in perspective within that role or organization. This path is about taking a proactive posture toward the stuck feeling. Rather than seeing this as something brought upon you by the organization or others, this is about shifting to take ownership and responsibility for what you have control of as you face this feeling.
Advice for Getting Unstuck
On this point, Robert Steven Kaplan provides thoughtful reflections in his HBR article entitled Reaching Your Potential. Here are some recommendations and reflections drawn from Kaplan's work for those desiring to move out of this feeling of being "stuck" and "trapped."
Understand Your Strengths and Weaknesses
Use this Understanding to Guide Your Career Choices and Goals
Identify Three or Four Tasks that Are Central to Your Work Responsibilities; Make Sure You Excel at These
Show Character and Leadership within Your Role and Organization
Put the Interests of the Company and Your Colleagues ahead of Your Own Interests
Be Willing to Speak Up, Even Voicing Unpopular Views
Don't Play It Too Safe
Identify Your Dreams
Develop Skills to Realize these Dreams
Demonstrate Courage to Pursue these Dreams
Remember their Will be Bumps Along the Way
What Are Your Next Steps for Getting Unstuck?
Although we could identify other recommendations to add to these, Kaplan provides great insight here for those wanting to move forward from this place of feeling stuck. The key is to move away from a passive posture and on toward an active posture of taking ownership in moving toward your career potential.
What steps have been most helpful for you in getting "unstuck" in the context of your job?