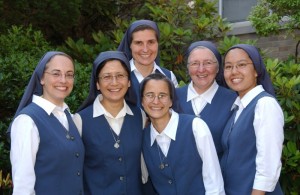 It's hard to describe the mission of the Daughters of St. Paul let alone really understand and appreciate it.
When I finish giving someone the usual spiel about how we work with the modern media to spread the Gospel I have had more than one person ask me, "So the sisters also teach at schools right?"
No.
Running a publishing house, video, art and digital department then managing bookstores all over the country and visiting parishes and going to conferences to distribute the media we produce is quite enough for one congregation of sisters, thank you!
Of course, we do also visit schools with our JClub book fairs. And we blog, (and blog and blog and blog and blog) and tweet,(and tweet, and tweet, and tweet, and tweet, and tweet and tweet and tweet and tweet and tweet and tweet and tweet and tweet and tweet and tweet), and design apps, and make movies, and give talks, and…ok I could go on and on. Gotta stop somewhere.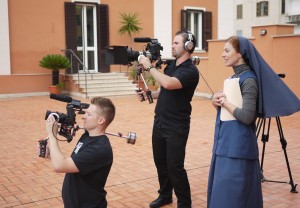 Basically, we do a LOT of stuff, just not the traditional things you think of when you think of sisters.
So, anyway, our fabulous postulants in St. Louis put together an amazing video that will help you understand the charism of the Daughters of St. Paul. The video beautifully captures the busy, apostolic and contemplative life in our small convents all over the United States that distribute the materials produced by Pauline Books and Media from our motherhouse in Boston.
After you watch this video, I don't think you'll ask me if we also teach in schools, (at least you better not!)
We try to bring people to Christ through modern media, but media can also lead people away from God. As consecrated sisters, we believe that our consecration and our daily sacrifices combat the bad influence of media.
We believe that everything we do is infused with our mission.
If you feel a connection to the work we do in the Lord's vineyard or recognize the vital importance of positive, Christ-centered media in our world, God may be calling you to help us.
As many of you know the Daughters of St. Paul are holding our annual webathon. We are still far from our goal of raising $50,000.
Can you help us get just a little bit closer?