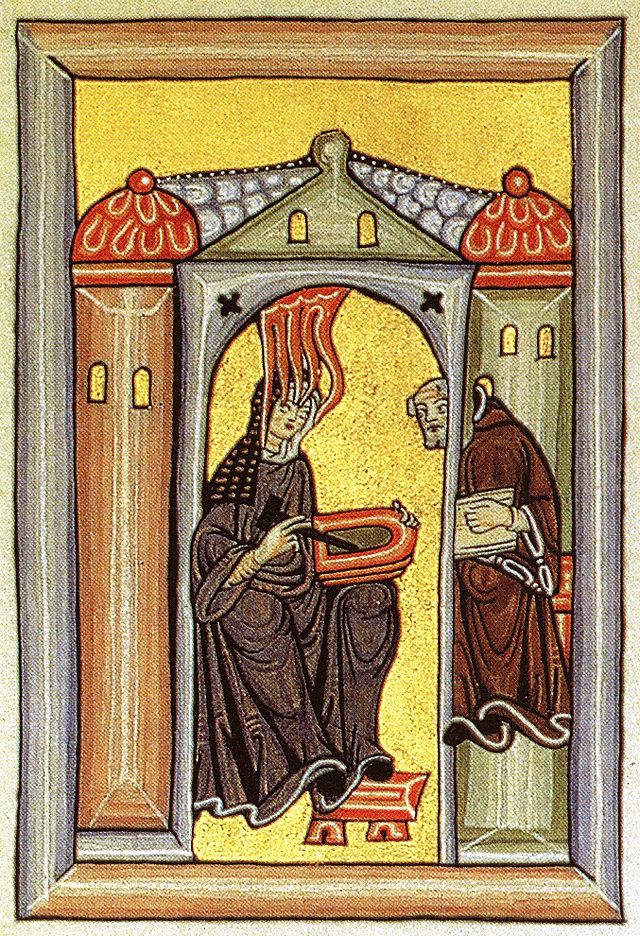 When I lived in the Bay Area in California I visited a women who was experienced in herbal medicine. She was the third in a line of family herbalists. She was not Christian and yet when I mentioned St. Hildegard, her eye's lit up with delight. She told me that classes for herbal medicine still read the saint's classic writings on medicine.
I have always loved St. Hildegard of Bingen, even when I was away from the Church. I think that her appeal to so many different types of people is one of the reasons I admire her so much. Feminists love her. Popes love her. Musicians love her.
And I can understand why she has such wide appeal. She also was pretty much a female Leonardo da Vinci. I mean the woman was a poet, a herbalist, a composer, philosopher, abbess, a writer of history and science, and visionary. She did it all.
Do you love St. Hildegard?
Do you know who she is?
If your answer is not affirmative to either of these questions you should learn more about her. Let's start with five facts that will help you understand why she is one of the most fascinating women  in the history of the world.
1. Hildegard began having visions when she was five years old. She finally began writing them down when she was in her forties after she heard a voice from heaven instructing her to write them down.
She describes one experience like so:
A fiery light, of the greatest flashing brightness, coming out of a cloudless sky, flooded my entire mind and so inflamed my whole heart and my whole breast like a flame — yet it was not blazing but glowing hot, as the sun makes anything on which its rays fall hot. And I suddenly experienced the understanding of the exposition of books, that is, of the Psalter, the Gospel, and of the other orthodox volumes of both the Old and the New Testaments.
2. Hildegard wrote music and has one of the largest repertoires of medieval composers. She composed seventy-seven chants. Her music was unique and groundbreaking for its time and her musical signature was "a melodic leap of a fifth followed by a leap of a fourth upwards."  She once wrote:
I composed and chanted plainsong in praise of God and the saints even though I had never studied either musical notation or singing.
3. Hildegard was one of the first people for whom the Roman official canonization process was applied but she was not formally recognized until 2012 when Benedict XVI laid the groundwork so that he could name her a Doctor of the Church, a Saint who is recognized for his or her contribution to the faith through writing and preaching. Hildegard is currently one of four female Doctors of the Church.
4. Hildegard was the first Saint  to include a first person memoir in her biography. St. Ignatius and Blessed James Alberione could have learned a thing or two from her:
Ignatius stood fighting bravely until a cannon ball of the enemy broke one of his legs and seriously injured the other.
Seriously, no offense Jesuits because our founder was just as bad, but what a snore.
5. Hildegard had no problem chastising people who could kill her. When Emperor Frederick Barbarossa caused a schism in the Church she wrote to him:
You will be sorry for this wicked conduct of the godless who despise me! Listen, O King, if you wish to live! Otherwise my sword will pierce you!
There you have it folks.
Gotta love her.
St. Hildegard: Ora pro nobis