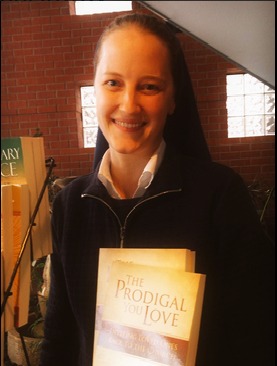 I am getting ready for a big blizzard in Boston after a wonderful week here promoting my book The Prodigal You Love: Inviting Loved Ones Back to the Church. 
Lots of good things have been happening with this book that I never imagined I would write until my sisters asked me to give it a try during my novitiate.
One amazing thing that I am excited to share with you is that the first print run of the book has already run out in four months. (No worries, the second print is already underway).
I am thankful to God for this wonderful response, I believe it shows that the book has filled a need in the Church and I pray that it will help many people invite their loved ones back.
Here are some things you may be interested in checking out to learn more about the book:
1.  Allison Gingras from the Real Life Radio show Reconciled to You has some great podcasts available in which she explores the themes in The Prodigal You Love. You can find them here, here and here. She also invited me to be on her show to talk about my journey back to the Church and the podcast for that can be played here:
2. Pete Socks has a great review of The Prodigal You Love over at his blog Catholic Book Blogger.
And of course, the most important part – FREEBIES!
3. Enter to win a copy of The Prodigal You Love over at Allison Gingras' web site for her radio show Reconciled to You: Ends February 16 
4. Enter to win a signed copy of The Prodigal You Love at Pete Sock's blog The Catholic Book Blogger: Ends February 19
Bless you all!