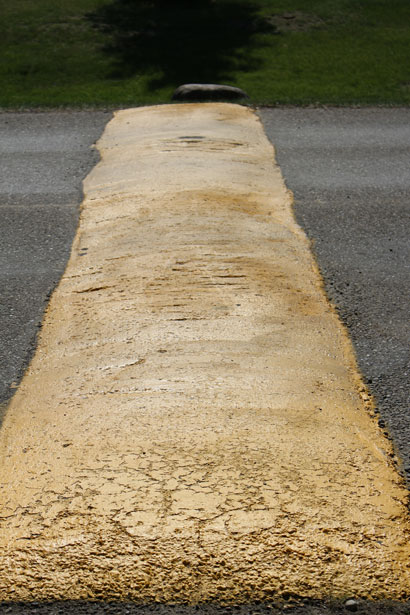 Have you hit the Lenten speed bump? Or did you hit it a while back like me?
Usually I hit a bump around mid-Lent. This Lent it actually happened earlier. A LOT EARLIER.
I have been having a terribly lackluster Lent (in terms of keeping up with my Lenten promises).
Maybe you can relate.
Marge Fenelon, a Patheos blogger at Catholic to the Core, has written an article for Our Sunday Visitor filled with advice for you when you hit a wall during Lent.
She asked me too add my two cents, which is appropriate because this Lent has been one big speed bump for me:
Here is an excerpt:
Sister Theresa has personally experienced the struggles of keeping Lenten resolutions — sometimes, she admits, on the very first day of Lent. She pointed out that we can find ourselves slumping in our Lenten resolve at any time during the season.

"If we don't take ourselves too seriously and are humble, I think slumps can become a beautiful part of our Lenten journey," she said. "They give us the opportunity to meditate on the beauty of a God who came to save us from our worst selves. Jesus' death on the cross unleashed all kinds of grace that can powerfully transform us. Slumps are a reminder of just how much we need that grace; we can't do anything by ourselves."
Read the rest here…
Also, a few months ago I was on the radio show Outside the Walls with my good friend Timothy Putnam. Here is a link to the podcast if you are interested in listening to the interview.
Timothy is now fundraising to buy some radio equipment to continue expanding the reach of his radio show. If you want to support Catholic radio and would like to learn more, please visit his fundraising page and consider making a donation!.
Even if your Lent has been lackluster like mine, you still can participate in almsgiving!
Peace and prayers that your Lent (as well as mine) gets over the slump soon.