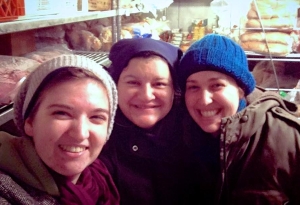 So, I'm a novice, and the sister who is in charge of our formation is notorious for assigning us "special missions."
I've learned in the last two years that anything that's not on our regular schedule is considered a "special mission," and these "special missions" range anywhere from putting books away, to picking up a sister from the airport, to cleaning something out of the ordinary. (Actually, that's USUALLY what it means.) But last week, sister told us that we had an "extra-special mission."
As if Boston weren't cold enough outside, Sr. Carly (my co-novice) and I received a request to help clean out the community's walk-in freezer. (If this isn't love, I don't know what is!) We have many kind and wonderful people who generously donate food to our community on a regular basis. Understandably, it takes a great deal of food to feed 70 people three meals a day, every day! Because we often have large quantities donated, naturally a lot of it gets put into the freezer. Like a lot of it.
Just like you have every good intention of keeping your freezer/refrigerator organized, it sometimes falls to the backburner… It may come as a surprise to you, but it's the same for us. It's just that disorganization in a walk-in freezer can become this crazy-huge project. And it was. The three of us spent a total of eight hours cleaning, organizing, sorting, shelving, reboxing, relabeling, and relocating….
At first we were excited about our frigid adventure (Sr. Carly kept referring to it as Arctic Tetris). After an hour or two, while we were sorting and stacking in 4 degree temperature, the atmosphere started to lose its exhilaration. It was just cold, and dim, and there was still stuff everywhere! It seemed impossible that we would ever be finished.
As I was there in the freezer, I started to think about how during Lent we are called to take stock and go through our "spiritual freezer." We are called to look at those things we've thrown back in the dark corners of our heart and thought we would never have to see again. If your "freezer" looks anything like mine, there are a lot of dark corners stuffed with things I totally forgot were even there.
At the beginning of Lent we may have started off with great gusto, thinking that this Lent was going to be great, and that, by Easter, all would be in order. I'm not sure about you, but I started off this way. I had a really great list of things I was going to give up, and things I was going to do, but as time has passed, I realized that I started to feel like I did in the community freezer: cold, dim, and with stuff everywhere!
Lent was not going the way I had planned.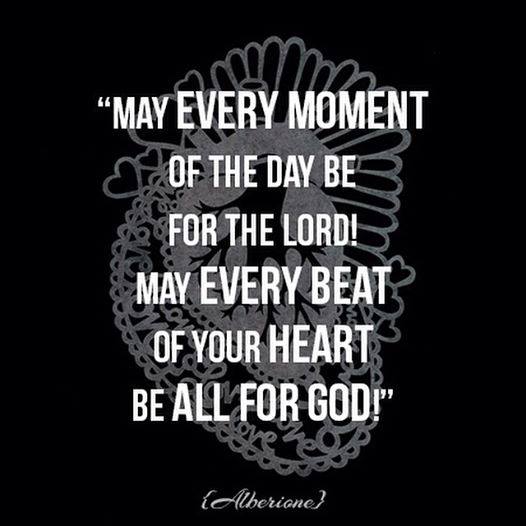 As I was praying one day, it dawned on me that I was trying to clean out my "spiritual freezer" by myself. I was sitting miserably in the dark and in the cold realizing that I can't do Lent alone…and in that moment I knew that Jesus wanted to be an integral part. He had only been waiting for me to invite him to come in and live this time with him. He wants to throw on every light and warm my heart with his love.
Jesus knows our human nature. He does not condemn us, because he knows how we can fall into a rut; how we can become lukewarm and treat the sacred with little regard; how we can turn our souls into marketplaces; how we so easily get sucked back into old ways of slavery; how we clutter our heart with the temporary and the unnecessary. We so often think that some of our deep-rooted sins and vices are within our power to simply clear out. It's not that easy. The fact is, we NEED Jesus to come and help us reorder our souls, to reorient our hearts, to clear out space in our lives so that we can be filled more with him. We can't do it alone. Jesus wants to do it for us, but we need to invite him in.
To conclude, I want to assign YOU a "special mission": As Lent comes to a close, invite Jesus to really live this coming Holy Week with you. Invite him to come into… reorder… and clean out your "spiritual freezer." He wants to come and live this time with you.
 Please add any lessons you have learned this Lent in the comments section!

Sr. Chelsea Moxley-Davis is a novice with the Daughters of St. Paul. She entered the convent almost four years ago. Sr. Chelsea is a graphic designer who likes to evangelize through beauty and make copious amounts of chocolate chip cookies. She was recently named one of the top twelve Catholics on Instagram. You can follow her here. She will be, God willing, making her first vows this August. Pray for her!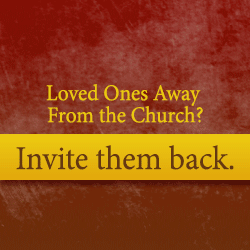 This post first appeared on the Daughters of St. Paul Pauline Books and Media blog and My Discover Hope weekly email; if you would like to subscribe to our sisters' weekly email, you can do so here.