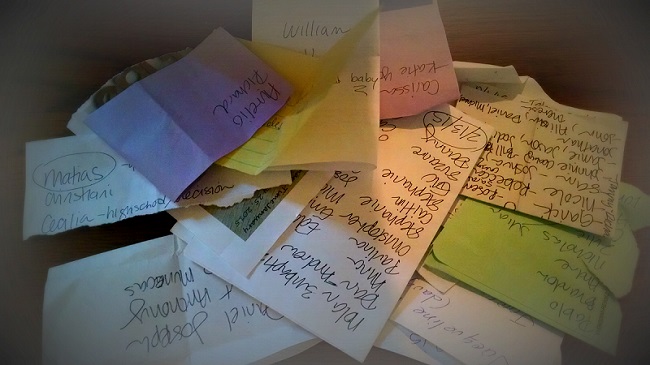 Do friendly atheists exist?
Simple answer: they do.
I was one.
Harry Shaughnessy is also one.
Harry was raised Catholic. He and his wife were married in the Church, attended Mass and sent their children to Catholic school. But Harry and his wife, Charlotte, eventually realized that they did not really believe.
So, they rejected their faith, became atheists and decided to raise their children without faith. They now top their Christmas tree with the Flying Spaghetti Monster and Harry has started a weekly Sunday gathering called Secular Together, a secular substitute for church services.
I recently read an article about the Shaughnessy family and while I found it all fascinating, my interest was especially peaked by the mentions of Harry's parents, Jim and Marjorie Shaughnessy, who are faithful Catholics. Jim and Marjorie declined to be interviewed for the article, but they did send a short statement:
"It is not out of animus toward Harry or anything he is involved in that we are not interested in being part of your article, but rather out of respect for him and the rest of the family and a hope for open (and uncontaminated) discussion about it sometime in the future, should Harry choose to."
That statement touched me. As did Harry's remarks throughout the article that indicated that while he has become a strident atheist, he still cares about what his parents think.
One example brought back so many memories from when I was an atheist:
His parents change the subject whenever Harry's atheist activism is mentioned, which saddens their son.

"I'm doing what they taught me to do," he complains, "just without the dogma."
I remember feeling similar frustrations. I once asked my parents if it would be possible to have conversations without mentioning God. My dad looked at me baffled and pained and said, "But he is the foundation of our lives Theresa."
I can relate to Harry's feelings of losing his grounding with his parents. When faith is the foundation of a person's life it is impossible to maintain the same kind of intimacy with loved ones when they reject it. This is a sad truth and one that is, in a way, insurmountable. When a loved one does not share our faith, it naturally limits intimacy on a deep and fundamental level.
What pain.
For Harry
and
for his parents.
I have been around the country giving talks about my book The Prodigal You Love: Inviting Loved Ones Back to the Church. In every place I have been, Massachusetts, Texas, California, Florida, the sentiments are the same.
People are in pain.
When I first started talking to people about my book I had the inspiration to ask for their loved ones' names so I could keep them in prayer. Pretty soon I had piles of scrap paper with names of loved ones. Some were written with eyes full of tears.
This Holy Week, I am going to transfer these names to a notebook. As I write, I am going to keep each person deeply in my prayers and I have asked my sisters in the Daughters of St. Paul to keep this intention close to their hearts this week. I invite you to join us in this prayer.
Please comment with the names of your loved ones who are away from the Church (first names only). If you are away from the Church and it causes the people you love pain, comment with your name, we can keep you in our prayers as well if you would like.
Please join the Daughters of St. Paul in prayer, especially during this holy time, for all relationships that are affected when people leave the Church, and for all those we love who have left the Church:
Prayer to Jesus
Jesus, sometimes I feel such sadness when I see my loved ones reject your presence in the Church. I long for them to see, to understand, and to delight in your Presence in the Eucharist. I desire the same joy and grace for them that I have found in the sacraments.
Yet, for reasons I cannot understand, my loved ones do not accept your presence in the Church. This causes me great suffering, but I know that it causes you greater suffering. Despite the pain that I feel, I am grateful for my suffering, which I know is a participation in your love for humanity, in your thirst for souls. In faith, I join the suffering I feel to the suffering that you experienced on the cross. On the cross you bore the rejection of all sinners, including me. I undergo this suffering willingly, knowing that I cause you suffering with my own sin and rejection of you in my own life. I offer this sacrifice up to you with joy and with love, knowing that you will use my sacrifice for great good.
                                                                   – From the appendix of The Prodigal You Love
May your Holy Week be blessed.
Also, if anyone knows Jim and Marjorie Shaughnessy, please message me. I would like to send them a free copy of my book. (Update:  Someone sent me their contact info, a book is on its way!)