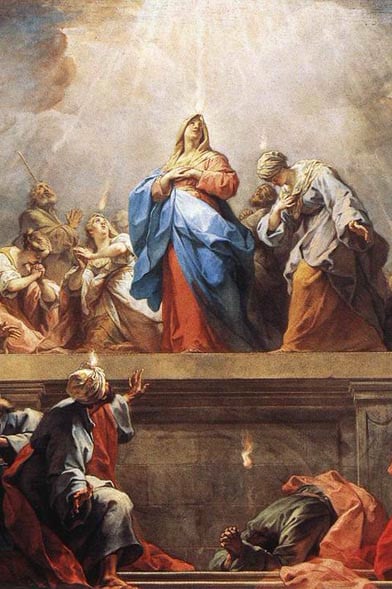 As Pentecost approaches, the Daughters of St. Paul pray a novena to Mary, Queen of Apostles.
Mary was present at Pentecost and she is traditionally depicted at the center of the apostles.
Blessed James Alberione, our founder, wrote a prayer with the line:
[Mary] obtain for us an abundant outpouring of the Holy Spirit, as you did for the first apostles.
As new statistics were released recently that show more people leaving the Church, we need Mary's intercession more than ever.
Each of us knows someone who has left the Church.
Mary can help.
Here are some reasons why:
1. Mary is Our Loved Ones' Mother:  I once had a very strong prayer experience in which I was desperately pleading with Mary to intercede for some people I love very much who have left the Church.
While in prayer, I felt the Blessed Mother turn to me with compassion and love and say:
You are concerned about your loved one because you love them very much. But imagine how much I must love them. I am their Mother. The ones you love are always beneath my mantel and surrounded by my prayers.
What a beautiful image to carry with us: Mary, with her mantle around our loved ones.
2. Mary is the Evangelizer Par Excellence: In my book, The Prodigal You Love: Inviting Loved Ones Back to the Church, I go back to the model of Mary frequently because she was the first evangelizer. Mary knows how to give Jesus to our loved ones because she was the first to give him to the world. Mary can guide us as we navigate the sometimes treacherous waters of relating to loved ones who have rejected the faith or even God altogether. Her example can teach us how to reach out to our loved ones.
Pope Francis writes in
Joy of the Gospel
:
There is a Marian "style" to the Church's work of evangelization. Whenever we look to Mary, we come to believe once again in the revolutionary nature of love and tenderness. In her we see that humility and tenderness are not virtues of the weak but of the strong who need not treat others poorly in order to feel important themselves. (288)
3. Mary Lived in Union with the Holy Spirit: In order to effectively reach our loved ones, we have to disconnect from our own ideas, opinions, egos, anger, and stress and tap into the presence of the Holy Spirit living in us through our Baptism. Mary surrendered herself in all that she did to the Holy Spirit. She can teach us to do the same so that the Holy Spirit can work through us.
If you know anyone who has left the Church, this month that is traditionally devoted to the Blessed Mother would be a beautiful time to ask her to accompany our loved ones with her prayers and love.
And if you would like to join in the Queen of the Apostles novena, Sr. Marie-Paul Curley is posting every day.
Sr. Marianne Lorraine is also posting every day for a novena to the Holy Spirit.
I'm a "better late than never" novena person, so no worries, just join the fun!