I extended an invite to my readers to write about why they remain Catholic. New Zealander Stephen sent me this gem. I asked him for a picture to go with this piece and I received this response: "No pics of me on horseback – we carried rifles not cameras. One of my teachers at Primary School was Poppy Joyce (aka Sr. Gertrude – brother of the "great" James Joyce. She tried without success to teach me piano for two years." Of course, then he remembered he DID have a picture and sent me the one below. Enjoy. – Sr. Theresa Aletheia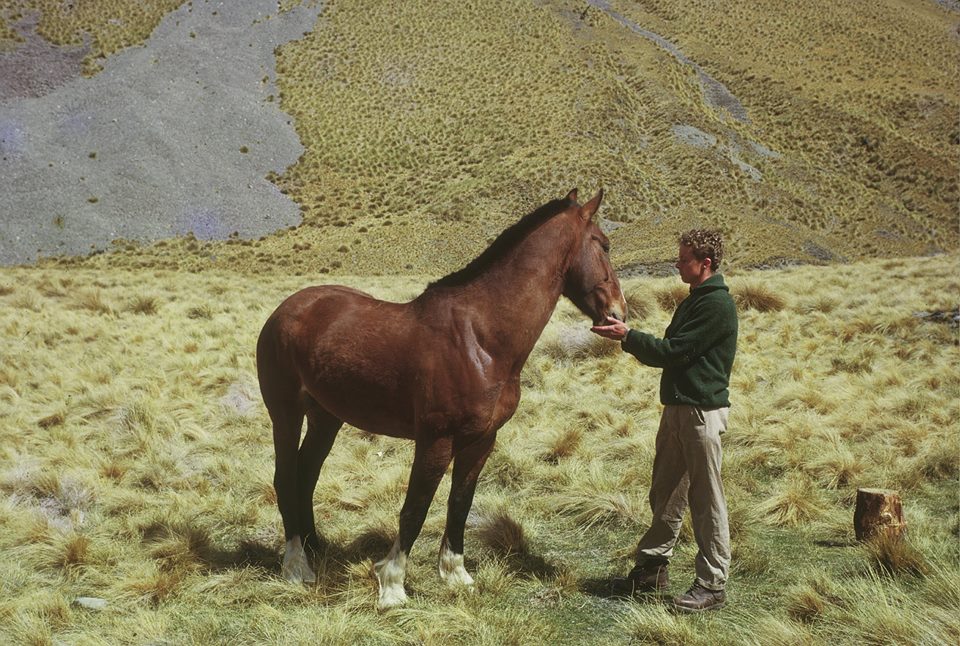 I don't recall being asked but herewith I tell my story – proffered on end of a long stick (as Flannery O'Connor once said) so I can snatch some back if anger is provoked.
I was born during WWII and educated at Catholic Schools (1948-1960). Our family practiced its faith even if it didn't really value a personal relationship with Jesus – that was something for folk like Methodists – we Catholics had the Pope and the Catechism. Yes, there were a lot of rules, but there was also Our Lady and the Rosary.
In my teenage years, circumstance found me spending much time on horseback moving beef cattle in a remote area hemmed by swift rivers which had to be forded. From half kneeling on the saddle with heels tucked up behind to keep feet dry and praying your horse didn't stumble, all the time trying to look tough and nonchalant – I learned about security – you can trust a good horse – you have to – and I was only fourteen years old.
The large family I stayed with back then knelt to pray the rosary every evening after mealtime. Back in town popular films like Shane also helped – good and evil opposed in plain view – and they had horses in them as well.
After high school I did compulsory military service and still practiced my faith even though many I went through school with were jettisoning theirs – this was the 1960s – enough said. I sought reasons to abandon the Catholic faith and its 'irksome' rules but the vision always came to me of dismounting from a horse in mid river without having another to mount beside me – yes if I was going to chuck over my faith I needed another to take its place.
I married at 30. My wife was from an Anglican background but non-practicing. We would discuss things and she would say, "Who told you that? How do you know that?" I was challenged all right, but remained on course. One evening after work I was driving home with the car radio on and at that time Radio NZ would broadcast selected short readings from classical sources. The reading that evening made me pull the car over so I could write down its source. It was a short excerpt from Orthodoxy by G. K. Chesterton, and it sent me on a literary quest. I had encountered Chesterton briefly in high school but now I felt ready for him.
From Chesterton I rediscovered Belloc, then Sigrid Undset, Flannery O'Connor and many others. I recall Chesterton's wry comment that young Catholics are taught all the answers before they've even asked the questions. Anyway, I had come back strongly to a faith that previously was only a shadow – I had looked toward the sun.
About ten years ago I was roped into helping with RCIA. A few Sundays ago, (Trinity Sunday) we had four adults enter the Church. I was talking to one of them afterward and a lady parishioner approached with congratulations and said that she also was a convert from many years back. I said to the little group, "If we're honest, we're all converts." In other words we all have to return to our faith whether from a long absence, maybe even abandonment of it, or moving toward a stronger relationship with Jesus – being what He wants us to be.
The Catholic Faith is for me like being on a trustworthy horse in the middle of a difficult river crossing.

Stephen Sparrow writes from New Zealand. He is semi-retired and reads (and writes) for enjoyment, with a particular interest in the work of Catholic authors Flannery O'Connor, Walker Percy, Sigrid Undset, Dante Alighieri and St Therese of Lisieux. His secondary school education was undertaken by Society of Mary priests at St. Bedes College and after leaving school in 1960, he joined a family wood-working business, retiring from it in 2001. He is married with five adult children. His other interests include fishing, hiking, photography and natural history, especially New Zealand botany and ornithology.