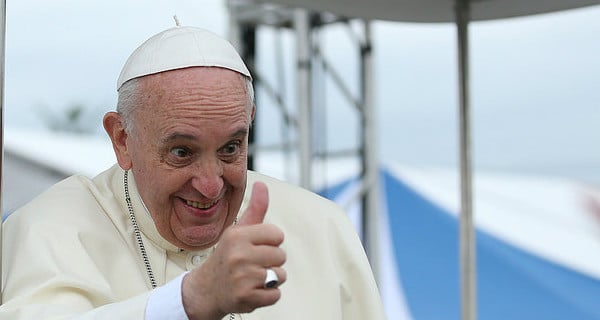 By Sr. Marie-Paul FSP
It was October 1, 1979, and taking place that day was the first historic event that I wanted to be a part of at the grown-up age of twelve: the first visit of a Pope to Boston!

I had begged my mom to be allowed to go into the city with the bus from my parish, but she felt that my sister and I were too young to go without her, and she needed to stay home with the younger kids. I was so disappointed at being left behind (I was always the one left behind), that I became determined not to miss a moment of the big event. This was 1979: pre-internet, VCRs were too new and expensive for our family to have one, and there was no TV-on-demand. Watching the Pope on TV was a one-time event.

I scrambled to find what I needed. I borrowed a portable cassette recorder (with the top-loading lid and the built-in microphone), and set it up on several phone books piled atop the kitchen chair so that the recorder would be right next to the TV speaker. And for the next seven days, I took over the television—an unheard-of phenomenon for me as a middle kid in our large family—and stayed glued to the TV, manually taping onto cassette the Pope's every homily and talk.

During the next year, I'd periodically re-listen to these talks—my absolute favorite being his homily during the Mass on Boston Common. While I wouldn't get to see Pope John Paul II in person until 22 years later, that "virtual visit" of St. John Paul II became a real encounter with God's grace that greatly influenced the direction of my life.

This week, another opportunity for life-transforming grace awaits us in the historic visit of Pope Francis to the USA. Our Pope of surprises calls us back to the essentials of the Gospel: an ongoing, joy-filled encounter with Christ; a renewed commitment to ongoing conversion; an open love for one another that is shown in real, tangible ways (as in the works of mercy); a special attentiveness to and solidarity with the poor and vulnerable of our society; freedom to take on the challenge of the Gospel to really live what we believe. As a good shepherd, Pope Francis will speak to us what he feels we most need to hear.

If all followers of Christ truly lived the Gospel and paid attention to Pope Francis, we would transform the world! How can we allow this transformation to begin in our own lives, especially when most of us are not actually going to see him in person?

Here are 7 ways we can prepare for and live the Pope's visit as a life-changing encounter that strengthens our faith and changes our lives.

1. Pray for Pope Francis and for our country, that his visit will be a graced encounter in which the Holy Spirit can freely work—in us, and in the hearts of all whom the Pope meets.

2. Prepare our own hearts to receive God's Word. All of us have been touched by particular words or actions of Pope Francis. What has Pope Francis said or highlighted from the Gospel over the past couple of years that has most struck you? Perhaps it is his openness to the most needy of our society; his attention to those suffering from poverty; his nonjudgmental attitude; or his humility? Is this, perhaps, part of the message that God wants to give us through Pope Francis' visit? We can ask Mary, Untier of Knots, to remove any resistance we may have, and to open our hearts to the Vicar of Christ.
3. Read Pope Francis' words for ourselves. Excellent books such as Give Us This Day Our Daily Love, and Inspiration from Pope Francishave gathered some of the most striking of Pope Francis' words in a way that makes them easily accessible. Reading a page a night during our night prayers together as a family can help us deepen Pope Francis' message. (Last year, the Daughters of St. Paul published a free digital magazine that "unpacked" one of Pope Francis' talks—it's still available here.)
Reading the documents gives us an overview of the Pope's thought which enables us to understand what he is saying, even when he is misreported by the secular media. The Joy of the Gospel, Laudato Si' and The Face of Mercy are great documents and accessible for the average Catholic who likes to read.
If reading a Church document feels way too much to do before his visit, check out some of the daily homilies of Pope Francis; or read a couple of his general audience talks, picking a topic you are interested in from the index of subjects/dates. Since December, 2014, Pope Francis has focused most of his general audience talks on family life—they are inspiring, short, and practical.
4. Tune in to the best information about the Pope during his visit (see below* for some of the best live and online resources). The secular media will cover the Pope's visit. Without a perspective of faith, however, their emphasis is usually on conflict and politics. Their commentary often distracts from what the Pope is really saying, and occasionally their misquotes or misunderstanding of context makes their reports quite inaccurate. The secular media's "take" on Pope Francis is by turns interesting, confused, comical (from a perspective of faith), and sometimes, sadly inaccurate. While it's helpful to know how the secular media (and many unbelievers) see the Holy Father, we will want to balance it with Catholic sources. If you listen primarily to secular news sources, choose a channel that has a good Catholic commentator.
5. Listen to Pope Francis as he speaks to us directly. There is no substitute for listening to the Pope's own words. Pope Francis tends to talk simply and directly, so he's easy to listen to and read. Many Catholic media sources will provide direct, full coverage or excellent summaries. If we only have time to listen to one or two talks of the Holy Father while he is here, we can choose talks that we are most interested in and catch summaries of the others. (A full schedule of Pope Francis' visit and talks is posted here.) Plan ahead and pick a couple of times to tune in! This is a time to take full advantage of the gift of Catholic media.
6. Choose at least one event of the Pope's visit to participate in "live" as a family. Perhaps the TV broadcast or internet stream can simply play in the background of your regular evening or weekend afternoon until Pope Francis starts to speak, and then everyone can stop what they're doing and listen together to the Pope's homily. If we listen, God will speak to us through this visit of the Vicar of Christ. (Afterwards, we can continue to unpack the meaning of the Pope's visit for us individually, as a family, and as the Body of Christ.)
7. Share your joy and insights and the "Good News" that Pope Francis brings. Talk about Pope Francis' visit with your family and friends, sharing your insights or favorite moments of his visit. If you are active on social media, tweet about it, or post up your favorite Pope Francis quote of the day on Facebook. Use the power of the media to help evangelize our country during these days when everyone—even nonbelievers—are receptive to hearing about Pope Francis and the joy and faith we share.
After the Pope leaves, continue to pray that God will help his visit bear fruit in our hearts, and by a significant change of heart in our country.
*Follow Pope Francis during his visit!
We can read and listen to Pope Francis in his own words through the wonderful Catholic media available! Catholic media offer a way for everyone to connect with Pope Francis during his visit: apps, email, frequently updated websites, and live Catholic TV coverage, available online, streaming, via cable satellite, and services such as Roku.
Apps:
The Pope App for your smartphone or tablet offers frequent updates exclusively on the Pope's words and activities.
The Catholic Church Mobile App
is a new app by the U.S. Bishops Conference, and promises to include daily readings as well as comprehensive information about Pope Francis' visit.
Catholic News Agency App
offers frequent updates on all things Catholic from around the world, with connections to the Catholic Register and Our Sunday Visitor.
Email:
Zenit is a no-frills Catholic news website that mainly reports on the Pope and the Vatican. Its best feature is the free daily or weekly email that focuses around the Pope–especially the actual text of his talks–but also includes commentary, summaries, and other news of interest to Catholics.
Best Online Sites:
The USCCB Site
is the official site of the U.S. Bishops, and has many wonderful resources for the Pope's visit, including his complete schedule, resources to use in the family and in classrooms to grow in faith and understanding.
The Vatican's News Service is one of the best resources for getting the actual and entire words of the Pope. The Vatican Radio site occasionally takes first place in publishing the Pope's homilies and talks online. You can also listen to his actual words as they are broadcast or via podcast.
The World Meeting of Families site is easy to use and navigate, and is intended primarily for those who are attending the congress on the family in Philadelphia, with sites of special interest, and events happening during the Congress, which begins September 22nd. If you are going to the WMOF, this site–and its email updates–are invaluable!
The Best in Catholic TV:
All three Catholic networks will fully cover the visit of the Pope and are available on cable, streaming online, and via satellite and Roku.
CatholicTV The first full-time Catholic TV station in the world, the CatholicTV Network will cover the Pope's entire visit in-depth, as well as the World Meeting of Families. Here's a complete broadcast and streaming schedule for the Pope's visit. (Find where how to get Catholic TV here.)
The Eternal Word Television Network (EWTN) will also offer complete coverage of the Pope's visit. (Find where you can get EWTN here.) A complete broadcast schedule can be found here.
Salt + Light TV is Canada's Catholic TV station.
(In Canada: you can watch on cable for free from September to the end of November; in both Canada and the USA: you can stream online or watch on Roku.) Salt + Light offers intelligent commentary with the mind of the Church from a universal perspective.

Marie Paul Curley, FSP, finds inspiration and joy in daily Eucharistic adoration and in the Pauline mission of communicating Christ through the media. Sr. Marie Paul is currently missioned in Boston, MA, where she writes for the digital departments of Pauline Books & Media, and occasionally fits in a new book. Her most popular book is See Yourself Through God's Eyes: 52 Meditations to Grow in Self-Esteem, and her newest book is Soul of Christ: Meditations on a Timeless Prayer. Sr. Marie Paul has a B.A. in communication from Emmanuel College, Boston and she blogs at Windows to the Soul and CoauthorYourLifeWithGod.