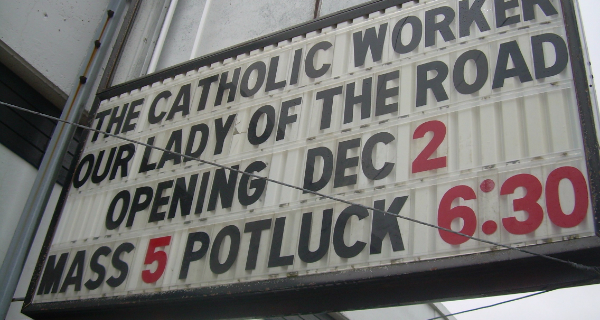 The privilege of holding Mass at the Des Moines Catholic Worker was revoked by Bishop Richard Pates after the Des Moines Catholic Worker invited a woman to conduct the Mass.
This news made me think of Dorothy Day, one of the founders of Catholic Worker, who once said:
I have not wanted to challenge the Church, not on any of its doctrinal positions. I try to be loyal to the Church — to its teachings, to its ideal. I love the Church with all my heart and soul. I have never wanted to challenge the Church, only be part of it, obey it and in return receive its mercy and love, the mercy and love of Jesus.
 I asked a friend of mine, Charles Beard, who runs a Catholic Worker in Oklahoma to respond to this news. He sent me the following interesting perspective. – Sr. Theresa Aletheia
By Charles Beard
Since its foundation in 1933, the Catholic Worker movement has tried to be a prophetic voice in the Church.
Often that has meant telling institutional leaders uncomfortable truths they need to hear—as when Oklahoma City's Bob Waldrop called out U.S. bishops for "material cooperation in the evil of an unjust war" in Iraq.
Sometimes, however, we confuse prophesy with contrarianism.
As has been reported already, Mass may no longer be offered at Des Moines Catholic Worker because Janice Sevre-Duszynsk presided at a liturgy there last December.
Sevre-Duszynsk, who describes herself on LinkedIn as a "peace and justice priest," was ordained through the Association of Roman Catholic Women Priests (ARCWP). I do not know, but I presume, that she was excommunicated upon her ordination.
Following the announcement that there could be no more Masses at DMCW, the group released a statement affirming its support for women's ordination and open communion in the Catholic Church.
I want to sympathize with their point of view. I do not like criticizing other Catholic Workers. At the same time, I believe that statements and actions like Des Moines Catholic Worker's are contrarian rather than prophetic. They distract from what we do as Catholic Workers.
There is also an underlying clericalism in its statement that I find deeply disturbing.
Consider this excerpt from DMCW's statement: "[W]e wish to let it be known that the Des Moines Catholic Worker affirms the equality of all people, regardless of gender, to be full members and disciples in any Church claiming to follow Jesus; in the Roman Catholic Church this includes the priesthood and other positions of leadership within the Church."
I strongly object to this reasoning. It sets a criterion for "full membership" in the Church that doesn't make any sense. Eligibility for ordination is not how we should define Church membership.
Clergy are not a power structure that needs to be coopted or expanded to improve. That's not what the mission of Christ was. St. Paul says that though Jesus "was rich, for our sake he became poor" (2 Corinthians 8:9). The Christian message is about the surrender of power and privilege, not their acquisition. If we define full membership in the Church as the ability to take power, we've lost sight of what membership means. Membership is a call to service, not power.
Maybe clerics lord it over us when they don't ordain women. Maybe not. If they are, they will have to answer for it. But our response should not be to sneak theological preferences through the back door by claiming women don't have full membership in the Church. That idea insults and cheapens the sacred work that Catholic women — and lay people generally — do.
It's especially distressing to see this statement in light of Catholic Worker history. Dorothy Day understood better than any of us how irritating the institutional Church can be. She knew also that it had to be obeyed even when we resist it. And she knew that resistance is primarily the work of lay people.
In 1949, she discussed the case of Clarence Duffy, an Irish priest put under silence due to his social activism. Even as she criticized the Church, she knew that obedience takes different forms for clergy and lay people.
Fr. Duffy is a priest, and at his ordination, he placed his hands in the hands of his bishop as a serf does with his liege lord, and promises obedience. It is a symbol of something. It is seeing Christ in the Church. … We, on the other hand, are the laity. We have a freedom not granted to priests who are under orders. If Fr. Duffy is plunging ahead and making mistakes now, it is because we, as lay people have not gone ahead and led the way, working from the bottom up, expressing the longings and aspirations and yes, rebellion, of all the people.
By dismissing the work of lay women as non-full membership in the Church, the statement from Des Moines Catholic Worker casts aspersions on the work Dorothy herself did — work that she almost certainly could not have done if she had been ordained.
And this is not just a conservative opinion. In an interview with NPR's On Being, Sister Simone Campbell of Nuns on the Bus — no traditionalist she! — discussed the freedom she has as a nun that the clergy simply don't have:
But here's the thing: my role is to be priestly in places where the Gospel wouldn't go otherwise. And if I were ordained as clerical, that all gets circumscribed by church and needs of parishes and administration and all that. Where, the freedom of what I have now is, like, huge. And it's responding — I have a chance to respond to people's hungers — I mean, I hear many confessions. I comfort many people. I have a chance to speak of the Gospel in places that would never happen otherwise.
This is the work we should be doing as Catholic Workers. And it is exactly why we shouldn't get bogged down in disagreements over who should and shouldn't be ordained. We must simply get on with the work.
I hope Des Moines Catholic Worker does that.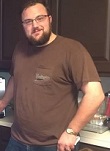 Charles D. Beard is a member of St. Zita Catholic Worker Community of Green Country, which provides food and shelter for the working poor and homeless in the Tulsa, Oklahoma area. He lives in Broken Arrow, Okla. with his wife Brielle and their three children.