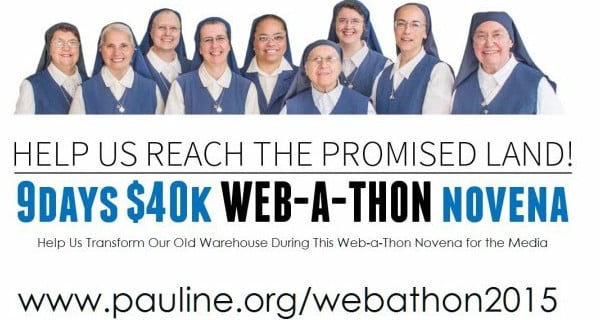 My sisters are beginning a novena for the media (just in time!) as part of our webathon. Please prayerfully consider participating and if you are able, donating. We would really appreciate any support you can give us. One big project is to get heating in one of our work areas, brrr! – Sr. Theresa Aletheia
Here is a letter from Sr. Donna Giamo, FSP about our webathon:
"We give thanks to God always for you" (1 Thes 1:2)
"In all my prayers for you, I pray with joy" (Phil 1:4)
When I was invited to write to those who have generously contributed to past webathons, these words of Saint Paul leapt to mind. Paul was writing to fellow Christians who supported him in his ministry, those whom he considered his "co-workers in the Lord." He prayed with joy and thanksgiving for the way these men and women had responded to the Lord's call to share in the mission of the Gospel. Paul knew that he couldn't—and wasn't called to—do it alone.
I too have prayed with gratitude many, many times over the past months, whenever I remembered your generosity during last year's WEB-A-THON. Without your help, we would have been severely limited in our efforts to communicate God's word through our publishing apostolate.
Produce projects like Give Us This Day Our Daily Love, a book of reflections on the family by Pope Francis.
Afford a new computer system that would allow Catholic book stores to order from our website.
Start a whole new area of our media ministry: audio books.
You are vital partners in our mission of media evangelization.
We cannot do it alone. In order to continue proclaiming the joy of the Gospel, we need you! That is why we turn to you with confident trust as we prepare to launch an even more exciting WEB-A-THON campaign this year:
Help Us Reach the Promised Land! 9 Days, $40,000 WEB-A-THON Novena
. In this case, our "promised land" is not just a symbolic phrase. It is a former warehouse that our sisters in design and art have been using for years; we call it "Promised Land" because of our hope to one day complete the renovations necessary to make it an adequate space for these sisters to work. In addition to this renovation, our elderly sisters desperately need to expand the small workshop they currently use. Lastly, we need to provide our sisters working in the shipping and outreach departments with the necessary heating and air-conditioning to perform the mission day in and day out (space heaters and sweaters just don't cut it for these New England winters!).
The Chosen People reached the Promised Land to find everything ready for their entry. We, on the other hand, need to do some necessary work to sufficiently equip our "promised land" for mission.
Watch Sr. Anne Joan's welcome video
May we count on you, as we have in the past, to help us reach our goal? I invite you to go to www.pauline.org/webathon2015 to learn more about our ministry and how you can partner with us in this very special novena WEB-A-THON. Your prayer and financial support can make all the difference in our reaching this "promised land"!
Gratefully in St. Paul,
Donna Giaimo, FSP