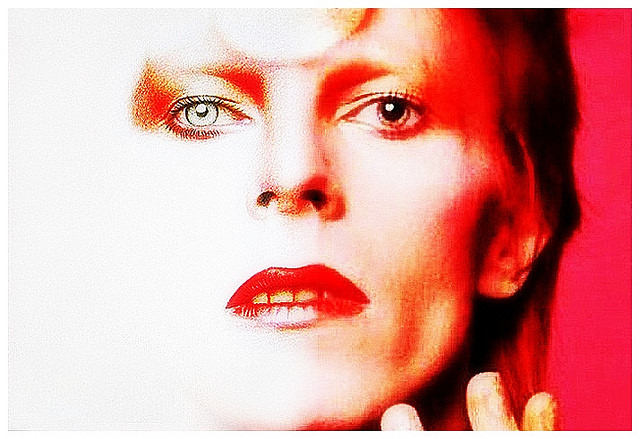 My latest piece over at Aleteia about David Bowie's death, one of my favorite pieces so far, has received interesting responses.
Among the negative responses I received was one man who told me,
Pray for those [souls] in purgatory…not for David Bowie.
Another person argued that David Bowie is most likely not going to heaven saying:
I know that he had a year and some time to get right with God and die with perfect contrition but I haven't heard anything about it if he did. He also doesn't seem like one to apologize for anything he did.
What shocked me about these responses was the presumption that we can know with a degree of certainty whether someone has or has not been saved based on the evidence in a person's life.
One reason I love being Catholic is that we do not waste time arguing over whether someone has not been saved. People are basically in the "We don't know but we hope" category or in the canonized Saint category.
The Catholic response to the Evangelical who asks us, "Have you been saved?" is, as Jimmy Akin puts it:
"I have been saved, I am being saved, and I hope to be saved."
God can save people in the last moments of their life in whatever way he pleases. He does not require a pat formula of accepting Jesus into our hearts. He requires repentance. So we really can never know for sure whether someone has or has not been saved. In fact, even Judas, the betrayer of Jesus, could have been saved in the last moments of his life.
What implications does this have for us as Catholics? For one, when we hear about the death of someone like David Bowie, whose music we may or may not admire, I don't really think it is the time to pull out all the skeletons from his closet or speculate about his soul's future abode. I also don't think it makes sense to criticize his music based on his life.
In a very interesting piece in Dappled Things, Michael Rennier writes:
Can we praise the music of Bowie even though he was no saint? More broadly speaking, can a bad person create good art?

I sure hope so, otherwise my Caravaggio admiration will have to go (murder, beating up prostitutes, stabbing people, so very many other things), so will Beethoven (misanthrope, abusive uncle), every Renaissance artist who ever chased down a wayward apprentice with murder in his heart (more than you would think), Van Gogh, Oscar Wilde, Hart Crane, the list goes on.
Before all else, we are called to pray for the dead who, we hope, are in the process of being purified of their sins.
In this Jubilee Year of Mercy, it is a good reminder to us that praying for the dead is a spiritual work of mercy and it is one that we can easily do every day. Even a simple "Eternal rest…" before we go to bed for all who have died that day. One sister told me that when she goes up to receive the Eucharist every day she offers it for all the people who will die that day. This is part of our duty as Christians, to pray for the living and the dead.
And we should not just remember to pray for people when they have died! The Daughters of St. Paul regularly pray for people who influence our culture, like David Bowie. This is part of our charism. Unfortunately, it seems that it can sometimes be more comfortable to criticize culture influencers than to pray for them. This is a shame. We should be praying for artists, musicians, actors and all people who influence the culture, whether we believe it is for good or for worse. (If we believe it is for worse, then all the more reason for prayers!)
I think the fear in many minds when we take a stance toward culture that is open and discerning, is that we will be changed by the culture rather than the opposite. But in order to change culture we must engage it, and not solely to judge, criticize and shame.
The question becomes then, "How can we change our stance to be more open toward popular culture without assimilating values that are not in line with our faith?"
Sr. Nancy Usselmann address this question recently in an excellent article for the Brehm Center:
I believe our call is to be cultural mystics, that is, mystics of the popular culture that pervades our lives. We are not to fight against it, point out everything that is evil in it, or condemn it. That's the easy thing to do. Instead, we are to be the mystics who look at the world with love and contemplate the deep underlying desires, longings, needs and struggles present there in order to offer the world a message of hope, truth, beauty and goodness. In order to do this, we must take a step back intellectually and reflect on the beauty that is present within the created world and in the creations of cultural artists who seek to give expression to the existential desires of humanity. It requires us to take a sacred look. Through this theological aesthetics we can develop an anthropological-incarnational-sacramental foundation for a theology of popular culture.
What a beautiful call.
I believe if there were more cultural mystics in our world, there would be more people coming into the Church than walking out.