The Quick Version
This will be our last post for the Patheos Pagan channel.
We'll keep writing, and you will find us at Quakerpagan.org, though as of this writing, we haven't decided exactly where "home" will be in the end.  (Our archives will remain here, as is customary for Patheos bloggers who leave.)
For Those Who Want to Know: Why We Are Leaving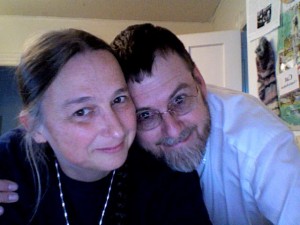 Like a number of other Pagan bloggers, my husband and I were not happy with the most recent contract we Patheos offered us.
Actually, I haven't been happy with the overall direction I've seen here for some time–not because of the content of the Pagan blogs here, which I continue to enjoy, but because there's an increasing push to monetize our writing.  And while there's nothing wrong with that in and of itself, but I'm not sure that's how my writing works–at least here on this blog.
The strapline at Quaker Pagan Reflections has long been "Blogging in a Spirit of Worship," and that doesn't make for an easy fit with formulas for increasing traffic.  When I write what I think this blog is for, I'm not writing according to a strategy, and I'm not even writing what I think: I'm writing what has risen up for me out of my relationship with Spirit.
I don't mean to say that those who write at greater volume or with a publishing strategy in mind are not writing in a way that's spiritually honest or real.  Nor do I think it is unfair that a for-profit company emphasizes a strategy that helps them to keep the lights on.  Rather, I think it would be somewhat dishonest of me to stay with Patheos without changing how I approach writing this blog… something I don't really want to do.
I am also concerned with the fact that Patheos has recently removed posts by John Halstead and Pat Mosley, and by the increased editorial privileges Patheos assumes under the new contract, focusing on limiting criticism of the company and on the use of profanity.
While I doubt very much my writing will be affected by Patheos' new owners more assertive approach to editing our work,  I have been associated in the past with blogging platforms that have removed (or–worse–altered) the posts of writers.  I didn't like it, and I left those platforms, too.
It's reasonable for a company to take a strong interest in not having its writers undermine its public reputation. But the values of Patheos's owners and my Pagan and Quaker values are not necessarily the same, and I find myself uneasy to be writing in a venue where the contract could be used to enforce values I don't share.
The time has come to take Quaker Pagan Reflections either to another, Pagan-owned platform, or back to flying solo.
Wherever we go, I expect to continue to read many of the voices here I learned to love.  And I hope our readers will continue to seek us out, too.
Thank You
Finally, I'd like to give my thanks to my editors Jason Mankey (and before him, to Christine Hoff Kraemer) and to the wonderful technical staff here at Patheos, including Hillary Spragg, who has been helpful over and over again during our the three years with this website.
I would also like to thank the many past and present writers here at Patheos' Pagan channel whose words have fired me up, inspired me, delighted me, and made me think.  Special love to John Beckett, Sara Amis,  Sable Aradia, Annika Mongan, Yvonne Aburrow, Sarah Sadie, David Dashifen Kees, and paganism.com/author/allergicpagan/" class=" decorated-link" target="_blank">John Halstead.
It has been a privilege building Paganism alongside you.