Amidst the mournful incident of MH 370, it was reported recently that the Malaysian Islamic Propagation Organisation (Pekida) was willing to suffer a bloodbath for Islam and the country, including defending the word "Allah".
Bloodbath – right. Thanks for using such a non-violent term to represent Islam. We really needed that! Ironically, the biggest enemies of Islam are not people outside of Islam, rather the very prominent representatives of Islam who, for some reason, never fail to bring shame to us all. So, cheers to the new round!
Let me assure you, as long as we have organizations like Pekida around, you can be sure that Islam will remain a laughing stock for the masses. And, why shouldn't they? When Muslim leaders come out with such insane stuff, how can we expect any better?
Instead of using their prominent position to their benefit in bringing a positive light to Islam, they'd rather prefer wasting other people's time by focusing on the most ridiculous and silliest of things. Today, they want non-Muslims to refrain from using the word Allah. Tomorrow, who knows? I mean, we've digressed to a point where we now want a copyright on "Allah". Shameful, to say the least!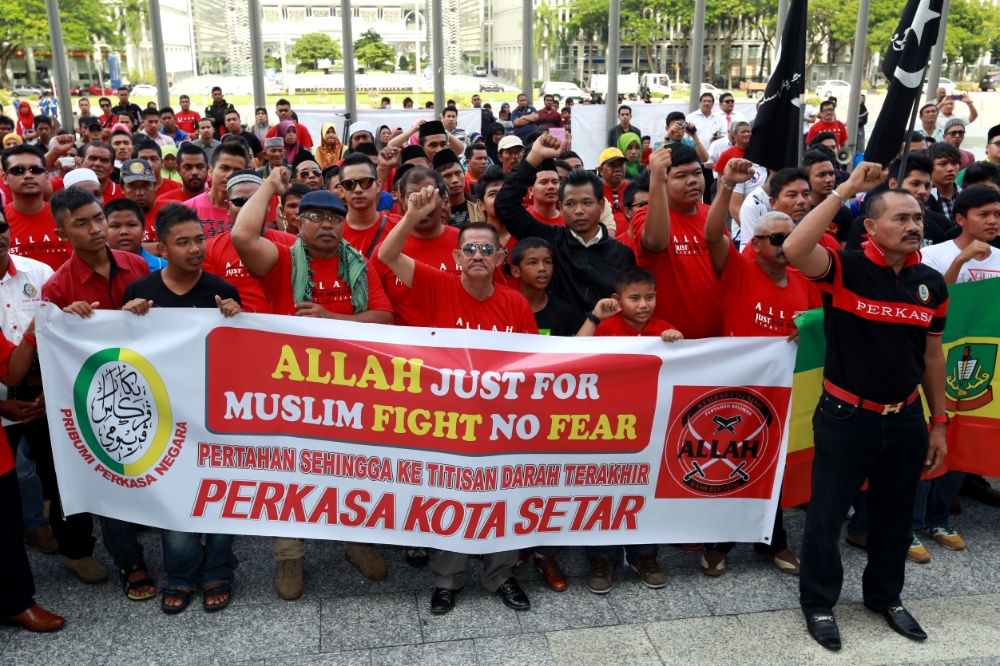 Islam is not an Arabic religion
Muslims make a big mistake by mixing Arabic culture with Islam. Many believe that it was Prophet Mohammad who brought Islam, but this can't be further away from what the Quran says. The truth of the matter is that Islam is not a recent, 7th century Arabic religion. It is the same religion that was revealed to all prophets:
He has ordained for you all, the same System of Life that He enjoined upon Noah – And We have revealed to you (O Prophet!) the same message as We enjoined upon Abraham, Moses, and Jesus: "Establish the Divine System of Life and make no sects in it (do not be divided). Quran, 42:13

Prophet Mohammad said: And I have followed the religion of my fathers, Abraham, Isaac and Jacob. Quran, 12:38
Having established that, it is obvious that Prophets throughout the times referred to God in their own respective languages. Hence, Allah is not a proper noun for the "God of Muslims." It simply means "The God" in Arabic. Since the Quran is in Arabic, it refers to the Supreme Being as Allah. Similarly, if it was in any other language, it would refer to Him by the equivalent word for God in that very language.
From a Quranic point of view, one can observe that Allah is not the name of a unique God that Muslims believe in, rather it is an all encompassing term for the Supreme Being regardless of the faith one subscribes to. Christians, Jews, and other religious group are seen as using the word Allah to denote God in the Quran, and never has this been contested in any verse (5:17, 5:18, 5:72, 5:73). To give you a few examples:
Surely those who acknowledge (this divine book); and those who are Jewish, and the Christians, and the Sabians, whomever of them acknowledges Allah and the Last Day (Accountability) and does acts of reform; they will have their reward with their Lord, with no fear over them, nor will they grieve. Quran, 2:62
If we are to assume that believing in Allah equates to believing in Islam, then the first phrase of the verse loses purpose. After all, the gist of the verse is that no matter your religion, as long as you believe in God and continually reform yourself, you could expect reward.
A similar case is presented in the following verses
"And they claim, 'None will enter Paradise unless he is a Jew or a Christian.' This is nothing but their wishful thinking. Say: Bring your proof if you are truthful."Quran, 2:111

"Nay, whoever submits his whole being to Allah, and he is a doer of good to humanity, his reward is with his Lord. Then, no fear shall come upon them nor shall they grieve." Quran, 2:112
Hence, it is clear that Allah is used to denote God in Arabic as a noun, and not a proper noun.
God does not have a fixed name
Say, "Call upon God (Allah), or call upon the Almighty (Rahman): By whatever name you call upon Him, to Him belongs the best names and attributes of perfection…" Quran, 17:110
Conclusion
Did the members of Pekida never read the Quran for themselves? This is not something that requires intensive research, as it is blatantly obvious! So, what kinds of people are representing Islam in Malaysia? As always, the authority lies in the wrong hands.
Muslims, I sincerely urge you to start focusing on the big picture – things that really matter. It is high time we transcend petty arguments, and get involved in educating ourselves about the Quran and others around us to clear such misconceptions that certain individuals impose upon Islam.
Allah is not a trademark that Muslims own, and neither do Muslims own the Arabic language. It is about time we realize that.
This article was also featured in The Malaysian Insider, The Malay Mail Online, and ARY News.
*If you liked this post, please help us spread the word by sharing it on your social networks!
Please subscribe to our blog by clicking the "follow" button (Top right – PC) and (Bottom – Cell phone/Tablet).
And please like Our Facebook Page: http://www.facebook.com/quranalyzeit