Three and a half years ago, after my son Aidan broke his leg on the slippery floor of a Franprix supermarket in Paris, and after the initial shock and pain began to wear off, we had to figure out what on earth we were going to do with a suddenly immobile almost-4 year old. One can only watch so many movies, and I wasn't at all sure I was ready to introduce him to video games.
So I consulted my Paris guidebook, located the nearest toyshop on the map, and headed over with my mom and Graeme, who was then a 1-year-old cherub with golden curls. I don't remember what-all was purchased on that day—there may have been some crayons and coloring books, long since consumed—except that this was when we bought our family's first box of Lego (and one of Duplo, so as not to leave out the cherub.)
We set Aidan up in bed with a tray upon which to build, and build he did—and hasn't really stopped since.
Within the year he was creating his own designs, based on things we'd see around town, things he saw in books or in movies, cars and trucks he saw driving by, and so on. (And of course, he was making Lego swords and other weapons, too, sigh.) Every birthday and Christmas saw his collection increase, and the vast majority of toys brought to Malawi from home are…Lego, of course.
What I love about Lego is that most Lego bricks—even if they come as part of a kit—are fabulously open-ended. A piece from a castle can become part of a spaceship or part of a digger or part of a scabbard or part of a ship. I love that there is simply no limit to what can be made with them—they have made binoculars and dragons and medical equipment. I love that when they hear a new story or go on a new sort of adventure, they come back to the pile of Lego and recreate what they've encountered…in Lego. They are always confident that the exact right piece exists and that they can find it. They're always tweaking their creations and improving them. And it's not work for them…it's pure pleasure.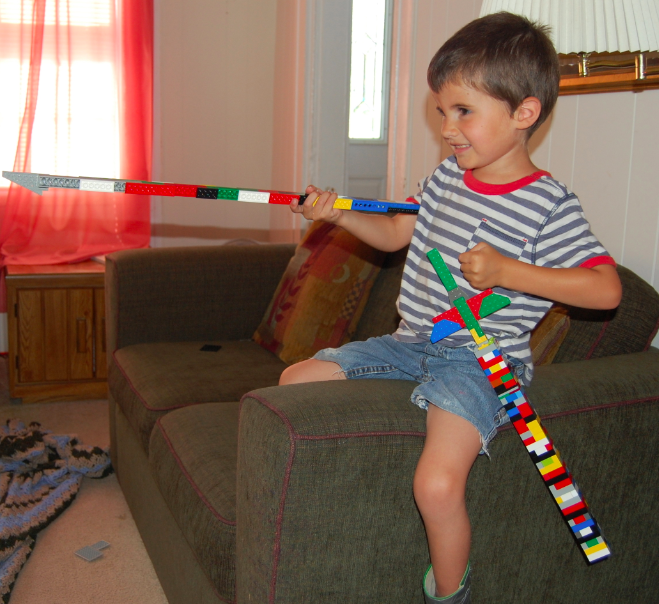 When I watch them build, or when they proudly present their creations to me, I feel like I'm encountering something that's so pure and important, not because of childhood innocence or some such thing, but because they work with the raw materials of their craft with such fearless confidence. They see a Land Rover, determine to recreate one in Lego, gather the pieces, build it, play with it…it might take hours, but they will do it with such focus and seriousness that it's easy to forget they are children at play.
This is the kind of thing, I think, that most of us are—or were—capable of; that self-forgetfulness, that feverish making-of-things, even if the things we are making are made only (only!) of words. We encounter something that inspires us—on Pinterest, or at the market, on a hike, or in a book—and we are determined to make something of it with whatever it is we have at our disposal: pen and paper, fresh ingredients, fabric and thread, acrylic and canvas. We can use whatever we have and take our time, and we can always take a break to eat some peanut butter and crackers or page through a Tintin book. We end up doing more than just distracting ourselves from boredom and pain and (what feels like immobility.)
We are binding up the broken bits and mapping our way through streets and wildernesses unknown, one brick, one word, one glimpse at a time.