When did pumpkin spice everything become such a THING? I don't remember it happening, but that doesn't mean I don't still love the warm and heady spices that go into pumpkin pie. Pumpkin pie itself? Not such a fan.
Pumpkin spices + real pumpkin + chocolate? Yes please.
That's what we have going on here: chewy pumpkin spice 'brownies.' They're actually more like blondies with pumpkin, dotted with chocolate chips. But let's call them brownies anyway.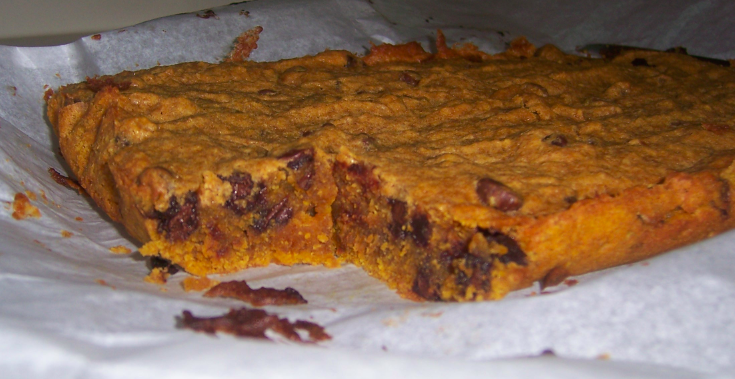 I first made these brownies right before the 2012 Presidential elections, and shared the recipe with a plea for respect across party lines. Now, I've given up on that so I'm just sharing the recipe.
Just joking. Although some of the responses to my dad's fabulous guest post on how patriotism is not only for Republicans is kind of making me sad…
Anyway. We can all agree on brownies, right? (Unless we are doing Paleo or gluten-free…oh dear.) Well, nonetheless, here we go:
I make them without leavening; the absence of baking soda or powder is not an error. That makes them chewier, as I lean chewy on the chewy vs. cakelike spectrum of brownie politics. If you are on the other side, please don't feel marginalized–just add 2 tsp. baking powder and an extra egg.
2 cups all-purpose flour, (spooned and leveled)
1 tablespoon pumpkin-pie spice
3/4 teaspoon salt
1 cup (2 sticks) unsalted butter at room temperature
1 1/4 cups sugar
1 large egg
1 tablespoon vanilla extract
1 and 1/4 cup pumpkin puree, cooked down to 1 cup, and cooled (or skip step 1 and use 1 cup pumpkin)
1 cup semisweet chocolate chips dusted thoroughly with 1 tsp. flour
Cook your 1 and 1/4 cup of canned pumpkin, stirring constantly, until reduced. But you can skip this step, and I will not judge you for doing so. Just use 1 cup puree instead
Preheat oven to 350 degrees. Line bottom and sides of a 9-by-13-inch baking pan with baking parchment. In a medium bowl, whisk together flour, pie spice, and salt; set aside.
Cream butter and sugar together until smooth; beat in egg and vanilla until combined. Beat in cooled pumpkin puree (mixture may appear curdled). Mix in dry ingredients until just combined. Fold in flour-dusted chocolate chips.
Spread batter evenly in prepared pan. Bake until a toothpick inserted in center comes out nearly clean, 35 to 40 minutes. Cool completely in pan, before lifting out and cutting into squares.