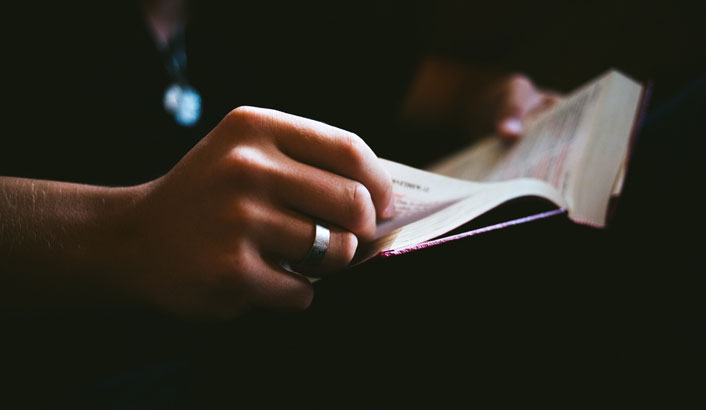 In times of crisis we try to make sense of life. We crave perspective for our minds and relief for our hearts. We need our worldview realigned by God's inspired Word: "All Scripture is God-breathed and is useful for teaching, rebuking, correcting and training in righteousness" (2 Timothy 3:16). God promises that His Word "will not return to me empty, but will accomplish what I desire and achieve the purpose for which I sent it" (Isaiah 55:11).
A woman self-consciously told one of our pastors that before going to sleep each night she reads her Bible, then hugs it as she falls asleep. "Is that weird?" she asked. While it may be unusual, it's not weird. This woman has known suffering, and as she clings to His promises, she clings to God. Any father would be moved to hear that his daughter falls asleep with his written words held close to her. Surely God treasures such an act of childlike love.
In a time of dark suffering and dread, David affirmed, "The LORD is my light and my salvation—whom shall I fear? The LORD is the stronghold of my life—of whom shall I be afraid?… Though an army besiege me, my heart will not fear; though war break out against me, even then will I be confident…. Though my father and mother forsake me, the LORD will receive me…. I will see the goodness of the LORD in the land of the living. Wait for the LORD; be strong and take heart and wait for the LORD" (Psalm 27:1, 3, 10, 13–14).
Notice how David talks to himself about God's faithfulness and goodness, encouraging himself to wait on God. It's worth listening to self-talk if it involves speaking God's Word.
Years ago I turned off talk radio when I drive, to listen to the Bible instead. Scripture on audio accompanies me as I travel. I never regret investing my time this way—why listen to one more human voice when you can listen to God's? It prepares me to face whatever lies ahead. "Man does not live on bread alone but on every word that comes from the mouth of the LORD" (Deuteronomy 8:3).
In this 2-minute video, from a 2019 interview, I talk about the importance of God's Word in hard times: