I'm not much of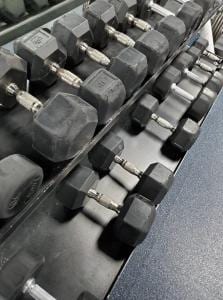 a music critic. A lot of new music gets released on Fridays which always makes my workout take a little longer I as search for new tunes to add to my workout mix.
I go to the gym at least five days each week. I'm constantly looking for music that good beat for energetic workouts. But, I also want music that has an ethical message. Today's workout mix included an old, old throw-back to 1969 with The Rolling Stones, Gimme Shelter; freshened it up a bit with Derek Minor, Black Market from 2018; and jumped into The Mezingers, America (You're Freaking Me Out); and a bunch more.  There's a bunch of others, but the thread through most of my workout music is good beat and social justice. In Avett Brothers were good for workouts, they'd have been in the mix to with Closer The Together. I'm still hoping for some good hippie music, too.
Workout Mix
I wonder if others at the gym wonder what I am listening to. I know that I must have that "lost in thought" look making me appear simultaneously thoughtful and lost. Or, concurrently incoherent and sagacious. I'm used to that pose, I do it often.
First up today was a song about shots fired and healing kisses available
Do you usually thing of The Rolling Stones when you consider social justice-themed music. Nope? Me either. But this song about violence and chaos from 1969 comes to mind as I think about climate justice, gun violence, and the age of unending war.
Gimme Shelter , Rolling Stones (1969)
Rape, murder!
It's just a shot away…

The floods is threat'ning
My very life today
Gimme, gimme shelter
Or I'm gonna fade away

War, children, it's just a shot away
It's just a shot away…

I tell you love, sister, it's just a kiss away
It's just a kiss away
Next, After another week in America with Mr 45…
I was looking for the "new music Friday" tunes and found The Metzingers had something new. While on the treadmill, I gave them a listen. After a couple of weeks of subpoenas, potential flaunting of campaign laws, and just plain bad presidential ethics, along with continued blind support, the lyric caught my ear, "America I love you, but you're freaking me out." Yeah, I feel that.
America (You're Freaking Me Out) The Mezingers (2019)
Driving through the Bible Belt
Billboards claiming how Jesus felt
Oh, how'd his words confuse themselves?
With cranks for Christians in powerful positions

I've always felt like all their pomp and circumstance is just cover for the devil to dance

To these sing along's of siren songs
To ooh's to ahh's
To big applause
With all of my anger I scream and shout
America, I love you but you're freaking me out

America, you're freaking me out
With all my anger I shout
Can't you recognize truth from clever lies?
Following Jesus, criminalization of weed, and considering the Rick Ross conspiracy

Rap sure gets through a lot of words per minute. As I was doing chest-press, this song popped up. Dropping references with every breath, this is a google masterpiece sending a listener into searches about racial profiling, the economics of poverty and drug crime, with a nod to what is criminal in one state becomes an sanctioned industry in another. And yet, still from the perspective of a Jesus-follower.
Black Market, Derek Minor (2018)
Now black men are mascots for hell on earth
Tookie started the Crips and told us own your turf
So now we shoot in the gym or the block for survival
But either way we blue devils
My cousins went to jail for sellin' weed
Now in Colorado you get green leaf with green tea
At first pumpkin spice latte's were her addiction
Now she throw them yoga pants and Ugg's on to smoke in Denver…

Ricky Ross crossed the highway with that dope on him
With that dope on him
Now them young d boys hit the block with that hope on em
With that hope on em
Black market…
You can exploit
If you ain't get the iMessage yeah this the text boy
I'm the reason Christ died and Martin was martianed
Speak the real truth to the ones in the margins
So they can dodge the lie from the snake in the garden
And I tell it in the church and NY at the Garden
Black market.
If Your Music is In a Rut
Try these tunes. Or, if you want a few more, let me know. Exercise and justice themes are a small overlap. But I will keep looking and listening.
---
Want Craig to come speak at your church, provide a workshop or a retreat? Send an invitation HERE
For more resources from Craig, check out The Missionplace.
And, although we're on hiatus, subscribe to
 The All That's Holy: Blue Collar Podcast available on iTunes. 
Follow me and support me on my Patreon page.
---