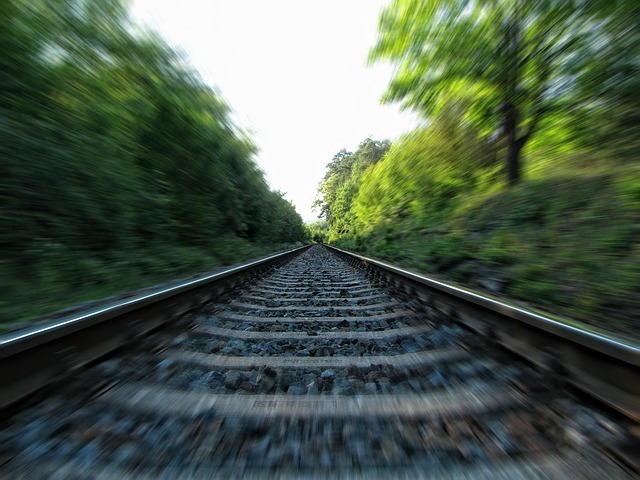 In early June 2016, I drove my car onto the tracks and waited.
When the train rumbled in approach, I heard the whistle. Relief washed over me. Finally.
Finally I will escape this deep, black Darkness. Finally I will wake up from my living nightmare.
I would have said a prayer for forgiveness, but I believed in a God who could not want me to suffer one more hour.
I would have said goodbyes to my family, but I wanted them to believe it was an accident.
"The safety rails didn't come down," the police would tell them. "The warning lights malfunctioned. It wasn't her fault; she didn't see it coming."
I closed my eyes, braced for impact… and when the last moment came, my body decided it did not want to die–even if I did.
Survival-instinct pressed my foot to the petal just in time.
You'd think brushing so close to death would have shaken me, but I just drove away, hollow, as though nothing had happened.
I didn't tell anyone. Not my husband, mother, sister, not my therapist, not even my dog.
But the next morning, I told myself the truth: Depression tried to kill me.
Depression wanted my life, and if I stopped fighting, it would win. It almost won.
"I WILL NOT LET DEPRESSION KILL ME!" I shouted at the bedroom wall, as though it could hold the resolution for me like it held up the ceiling, the resolution I did not feel strong enough to make.
I'd already fought so hard for so long and in so many ways: medication, meditation, yoga, running away to the other side of the world, pet therapy, art therapy, journaling therapy, water therapy, and of course therapy-therapy. How could I fight any harder, or any more?
I didn't know. But I did know I had to try.
So. I declared WAR on goddam fucking depression.
[Yes. The cursing is entirely necessary.]
I got a new doctor. I found a new therapist. I took all the pills and the advice. I did all the Things That Are Supposed To Help Depressed People. And I still wanted to drive back on the train tracks. I still cried every day–four or eight or ten times a day. Everything made me cry. Well–almost everything.
Since I could not think of one thing worth living for, I decided to make a list of things that did not make me cry. They were very little things: a latte, minute of sunshine on my face, Oxley-dog wagging his tail.
I got a pink Mead notebook, the little fat kind easy to carry around in a purse. I listed everything, all day long, numbering the things that didn't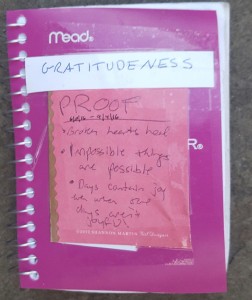 make me cry. One by one, I counted. And One by One I began to see tiny spots of hope: things I felt–could it be?– grateful for.
#207 My cousin Emma, who does yoga with me at home when I am too sad to leave the house. #312. My mom keeps calling every day, even though I don't answer. #405: The YMCA sauna where it is dark and hot enough to make my thoughts stop spinning. #516: The purple orchid in my kitchen.
One day, as all the inner work and outer help started catching up with me, I did a random act of kindness for the neighborhood. Nothing big. But it made a neighbor I didn't know stop and smile at me. "Thank you so much!" she said, beaming– and something beamed within me.
I wrote down that act of kindness in my little book.
The next day I did a few acts of kindness. I wrote them down, too.
In a few weeks, I looked down and realized I'd written my way through the entire pink book. 700+ tiny moments to be grateful for, 700+ tiny ways to be kind, 700+ reasons to be alive
I ended my Gratitudeness Book #1 (as I titled it, because Gratitude + Kindness= Gratitudeness) with
#719: I wrote again.
I, the author who was certain she wouldn't live long enough to write again–I had written a book.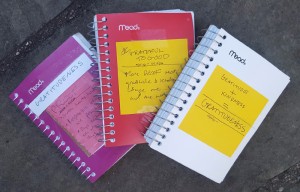 I bought another little, fat Mead notebook: This one red. Gratitudeness Book #2. As I filled the pages with gratitude and acts of kindness, I filled my heart with healing. #1054. I prayed again. Down by the river. And while I was there I left post-it notes of encouragement on the benches.
By white Gratitudeness Book #3 I was seeing gratitudes left and right–so many I couldn't keep track of them all. Doing random acts of kindness had become a way of life. I was living for the smiles of strangers. And then, #1372: I smiled today, just because. No gratitude, no kindness. Just a moment a joy.
Lime green Gratitudeness Book #4 and goes with me everywhere, a witness to the life I live, the life depression did not steal from me.
On that day in June, when death seems the one way to escape, I could not envision the coming 1614 moments worth living for. Or the countless smiles of strangers for whom my small acts of kindness would make a difference.
I had no idea I would be on the other side of Depression, looking backwards at those train tracks, so grateful I was saved.
Now that Post-Traumatic Church Syndrome has been out for nearly two years, people ask me: "Are you writing a new book?"
"Yes," I tell them, laughing a little in my heart. Because while it is true I am writing two books– "I Declare WAR on ****** ******* Depression: How I defeat defeat and you can, too" and "Couraging: Brave Is A Verb"– the most important books I'll ever write no one will ever see.
Today's entry is #1615: I am well enough and brave enough to write the story of the train tracks, and how 3.5 books of Gratitudeness saved my life.
…
If you are depressed and considering suicide, please call the national Suicide Prevention Hotline 1-800-273-8255.
You matter.
Follow Reba: