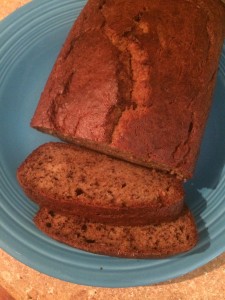 One of the first things I realized, as the mother of a chronically ill child, is the importance of being a favorite of the doctor's office front office people. After a lot of trial and error, it turns out that the fastest way into the appointment book or to get a doctor to call you back is to have bought the office staff with banana bread.
Not just any banana bread…it has to be the good stuff.
A few years back, a friend of mine confided her secret recipe to me. "It will ruin you for other people's breads," she warned me. She was right. It did. The loaves of dry-ness that were given to us by well meaning grandmothers were now met with looks of horror from my children as the littlest ones whispered, "That's not my Mama's nana bread.."
I took her recipe and played with it a little. I cut the sugar and swapped out the pecans for almonds. After a lot of trial and error, I ended up with the magic key that opens doors for us everywhere we go. When I call our family doctor for a same day appointment, I barely get "Hi, this is Rebecca F…" out of my mouth before the receptionist's voice changes from professional to friendly. I'm not work, I'm the nice lady who bakes. Where I used to be just another mom of an arthritic kid, the woman who answers the phone at the rheumatologist's office now says, "Oh, hi, Rebecca! Did you need to speak to Dr G or William (her assistant), or did you need an appointment? We're pretty full, but I'm sure I can squeeze you in somewhere."
You see? Doors swing wide open for The Baker of the Bread.
I have friends who shake their heads and tell me that it shouldn't be that way, that we shouldn't have to schmooze our way into getting good care. I nod my head and agree with them, but who am I kidding? This is the way that the world works. Squeaky wheels may get the grease, but people will bend over backwards for you if you bake for them!
Here's the recipe. I don't take step by step photos, but I figure that y'all can read recipes and figure it out for yourselves.
Banana Bread
Ingredients
1/2 cup butter (you can use margarine or shortening, but why would you?)
1/2 cup sugar
1/2 cup brown sugar
3 or 4 very ripe bananas (you want 4….5 might even be better) mashed
2 eggs
1/2 cup buttermilk (in a pinch, you can sour regular milk with a little vinegar and that will work too)
2 tsp vanilla (don't double this. I already did it for you.)
1 tsp baking soda
1 tsp salt (If you use pink Himalayan salt, like I do, then drop it to 1/2 tsp)
2 – 2 1/2 cups flour (it's all about texture)
1 cup chopped nuts (I like almonds, but you can use walnuts or pecans if you like it the traditional way. If you prefer to leave them out completely, that's good too.)
Directions
1. Preheat oven to 350 degrees. Grease bottom ONLY of loaf pan.
2. Using a mixer, cream butter and sugars in a large bowl.
3. Add eggs and mix until well blended.
4. Add bananas, vanilla, and buttermilk (soured milk). Beat until smooth.
5. Stir in dry ingredients until just moistened.
6. Add nuts if you're going to, and stir by hand.
7. Pour into pan. (Yes, pan. This makes one tall loaf, or 2 short ones.)
8. Bake (two loaves take about an hour, one loaf about 1 1/4 hours.) The bread will be dark, so DON'T PANIC! Test for done-ness by sticking a toothpick in it. If it comes out clean, it's done. If not, then let it cook a little longer.
While you probably should let it cool completely before slicing it, so that it doesn't squash down or look weird, that doesn't happen often at my house. If we're eating it, it's gone before it has a chance to cool.
If you're bribing people with it, let it cool and then wrap it up. If it's well wrapped, it will keep for 3-4 days at room temperature. If it makes it to your freezer, it does freeze extremely well for gifting later.
I hope that you enjoy it, and good luck at the doctor's office!!!