Once upon a time, I was the mother of the shyest child who ever lived, at least she seemed that way to me. She ran and hid from strangers. She became hysterical when unknown people spoke to her, and teared up if they dared to notice that she was even in the room. She spent every birthday candle wish on the dream of invisibility. If only she could go through life unnoticed…
Then she lost her legs, and in return God granted her a voice. It has been a slow and steady progression from the girl who never spoke to the girl who isn't afraid to talk. Last night, she used her newly discovered confidence at a meeting of the local American Heritage Girls.
The AHG have a badge requirement which asks them to interview a person with a disability and find out about their life, and so they invited Ella to come and give a talk about life with wheels and as an Adaptive Athlete. The girls asked a lot of questions about what happened, what her favorite movies and colors are, and what games she likes to play with her friends.
Ella told them about WCMX and the roller-coaster like thrill of dropping down the ramps. She showed them the different kinds of chairs used for sports and explained the differences with an attention to detail and an understanding of the engineering involved in the design that surprised me. She mentioned cambered wheels, aerodynamics, and the biomechanics that went into the design of her daily, basketball, and track chairs. She told these girls of the high price of purchasing this kind of equipment and how her sports chairs are on loan to her because most handicapped people can't afford to own their own.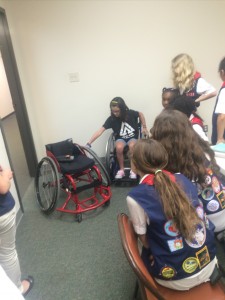 She wrapped it up with an etiquette lesson for how to treat a person with disabilities, and gave them the reasons behind such rules as "never push a person in a wheelchair unless they ask you to," "it's okay to look and say 'hi' but not to stare like I'm a freak," "don't act like I'm invisible," and "don't give me any special treatment or treat me like I'm going to break. I'm still a kid and want to run and play just like you do."
The wrapped up the night by begging her to join their troop.
**The shirt Ella is wearing is from an advocacy group called I Am Adaptive. She's one of their Child Adaptive Athletes, and she's thrilled to be able to represent them and their mission of raising awareness of the needs and abilities of Adaptive Athletes. For more information, to order a shirt, or to get involved please check out their website.