**This is my last guest post while I'm traveling with Ella. I'll update you on our trip tomorrow! I hope you enjoy this piece by Heather Renshaw. Check out more by her at Real Catholic Mom
Recently, people have noticed 
​preoccupied,​with​
the upcoming women's conference. Have you heard about it
​ Register today!​ End commercial.

Anyway, the bags under my eyes are carrying their own luggage these days, and I'
'm not quite my 
​usual ​
​perky
self. The to-do lists 
​have birthed multiple longer to-do lists
​ while the work is plenty,​
the laborers are 
So, people who care about me ask questions:
"Heather, 
​are you getting enough sleep? W
hy do you keep doing this to yourself? You have 
​young kids at home​
! It's so much work. And women 
​are too busy to go to something like this
, anyway.
​ Why don't you just give up?​
"
Why, indeed. ​My friends, the very best reason to do something is because God asks you to. A close second is because the devil doesn't want you to do it and whispers in your ear that what you're doing isn't worth it, and you should just give up​.
​Apparently God made me extraordinarily stubborn for such a time as this, because ​I will NOT quit, and I will NOT give up.​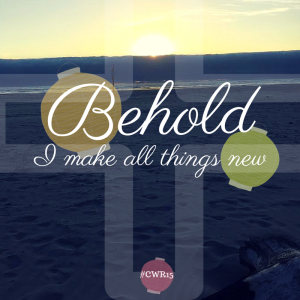 Time after time, God has shown me that women absolutely ​do ​need conferences like this. And, like the little boy giving Jesus ​what he had to help feed the crowds in this past Sunday's Gospel, I believe God ​can take what precious little I ​give and use it to bless and heal ​women, ​their​ families, whole communities, and our broken and beautiful world, all for ​His greater glory.
​In today's society, by merely striving to be faithful and joyful, ​what we Catholic women are doing is completely and ​totally counter-cultural. That's right – we're rebels. The Pacific NW,​ where I live​, ​is ​consistently named one of ​the most unchurched areas​ in the nation, with ​Catholics asthe crystal clear minority. And we can feel it. We hear:
"You know what causes that, don't you?" as we shop with our children ​in the grocery store.
"How come you ​let
a bunch of old men in Rome to tell you what to do?"
​as we toil ​
in the workplace.
"Why aren't you taking more time for yourself and going on some exotic vacation?" ​as we peruse social media.
"Why do you need to confess your sins to a priest?" as we chat withour friends.
"Isn't it enough to just be a good person?" as we talk withour neighbors.
"Live and let live, man," ​as we're told by our legislature.
"That may be your truth, but it's not my truth,​" and, my favorite: "Be more tolerant," as society in general drifts further and further away from the Truth​.
Between you and me, as a Catholic woman, I have felt very ​alone in our society​. I have felt isolated. I have felt ​extremely ​discouraged. I have believed the lie that I am the only one trying to do this work – this beautiful, difficult, amazing work – that Catholic women do. ​I have cried myself to sleep, wondering *where my people* were, and whether I would ever find them.​
Eventually, though, I decided to quit complaining and do something. Since there wasn't anything happening in my area where Catholic women could get together and be joyful about being Catholic women, I was going to start something. And so, with no money, no location scouted, and no speakers booked, I began planning the first Catholic women's conference in the Pacific Northwest with nothing but hope and a telephone. ​
Catholic Women Rejoice and other conferences like it ​exist because someone decided to take a chance on the idea that ​women need to have a place – even if it's only once a year – to gather together outside of Sunday Mass ​and know that ​we are most certainly ​not alone, that who we are as Catholic women matters, and that the gift of our faith is something for which we should rejoice!​
At a typical Catholic women's conference, participants are free to be fully themselves without fear or worry.​A woman can bless herself and her food before eating and no one will give it a second thought. Another can nurse her baby while enjoying a conversation. Someone can be comforted in her struggles with infertility. Another can ask questions about the Pope's latest encyclical. Another can steal away to the Adoration Chapel for a few quiet, child-free moments with Jesus. No one will be accused of being a Papist. Or a bigot. Or an idol-worshipper. Or a hater. Or a breeder. Or a weirdo. We can celebrate Mass, go to confession, and pray. We can sing, laugh, and praise. ​We can ask Mary and the saints and each other to pray for our needs. We can eat good food that is still warm that we didn't have to prepare ourselves. And, you know what? We can have FUN. You know, like, smiling 'til your face hurts, laughing 'til you can't breathe anymore, ​fun.
I honestly believe that Catholic conferences and eventsuplift women and reinvigorate them to go back into the world and do God's will through their individual vocation*, whatever it may be. They remind us that we are not alone. They remind us that we are Catholic. And that we are women – wonderfully, fearfully, and beautifully made. And because of these things, we are free to truly rejoice. ​
And so, as I continue to wade through my to-do list, I am going to be praying for all the women who will come to Catholic Women Rejoice, or any other conference, for that matter, that in that time and space with their sisters in Christ, they will encounter Jesus and emerge renewed and transformed. And after that? After that I'll sleep.
— ​
I'm grateful to Rebecca today for letting me share my heart in her space. And I'm indebted to Jennifer and Hallie for Edel, because that's where I first met Rebecca in real life. Rebecca is one of my "she gets it people."
So, even if women's conferences aren't your thing or you can't attend or organize one​ this year for whatever reason, I'd be so grateful for your prayers.
​ And I'll keep praying for you.​
 ❤️
*If a woman is a stay-at-home Mom, a single woman, a religious, a work-inside-or-outside-the-home Mom, still currently discerning her vocation, not a Mom, retired, a full-time volunteer, or any other iteration, she is welcome at Catholic Women Rejoice.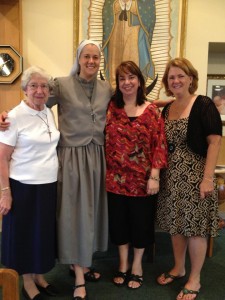 Photo credits: Catholic Women Rejoice Conference – Used with Permission, and from the private collection of Heather Renshaw – Used with Permission