When Ben-Hur arrives in theaters on August 19, viewers will find many visual and philosophical tweaks made for the update of the classic story. Among them will be a more prominent and vocal Esther, Judah Ben-Hur's love interest, played by Nazanin Boniadi (Homeland, Scandal).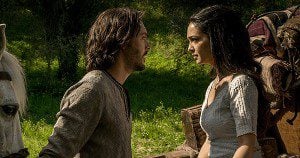 Director Timur Bekmambetov said that Esther's role was crucial to the story as she serves as a bridge for Judah to join her in her newfound faith in Jesus Christ. "She presents faith for Judah because he loved her," he said. In the update, Esther presents Judah with an ultimatum that leads him to a spiritual crossroad.
Boniadi plays Esther with confidence and grace. She recently spoke about the part the character plays in Judah's journey.
How did you approach playing Esther? It's a slightly different incarnation of the character.
I love her evolution, I love that she goes from a place of a servant to, once she finds her faith, I think she becomes more outspoken and a stronger voice, which is not typically what you see in those period pieces. I love that she's stronger, she's more vocal. She stands for what she believes in. I think Timur made it a point to make the women more relatable to a modern audience. And I love that a woman in that time can be portrayed as strong and self-aware. I really enjoyed playing her. I love her journey of journey, of finding her strength in her womanhood, of her voice as a woman. And it's not all about the men, so I love that.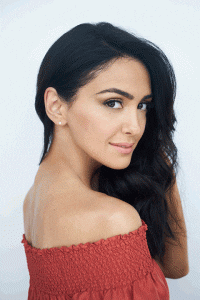 There was clearly a point where she made a point to stay with Christ and made Judah make his choice. "I'm not going to compromise for you."
I love that from the beginning when she finds the Carpenter, it's a triangle. It's not a love affair with Jesus, but he fulfills her spiritual needs and Judah fulfills the love and the physical emotions of love. And there comes a point where she really has to choose does she follow the spiritual faithful path and what defines her and fulfills her spiritually or the person who in the flesh is everything she needs and loves. Then she clearly makes that decision, the person that fulfills her faith.