The Bowden Dynasty: A Story of Faith, Family & Football, taking a look at the legendary career of coach Bobby Bowden, is releasing to theaters as a one-night Fathom Event in January. Produced by John Corry, along with Rob Harvell and Brian Goodwin (ESPN Films' The Book of Manning and I Hate Christian Laettner), the film centers on the greatest achievements of the "winningest coach in college football" and credits his faith as the key to his success.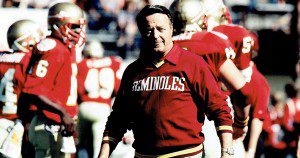 The documentary's cast includes: Fred Biletnikoff, the Bowden Family, Kenny Chesney, Jimmy Johnson, Jim Kelly, Burt Reynolds, Nick Saban, Deion Sanders, Charlie Ward, Peter Warrick, and more.
"The most amazing thing about our dynasty years is how consistent we were," Coach Bowden said. "But what makes those dynasty years so ridiculously satisfying is that we ended each season ranked no lower than number four in the polls, won two national championships, played for three others and won 11 bowl games, including nine in a row. None of us thought about these things at the time. Nor did we plan for them. In hindsight, I realize we accomplished something unique in college football history."
From 1987 to 2000, the once laughable Florida State Seminoles won the hearts of America and thrilled their fans with 14 consecutive top-four seasons with 10 or more wins. Beginning with a come-from-behind victory in the 1988 Fiesta Bowl, Bobby Bowden's teams began a flirtation with perfection. In seven of those seasons they lost only one game. More often than not, the players' quest for a perfect season came down to one play where mere inches or seconds determined the outcome.
"With a name like Bowden, you just know this event is going to be good," Fathom Events CEO John Rubey said. "His reputation is unwavering and fans across the nation will be blown away by this stirring journey of faith, family and football."
"On January 2nd 1987, Coach Bowden made one of the most significant decisions in the history of college football," said executive producer John Corry. "On that day he declared he was going to stay at Florida State. Everyone breathed a sigh of relief and all the assistant coaches bought in as well. No one knew it then, but that was day one of a historic 14-year Dynasty run. The rest is history and I'm grateful for the support of everyone who has contributed to this project as an expression of thanks to Coach Bowden – especially as the 30th anniversary of that fateful day approaches."
The Bowden Dynasty event will come to U.S. cinemas for a one-night premiere on Sunday, January 8, 2017 live at 6:00 p.m. ET / 5:00 p.m. CT and tape-delayed to 6:00 p.m. MT / 6:00 p.m. PT, presented by Fathom Events and Dynasty Productions Group. This exclusive event will be broadcast live from the Mahaffey Theater in downtown St. Petersburg, Florida, on the eve of the College Football Playoff National Championship happening across the bay in Tampa. The live portion will feature star-studded red carpet celebrity arrivals and interviews. Following the feature presentation will be an exclusive Q&A and presentation with Coach Bowden and special guests. For a complete list of theater locations visit the Fathom Events website (theaters and participants are subject to change).
Here's a first look at the film's trailer: