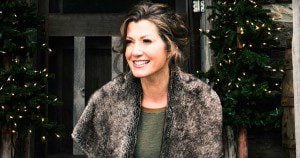 You don't have to follow me for too long to know that I have a soft spot for Amy Grant. As a teen, when Christian music was not on my radar at all, I picked up a copy of Unguarded and it opened my eyes to a genre that could be as professionally polished as mainstream music but that also carried a spiritual element I was desperate to explore. In the years since, her songs have provided a soundtrack for some of the ideas I felt that I could not express quite as poetically and profoundly as she had.
As the fall season approached and I knew she was preparing a new Christmas release, it did not dawn on me that as I was still reeling from the loss of my mother in the spring, Tennessee Christmas, releasing today, would also give voice to those pressing through hard times. Instead of big band, orchestral renderings, her stripped-down collection included songs that once again gave voice to the pains in my heart.
In "Another Merry Christmas," she sings about a woman in a nursing home putting her favorite records on and thinking of "another Merry Christmas." Yes, we've been there and done that . . . very recently. The next verse deals with hanging "one less stocking" and wondering if things will ever be the same. The last verse, however, hit me like a ton of bricks:
"Our painted old nativity, is fragile like the lives we lead, silently reminding me, God is with us…another Merry Christmas."
The theme of the album really does seem to be to gather with family and enjoy them no matter what situations you might be going through. The blessing is "To Be Together," which is one of the album's other standout tracks. In "Melancholy Christmas," one of the other mellow tunes, togetherness is emphasized more than the celebrating or doing things out of obligation.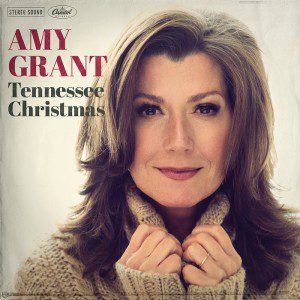 "I guess I was just trying to make a record that reflected what Christmas felt like at our house," Amy told me last month. "Because it is a lot of making lists or 'Have we made cookies yet?' 'When can we find the time that all the relatives can come over?' There are times of stillness and mindfulness of 'Joy to the World' but there's also a lot of  the one time that everybody celebrates this sense of anticipation of sharing love. I call it 'The great trickle down effect.' God set a very high bar by sending his Son and the rest of us are going 'Well, I want to love the ones in my circle'."
I've met Amy a few times through the years and even though I'm one of thousands that she meets, she speaks like an old friend. During our conversation, she was so thoughtful, kind and caring, offering concern and advice on getting through our first Christmas season without my mother. I've had many interviews and most of the time they are structured and punctual, but that day, she lingered, listening and empathizing with our loss. She shared stories of how family has dealt with the loss of her mother, Gloria (which I included in an article soon publishing in
Homecoming
magazine).
"Life, you don't realize it . . . the back half of life is one giant tenderizer," she said. "You either get tenderized or you get calloused."
Although I'm selfishly emphasizing a few songs that really grabbed me from Tennessee Christmas, the album is not devoid of fun and celebration. In both "O Come All Ye Faithful" and "Christmas Don't Be Late," Amy narrates and shares family memories, with the latter song uniting the vocals of her daughters in a beautiful chorus. "Christmas For You and Me," made popular by Drew Holcomb and the Neighbors, the story takes on the energy, happiness, and exhaustion surrounding the season. Husband Vince Gill joins her on their version of the perennial duet "Baby, It's Cold Outside."
Tennessee Christmas, which features a new version of the popular title track, hearkens back to Amy's A Christmas Album from 1983 in its simplicity and heart. Whatever the mood of the listener, whether celebrating a year or victory or one they'd rather forget, the album offers a very touching holiday embrace in the middle of the joy or the sadness.
Check out the album's first single, "To Be Together."