Light shines brightest in darkness. Perhaps that's why so many hopeful, inspiring stories are born out of intense, painful violence. Beyond the self-sacrifice of enlisting and serving for a cause greater than them, the soldiers whose lives are tested and validated in the heat of the battle remind the world what true greatness really is.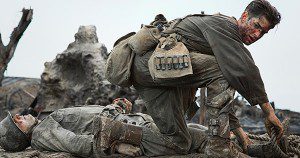 Hacksaw Ridge, a triumphant entry into World War II canon, spotlights the true story of Desmond T. Doss (played by Andrew Garfield), a devout Christian who was compelled to do his part during wartime, even while honoring his convictions to not hold a weapon. Directed by Mel Gibson, the film is a cousin to other WW2 epics such as Saving Private Ryan and Letters from Iwo Jima, although Ridge offers a unique angle and an additional spiritual component.
From the beginning, viewers are introduced to Doss' rural upbringing in Lynchburg, Virginia, and pieces of his moral architecture are formed through a variety of childhood and young adult encounters. As he feels the calling to help in the war effort, his convictions are set on a collision course with the expectations of his army leaders, providing great distress for Doss during the film's second act. He is branded a coward and brought up on charges of disobeying orders for refusing to hold a firearm. Through every turn, Doss turns to the Scriptures in a small Bible given by his fiancé, later wife, Dorothy (Teresa Palmer).
As bullets blaze in during the Battle of Okinawa, Doss' character is on full display as he uses every ounce of energy and perhaps even supernatural assistance to save lives. Dragging men from the battlefield, he prays continually, "Please, God, help me get one more." As he navigates the horrors of war, he indiscriminately selects both those who befriended and those who tormented him in the months before, and they, like the viewers, are able to witness a small man ignited by unconditional love accomplishing an extraordinary feat. When he is later hailed as a hero, Doss shifts the honor to God, displaying humility on top of heroism.
In addition to a stellar performance from Garfield, the film also features standout roles for Sam Worthington as Captain Glover, Hugo Weaving as Doss' father Tom, and Vince Vaughn as Doss' sergeant, one of the sources of some brief comic relief in the story.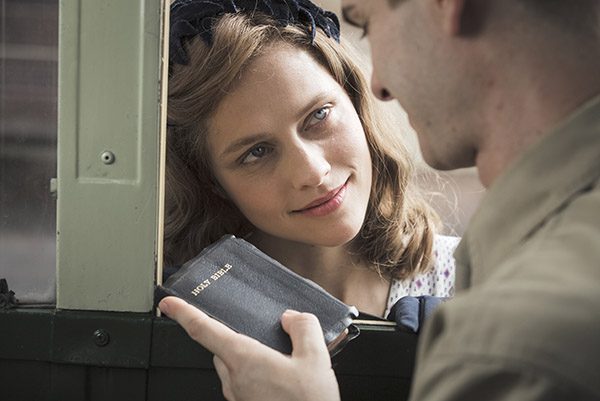 It's interesting to me that Gibson, who has made his name in the industry playing larger-than-life bulletproof heroes, used his platform here to profile an ordinary man with extraordinary bravery, much like Clint Eastwood recently did with Chesley Sullenberger in Sully. It's admirable that both actor-directors now want the world that flesh-and-blood heroes live among us.
Hacksaw Ridge reminds viewers that making a difference in the world is an accessible feat not only reserved for those who society deems worthy of adoration. The unassuming southern gentleman reminds us to stay true to our convictions and hold on to hope no matter what. The film, which is receiving admiration and honor from both mainstream and faith-based communities, is a riveting cinematic journey, giving younger generations a glimpse at one of the bravest war heroes of all time.
Related Article: 'Hacksaw Ridge' Producer Terry Benedict: Desmond Doss 'Personified' Being Christian