The announcement of a new soundtrack album for The Shack indicates audiences are very close to seeing the big-screen adaptation of William P. Young's bestselling novel. Today, Atlantic Records announced its release of The Shack: Music From and Inspired By the Original Motion Picture, featuring the title duet with husband and wife Tim McGraw and Faith Hill, due everywhere on Friday, February 24th to coincide with the nationwide release of the film from Lionsgate's Summit Entertainment label on March 3.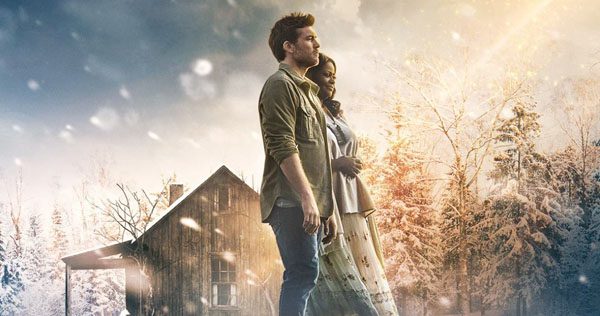 The Shack: Music From and Inspired By the Original Motion Picture is available now for pre-order here and accompanied by two instant downloads: "Keep Your Eyes On Me" from multi-GRAMMY® Award-winning superstar music couple Tim McGraw & Faith Hill (streaming here), and "Stars (The Shack Version)" by GRAMMY®-nominated, multi-platinum rock band Skillet, which is currently top 20 on Mediabase's "National Christian Audience" chart. Both tracks are available for purchase and streaming at all DSPs, with the latter also joined by a new companion video, streaming now at https://atlanti.cr/starsshackvideo. Tim McGraw and Faith Hill's "Keep Your Eyes On Me," co-penned by McGraw and Hill along with Lori McKenna and Shane McAnally, is currently featured in film trailers for The Shack (watch at http://lions.gt/theshacktrailer1). McGraw also narrates the film and appears as the character "Willie." A new soundtrack trailer revealing the album's superstar artist lineup also includes the song, as well as an exclusive audio preview of the forthcoming single from Dan + Shay, "When I Pray For You." Watch the album trailer here.
The first new country duo in SoundScan recorded history to debut at No. 1 on Billboard's Country Albums Chart, Dan + Shay will release "When I Pray For You" on February 3. The song will be the third instant grat available for download with album pre-orders, and a companion video for the song will premiere later in the month. "When I Pray For You" impacts country radio outlets nationwide in late February. Dan + Shay recently hit #1 on both the Mediabase and Billboard Country charts with their song "From the Ground Up."
Featuring previously unreleased music from a wide range of contemporary stars, The Shack: Music From and Inspired By the Original Motion Picture includes a collaboration from multi-GRAMMY® Award-winning singer/songwriter Kelly Clarkson & GRAMMY®-nominated soul artist Aloe Blacc; as well as offerings from CMA and ACM-winning solo country artist Dierks Bentley; multi-platinum country artist Lady Antebellum; 2x GRAMMY® Award-winners for King & Country; 6x chart-topping country artist Brett Eldredge; and GRAMMY®-nominated rock band NeedtoBreathe (Feat. Lauren Daigle), whose current album debuted at #1 on Billboard's "Top Albums" chart.
In addition, the album also includes new exclusive tracks such as "Heaven Knows" from RIAA platinum worship band Hillsong UNITED and "River of Jordan (Feat. Breyan Isaac)" from GRAMMY®-winning artist Lecrae. Those two tracks will also be available as instant grat downloads with album pre-orders in the weeks leading up to the soundtrack's street date.
Before The Shack opens nationwide on March 3, fans can attend an exclusive "Movie Premiere Night" in select theatres on Thursday, March 2, where they will be among the first to see the film, followed by special behind-the-scenes footage, including a taped conversation with the actors and acoustic performance of "When I Pray For You" by Dan + Shay. For tickets, visit http://lions.gt/theshacktickets.
The Shack: Music From and Inspired By the Original Motion Picture was produced by Atlantic Records President of Film & TV and GRAMMY® Award–winning, 5x nominated soundtrack producer Kevin Weaver (Furious 7, "Boardwalk Empire," The Fault In Our Stars, "Girls" Volumes 1 & 2, "True Blood" Volumes 1 & 2); Atlantic Records Executive Vice President/Head of A&R, Pete Ganbarg (twenty one pilots, Hamilton); and award-winning and 5x nominated music supervisor and soundtrack producer Anastasia Brown (August Rush, Taken, Footloose). The album was executive produced by Gil Netter (The Blind Side, Life of Pi).
---
FULL TRACK LISTING
The Shack: Music From and Inspired By the Original Motion Picture
(Atlantic Records)
Release Date: Friday, February 24th
Dan + Shay – When I Pray For You

Tim McGraw & Faith Hill – Keep Your Eyes On Me

Lady Antebellum – Lay Our Flowers Down

Hillsong UNITED – Heaven Knows

Francesca Battistelli – Where Were You

Kelly Clarkson & Aloe Blacc – Love Goes On

Lecrae – River Of Jordan (feat. Breyan Isaac)

NEEDTOBREATHE – HARD LOVE (feat. Lauren Daigle)

Dierks Bentley – Days Of Dark

Brett Eldredge – Phone Call To God

Devin Dawson – Honest To God

Skillet – Stars (The Shack Version)

We Are Messengers – I'll Think About You

for KING & COUNTRY – Amazing Grace
Listen to Tim McGraw and Faith Hill's "Keep Your Eyes On Me" here: