I'll Push You, which will premiere as a Fathom Events presentation on Thursday, Nov. 2, is a documentary highlighting the incredible bond between two lifelong friends who travel the 500-mile journey of the Camino de Santiago. For 35 days, Justin Skeesuck and Patrick Gray travel mountains, valleys, and muddy roads made even more difficult by Justin's paralysis due to a degenerative neurological disease.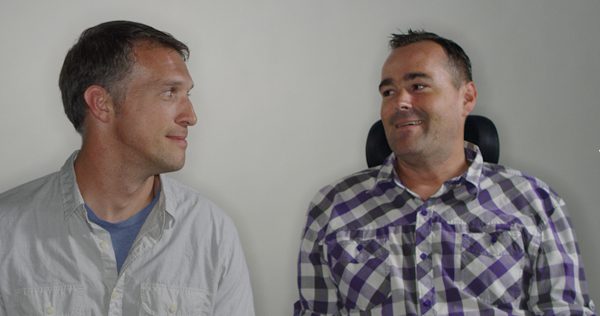 The film, which features the good, the bad and the ugly of the emotionally and physically exhausting journey, is a true story of sacrifice and love, not only between the two friends, but also other pilgrims who join them on their journey. What could possibly give these two men the energy and determination to make this trip?
Justin, Patrick and friend Terry Parish (co-director) recently spoke about their experiences on the Camino de Santiago with DeWayne Hamby in this exclusive interview.
After you decided to do the journey, at what point did you think of visually documenting it in this manner?
Patrick: I called Ed, my boss, at the hospital where I was working. When I asked for the time off for this journey, the long and short of it is that he was not thrilled at the request for six weeks off originally. But when I explained to him the dynamics between Justin and I and this journey, he got really excited. His demeanor switched to where he suddenly wanted to give me the time off to make this happen. He said, 'I want to do everything in my power to give you the time off for six weeks as long as you'll do everything in your power to document it on film.' When I asked him why, he said, 'If you don't, you're selfish and irresponsible. There's too much hope not to share it.' Thank God for foresight, because that was on our radar in any way, shape or form. So I posed the question to Justin, 'Okay, I got time off, but I have to document this on film. Do you know anybody?' Then he makes the connection to Terry.
Justin: Terry and I went to college together, known each other a very long time, and I approached him and met with him and his business partner, co-director Chris, and they said 'Yeah, we'd like to be a part of this.' So off we went. That's how it all started.
What type of response are you getting?
Justin: It is really cool and humbling to have such a response, such a positive response from everyone. I don't think I've heard anything negative at least from what I've gathered, which is great, what we hoped for. We've all worked very, very hard, especially Chris and Terry worked really, really hard for the last couple of years. So to finally have it almost out nationwide Nov. 2 is a dream come true for all of us. I don't think we ever really thought going into this that we'd be having a movie in theaters across the country. It's been a blessing.
Terry: We won the Audience Choice award at our first festival. People have come up to us and said that it's been life changed. I look at that one with a grain of salt, but I can communicate at least one act where someone I know really did make some life changes after that. It was really profound and I think if it's moving people in a more positive way toward self-reflection and self-love and love of others then it's doing what we hoped would be accomplished. As they say, it's landing. The scenes are landing and the message is landing.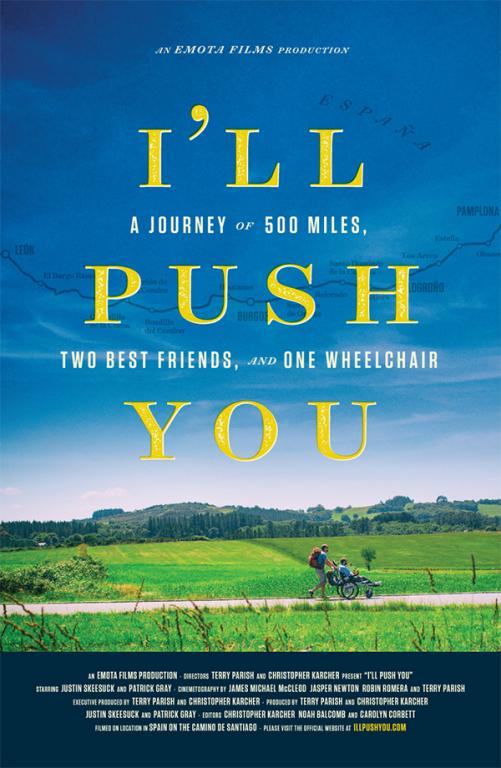 As you're putting it together, how hard was it to focus on the essential footage and leave the other stuff behind? What didn't make the cut?
Terry: There are plenty of examples of that. How it came about was just reflecting on all the footage. You think hours and hours each day on two cameras was just pretty incredible, raw footage to go through. We did put together a 13-hour edit, a simple boxcar, day-to-day occurrences and then there were just decisions made about 'What are the ones that are just emotionally really resonating?' Chris and I would watch each one of those scenes and say, 'That moment is important. That moment is important.' We didn't really assign why they were important. We just noted that they were important to us. We always have a fairly good repartee when it comes to that. We usually agree. However, I'll give you one specific example that shows up in their book. There was a woman who showed up on the first day of their climb, her name was Lucy. She was an opera singer and she sang a beautiful English folk song that in the setting and, in the grandeur of the Pyrenees mountains, was just too perfect for words. However, once we put together all the other important moments, it was going to take us out of where we were trying to drive to get to the next place we wanted to go to in the story. As much as we wanted it in there, it was the first sacrificial lamb, where 'I love you, darling, but you gotta' go.' We let her go.
When you give you to others and lay your life down for others, there's something that comes back to you. You're poured into as you pour out. Were you blessed as you blessed?
Patrick: Absolutely, yes. So when Justin first asked me, 'Do you want to do this journey?,' with the amount of history we have and the adventures we've done together, I said, 'Yes, I want to do this. Why wouldn't we? It's another adventure story of our lives.' I knew that there would be sacrifice, a remarkable amount of work and energy in order to make it happen, but for someone to trust me with all of that is a remarkable gift. It was the first realization of the power in letting someone love us in spite of us. Justin had invited me into his weakness and his disease and fears and the question of 'What can I do with this?' That's a profound gift to give to someone. Through that, my ability to help make this journey happen, I had to do the same thing. I had to recognize that I have fears and weaknesses and things I can't accomplish on my own. Ultimately, I can't do this journey with Justin on my own unless I invite people into my weakness. There's a foundation for a certain type of reciprocity to exist where this is given, to not take, the giving and receiving of love and strength and compassion and sacrifice on all fronts. People see me pouring out for Justin physically but the flip side of that is he is profoundly pushing me emotionally and spiritually. That cannot be overemphasized. That is so much of what makes life worth living, when we have those relationships that push us beyond our own limitations. That's what this is that we have that gift we can give each other everyday of making one another better because of the love that can flourish in the midst of all of our weakness and fears and failures.
Justin, how are you doing with your health?
Justin: More over, I'm doing all right. I got air in my lungs and the sun's out today, so I'll take it. The disease that I have, I go periods of time where I plateau and then I digress and then I plateau and then I digress. I've been in a plateau stage for a little while but it's mostly been in miniscule, small increments of digression, mostly hands. Whatever dexterity that I have, it's still moving through. Breathing and speech and what not, so far so good. I'll take it from where I'm at. It definitely has made me appreciate life for what it is and to be here as long as I can and do the best that I can while I'm here. I'm doing all right.
Were there moments when you just needed an extra 'push,' so to speak, on the journey and something put wind in your sail?
Patrick: There are a lot but one in particular is on day 27, we were by ourselves. It's the day before the big climb with all the people showing up to help. We found ourselves completely alone. We had a late start, we're in between waves of pilgrims going town to town. It had been several hours, we'd seen nobody, which was rare. It was rare not to see anyone. We're on a pretty manageable hill, at least it should be, but my body is just breaking down. My body is just not having it. The long of short of it is we're on this stretch and I can't get Justin up the hill. We head back down the hill to take a break because I'm so exhausted. We try it again and I still can't get Justin up this hill. Then out of nowhere we meet this girl Victoria, finally the first pilgrim we saw all day. She shows up out of nowhere and asks if she can help and she straps into the front of the chair in the harness and pulls us the next 11 miles to the town we were trying to get to. It's in a moment of almost desperation and boom, there she is.
Justin: We about knocked her over when she asked if she could help. We were like, 'Yes!!'
Patrick: People show up just in the nick of time, it feels like.
Were there people in your life that you drew inspiration from, to inspire you to do this for someone?
Patrick: That's a hard question. I don't know that I can point to any one individual aside from the way Justin has loved me, why wouldn't I love him the same way back? I think that's a lot of what has fueled our decisions in life in general, just the love between us. I guess I can point back to one thing and that's the love we're called to live, the love of Jesus, that complete and total resonation of any human sense for the sake of loving people, in pain. Whatever it is, that kind of example, I would aspire to that, I'll never arrive. But that is probably the one example I can point to – that kind of love is the kind that I want to model.
Terry: This is my first film I've worked on and I've only been working in cinematic storytelling since 2008-2009. My brother passed away in 2001. He left a series of DVDs for me and one of them was Shakespeare In Love and there's a scene in there where Gwyneth Paltrow's character says, 'Tell our story, Will.' My brother's middle name was William. He was my example of love. He was there in other places where my other family members weren't there. In a way, I get to feel like I complete that request that I thought came through that film at that moment to tell the story of love.
Justin: The only thing I'd like to add in conjunction with both Terry and Patrick's examples. Leading in love is that the primary driver, but there are people that step into that role over the course of your life that make up the influence of the decisions and the trajectory of your life, at least through how I've learned to live life, through my spouse, through my kids, my family, mentors, sometimes strangers. It's not just one person; it's many people. What I really love about this film is that it exemplifies that. Yes, Patrick is at the helm trying to get me from St. John to Santiago, but there are many people that come in along the way that help and augment where we are both weak. It's truly what we went through, too, so it's not fabricated by any means. Very real and very raw. You get to see all the craziness that happens, all the good and bad and everything in between. That's life how we live it, it's not peaches and unicorns. It's work. It's being there for one another.
For more information or to purchase tickets, click here.