Popular actor-turned-speaker Kirk Cameron (Fireproof, Left Behind, Growing Pains) has unlocked the key to uniting a very divided nation and he's planning to reveal it in the Fathom Events presentation Revive Us 2 on Oct. 24 and an encore on Nov. 1. Joining him for the event, a follow-up to his successful Revive Us presentation and airing live from the Museum of the Bible, will be Dr. Ben Carson, Ravi Zacharias, Joni Eareckson Tada, Trillia Newbell, musical guests Zach Williams and Christian Cuevas.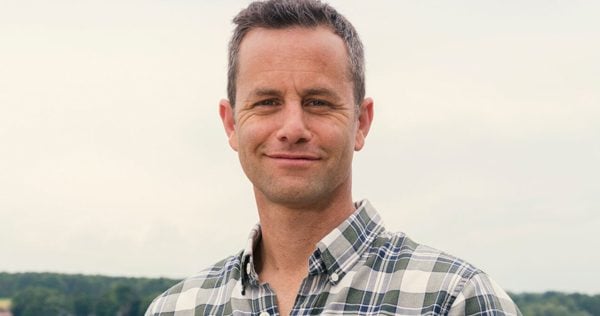 In this recent interview with DeWayne Hamby, Cameron previews what the new event will include.
Revive Us was a record breaking event for Fathom. Is this one a live event or taped live?
Kirk Cameron: This is a live live event, 100% live. I'm going to be broadcasting live from the Museum of the Bible and a satellite is going to shoot it into 800 movie theaters and 150,000 people are going to show up in movie theaters. You buy a ticket, you go, you be a part of it. And we're all worshiping, praying together live everywhere Oct. 24.
When you look at our nation, it seems we're divided over everything—race, religion, politics, money, gender, choice, even our families are divided. Then you add to that mass shootings, natural disasters, threats of war with North Korea, the NFL and the flag, the removal of statues. It's like 'What is not dividing us in this nation?' That's what Revive Us 2 is all about. I want to introduce to you some of my smartest and most faith-filled friends, Dr. Ben Carson, Joni Eareckson Tada, Ravi Zacharias, filmmakers Alex and Stephen Kendrick along with some musicians like Zach Williams and Christian Cuevas and I'm going to show you a time-tested proven strategy that will bring unity to America and to the world. It's not something I made up, it's something God has unleashed into the world and it's already working all over the world. I want people to take a break from their news feed that tells them that the world's going to hell and that faith is declining and I want to show them that Jesus is winning, the kingdom is expanding and that God is bringing heaven and earth together. It's a time of hope, of courage, and of unity.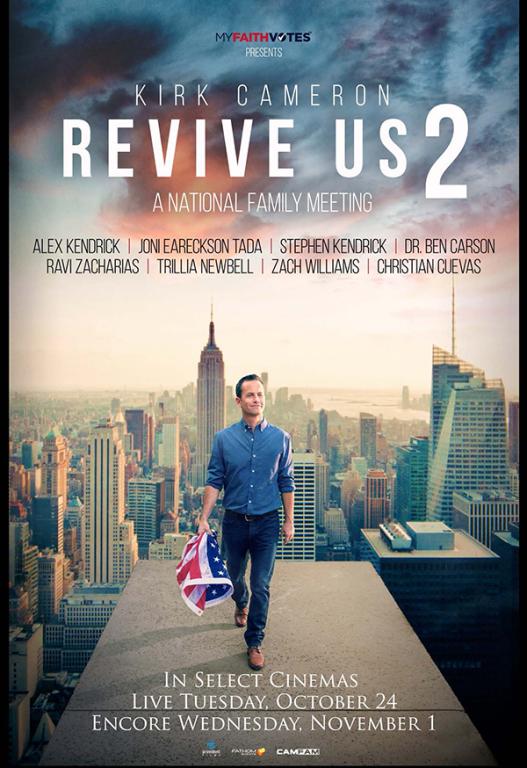 So people who really need to hear good news need to see this film?
Kirk Cameron: Oh yeah. You turn on the news and it's filled with negativity and so much of it is false. I was just watching a clip from Denzel Washington and he was talking about how if you do not read the news, you'll uninformed. If you do read the news, you'll be misinformed. He said we live in a culture where the media wants to be first more than they want to be accurate. Just get it out there, just say it, get ratings, get eyeballs on your website and find out later if it's true. That's just reckless. So what I want people to do is understand that the no-spin zone, the eternal truth about what's going on in the world is something that we find in God's word and I've been seeing it as we travel across the country to all these churches with Warren Barfield. I go to 30 cities a year for the last 8 years teaching marriage conferences. I'll tell ya – an awakening has begun. There is a fresh momentum that is building in our country. There has been a shift in our culture. God is unleashing something that is bringing people together across racial lines, political and religious lines, economic lines, and we're going to reveal that to people and we're going to celebrate that and amplify that at Revive Us 2. 
Why do you use the movie theater Fathom Events setting?
Kirk Cameron: Particularly in the south, ya'll like to have a good ole' fashioned tent revival. It's not in your typical sanctuary necessarily but sometimes you put up a big white tent for the community to come and it's bigger. It provides more opportunity for musicians and preachers and evangelists and the whole town to come together and eat together, pray together and to worship together. That's kind of like what a movie theater is for us today. There's not a tent big enough to fit 150,000 people on one night so we're splitting it up into 800 movie theaters so you got a front row seat while we broadcast from the Museum of the Bible. You're going to hear Zach Williams leading us in worship together with Christian Cuevas from the Voice. We're going to be singing the national anthem together, all standing and honoring this great nation that we live in. We're going to talk about rolling up our sleeves and what it is that we need to do to come together so we can be a united nation that stands for what's right.
What's significant about broadcasting from the Museum of the Bible?
Kirk Cameron: If we want the solution for revival and unity in America, ground zero for that solution is the word of God. It always has been. It's the book that built our country. The Bible is the book that has given us our Judeo-Christian values and is the bedrock and the blueprint for all of our freedoms – freedom of speech, freedom of religion, freedom and equality for men, women, children regardless of race, color, so the Museum of the Bible is a very fitting place for us to be when we talk about how to find revival and unity for America.
After Revive Us 2, what other projects do you have on the horizon?
Kirk Cameron: Revive Us 2 is where all of our sights are focused right now, but after that, I'm going to be working on a project that is dealing with social media, teenagers and parenting. We live in an interesting world today that's filled with media and technology and that can used for good for it can be used for evil. As a father of six kids who are teenagers, it's very important to me that I do all that I can to help other parents and me and my wife to really make sure that we understand social media and can help teach our kids and prepare them for this world that they're moving into. That'll be coming out in the spring of next year.
We spoke about sitcoms before we began this interview. Did you have a favorite sitcom when you were growing up besides your own?
Kirk Cameron: I loved Happy Days. We used to love watching Star Trek. In fact, I was named after Captain Kirk. Star Trek was a big one. Sanford and Son and What's Happenin'. 
Get tickets for Revive Us 2 at reviveus.com.